It's incredible how the most amazing day of my life went by in the blink of an eye. On July 1st, Michael and I exchanged vows at our Staten Island parish church, Our Lady Queen of Peace. Afterwards, we held a reception with 120 guests at the Lighthouse in Chelsea Piers, Manhattan. Our wedding was steeped in tradition, yet it also reflected our personal style: modern romance. Watch a trailer from our wedding video here!
Pre-Ceremony 
I spent my last night as a single woman in my childhood bedroom—something I've dreamt about ever since I was a little girl. At 10 a.m., I went to get my hair done with Mom, my sister (and maid of honor) Laura, and two bridesmaids. In spite of months of research and a hair trial, I didn't finalize my hairstyle until the week before the wedding. Thanks to the help of a good friend and Pinterest, I found a timeless updo that not only kept me cool in warm weather, but also showed off my gown's rosette-covered sleeves. My ultra-talented hairstylist, Senada, brought the vision to life.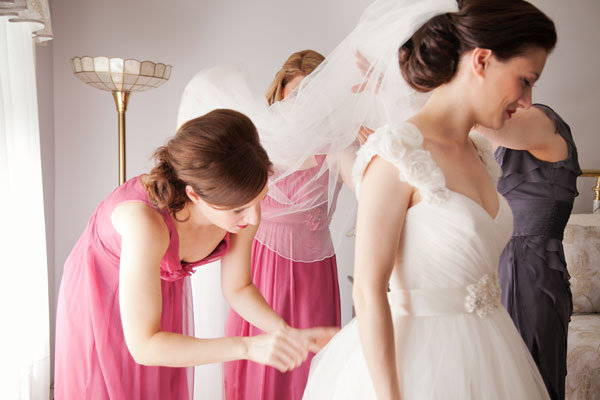 Once our hairdos were done, we headed over to A.F. Bennett Salon to sip mimosas and have our makeup applied. I wanted a timeless beauty look, so I opted for neutral eyeshadow and a bold red lip. By 2 p.m. we were back at my parents' house, snacking on panini and hydrating before heading out to church.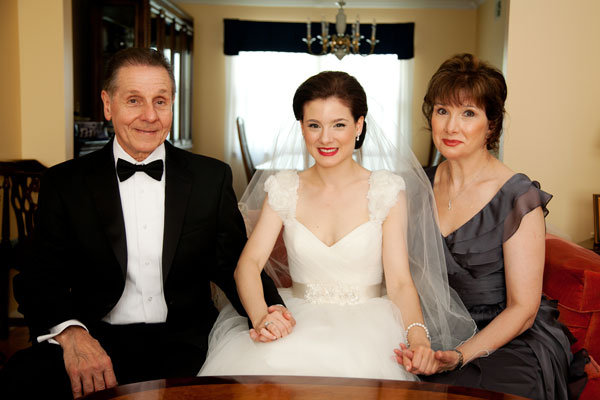 Our Wedding-Day Look
I felt like a modern-day version of Grace Kelly in my Christos gown. When we visited the Amsale Flagship Salon, I tried on countless dresses before I found "The One." My sister, Lisa, suggested that I try on a style with cap sleeves but I protested at first, convinced I wanted to wear a strapless gown. As soon as I saw myself in this dress, I began to cry. I knew it was what I wanted to wear when I married Michael. 


I fell in love with the Amsale bridesmaids collection and selected long rhubarb silk chiffon dresses for my BMs. I wanted my bridal party to feel beautiful on my special day, too, so I encouraged them to pick the dress style of their choice.
My maids of honor, my sisters Laura and Lisa, wore rosettes on their gowns to distinguish them from the group and pay homage to my gown. I was so happy to see how beautiful the dresses looked, both in person and in photographs.


I accented my dress with a custom bejeweled satin belt, diamond and pearl earrings, and a matching pearl bracelet (the last two were gifts from my groom). He added a "B" charm to the bracelet as a sweet reminder of my new last initial. My Kate Spade wedding shoes featured a blossoming rose on each toe. I completed the look with my grandmother's pearl clutch and my mother-in-law's pearl prayer book (a family heirloom).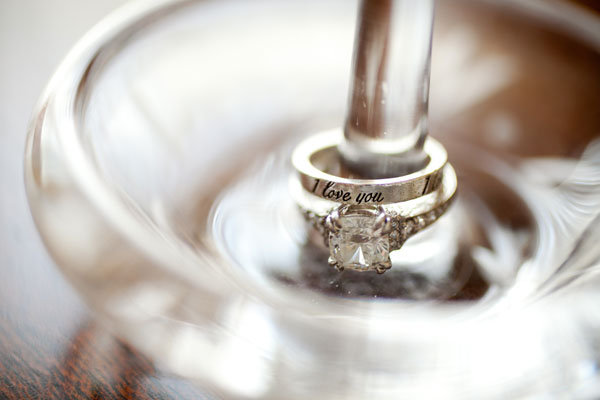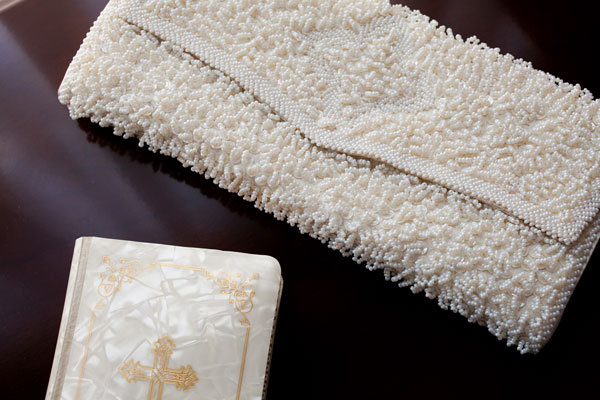 My groom looked picture-perfect in a Calvin Klein tuxedo, which he paired with Tiffany's cufflinks and a Tag Heuer watch (a gift from his bride-to-be).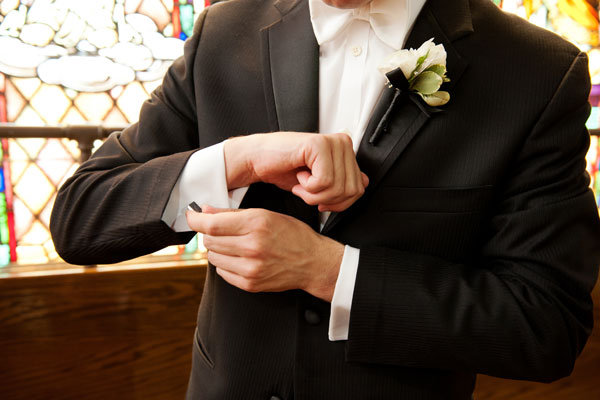 Our Ceremony
It was a sweltering hot day in NYC for a wedding. During the drive to church, I became anxious as I grew warm beneath my dress' many layers. Thankfully, I had Dad by my side to calm my nerves. When I entered the waiting area of the church and heard Pachelbel's "Canon in D," I began to tear up, in anticipation of seeing my handsome groom. I made my way down the aisle to Wagner's "Bridal Chorus" on my Daddy's arm, grinning from ear to ear.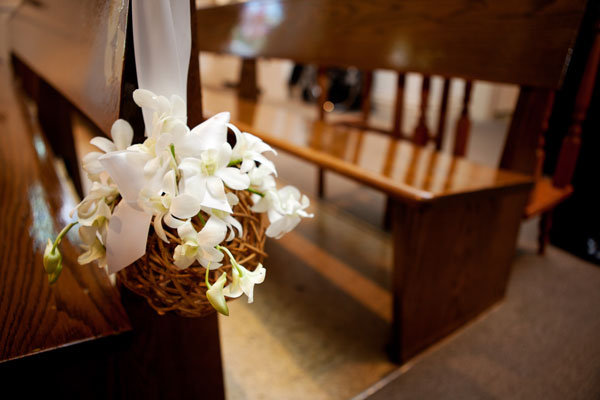 Then, Michael and I recited traditional Catholic vows, promising to love each other for all the days of our lives. We were blessed to have our family friend, Father John DeLora, serve as our celebrant. Michael's three beautiful cousins, Samantha, Abigail, and Jonathan, were our flower girls and ring bearer.
When it was time for our first kiss, Michael pulled me in close before literally sweeping me off my feet. Being pronounced Mr. and Mrs. Battiato was truly the happiest moment of my life.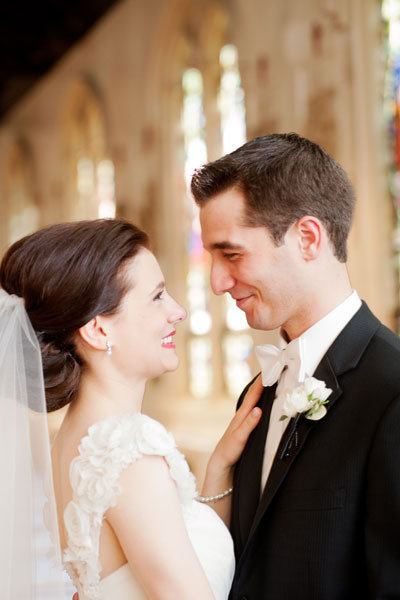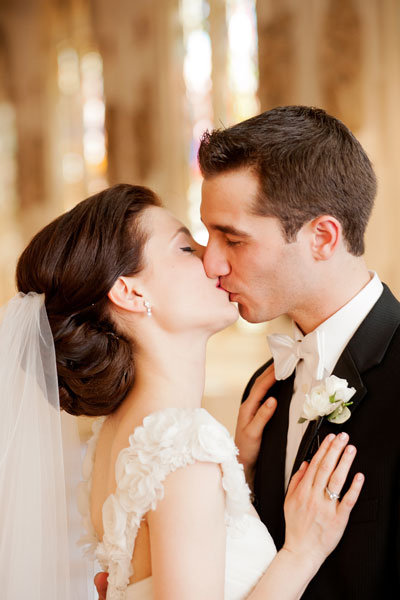 Afterwards, we chose to have a receiving line. It was wonderful to personally thank everyone who attended the church ceremony. I was surprised (and thrilled!) to see unexpected guests in attendance, including my pediatrician and some of my elementary school students. In lieu of a rose petal toss, they all waved handcrafted ribbon wands to wish us well.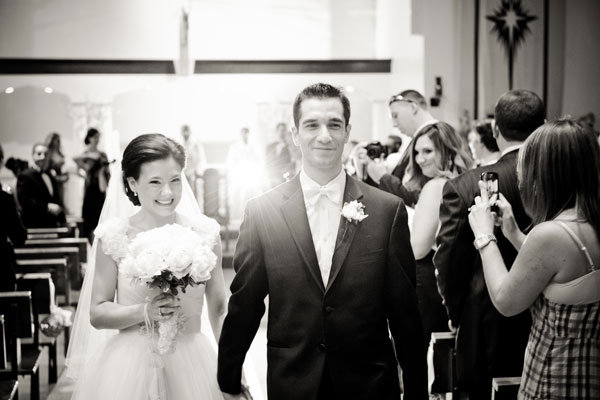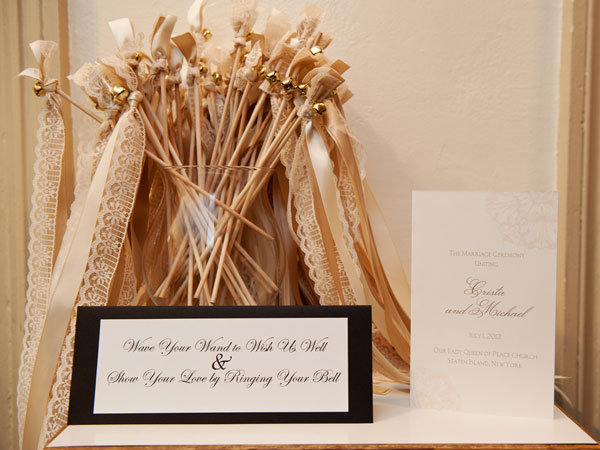 Michael and I were whisked away in a Bentley Continental Flying Spur. We had a solid thirty minutes to ourselves as we drove into Manhattan for our formal pictures. (Check out more ways to exit your wedding in style here!) I really cherished that time alone because it allowed us to reflect on the day and enjoy being newlyweds. 
Our Photos
We took photos at three different locations: the South Street Seaport, Battery Park City and Irish Hunger Memorial. The South Street Seaport was the backdrop for many momentous occasions throughout our seven-year courtship, including our proposal. To help our friends beat the heat, only my groom and I had formal photos taken there. Thankfully, my lovely maids of honor assisted me throughout the process—namely, by carrying my skirt and veil. (An aside to future brides: tulle and boardwalk planks are not a good combination.) 


At Battery Park City, we began to take photos with the entire bridal party, but we were confronted by park police, who informed us that we needed a permit. Our photographers, Randy and Monica of Photo Pink, managed to capture a few shots of us underneath the picturesque trees before we were kicked out. 
Randy suggested heading to the Irish Hunger Memorial for more group shots, and we couldn't have been happier with the outcome. This change of plans caused us to arrive late to our cocktail hour, but our amazing Lighthouse coordinator, Bob, extended it to make up for lost time. He helped to ensure that the day ran smoothly and Michael and I were where we needed to be at all times. 
Our Flowers 
The flowers were an important part of our wedding day because they created a romantic ambiance. Clarks House of Flowers designed our bouquets and ceremony arrangements. Our florist, Debbie, was able to get stunning peonies for me, which was a rare feat since this type of flower isn't in season in July. She wrapped my bouquet in a lush, ivory ribbon that was covered in rosettes, just like my wedding gown. My dapper groom wore a delicate ranunculus accented with a sterling silver leaf. We used roses for the bridesmaids' bouquets and groomsmen's bouts.  
Elegant Affairs made gorgeous floral arrangements for our reception. Our consultant, Christina, helped bring my vision of low, full centerpieces to life. We enhanced the pink-and-ivory flowers with a pedastal vase and sleek candlesticks, which helped give them more height.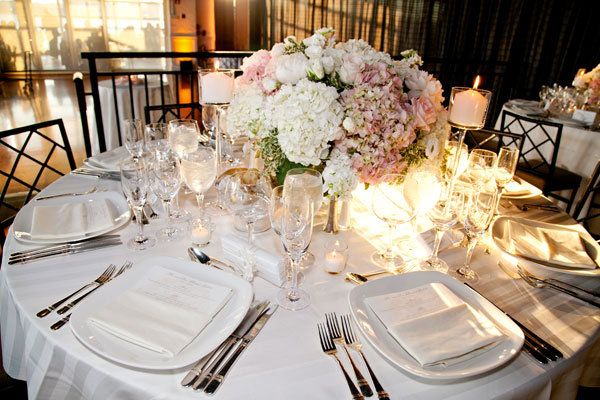 For our escort card arrangement, I knew I wanted a design that was grand yet whimsical. The end result—hydrangeas with greenery and floating votive candles—was truly beyond my wildest dreams.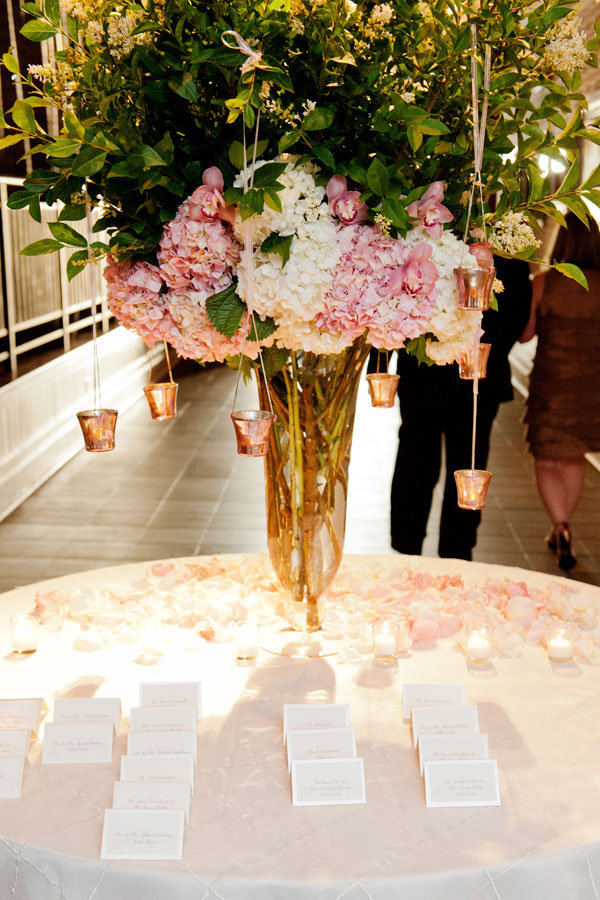 Reception 
Michael and I were thrilled to throw our reception at the Lighthouse at Chelsea Piers. We were drawn to its open floor plan and gorgeous views of the Hudson River. Realizing the impact that great lighting can have on a room, we chose soft amber lighting to illuminate the space. Towards the last hour of the evening, our tech (Bill from Luminous Designs) switched up the colors to cast different vibrant hues. It  added to the fun and made for amazing photos.
Our caterer, Abigail Kirsch, helped us put together a delectable wedding menu. Although Michael and I barely ate a bite at our wedding, friends and family members told us that it was the best food they've ever tasted (for a wedding or not).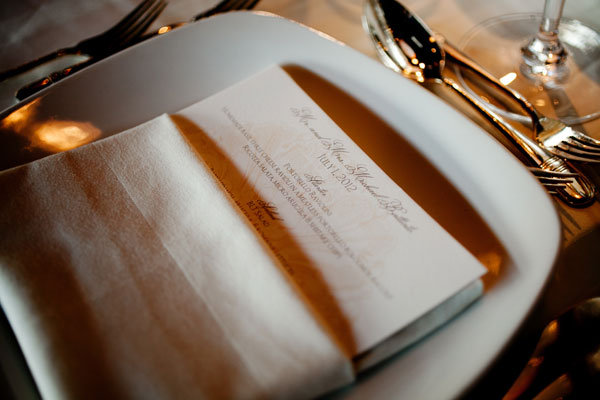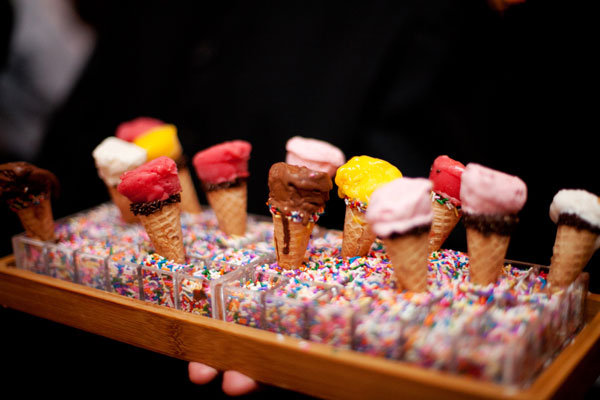 Michael and I had a blast with IncrediBooths, our photo booth. The company brought along hysterical props, which our guests thoroughly enjoyed, and crafted a special guest book for us. Guests received hard copies of their photos at the reception and via e-mail as well, which served as unique favors.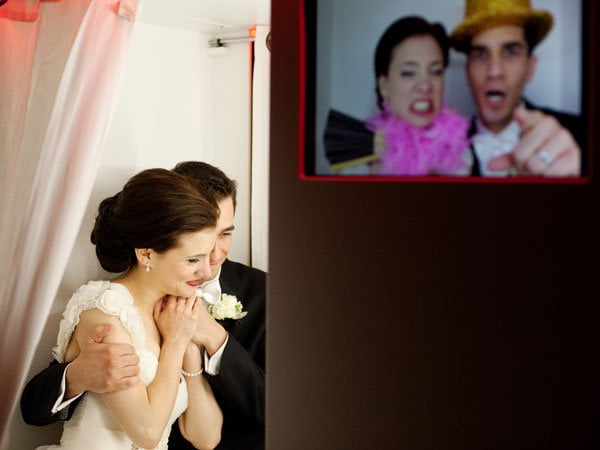 Although everyone enjoyed the photo booth, it was really our band, JK Entertainment, that set the tone for the entire evening. Our guests danced the night away to a mix of current hits and classic songs. They had great energy and lived up to their motto of "keeping live music alive!" Michael and I had two spotlight dances: "More Today Than Yesterday" by Spiral Staircase and "Make You Feel My Love" by Adele. We felt that those two songs best reflected our relationship.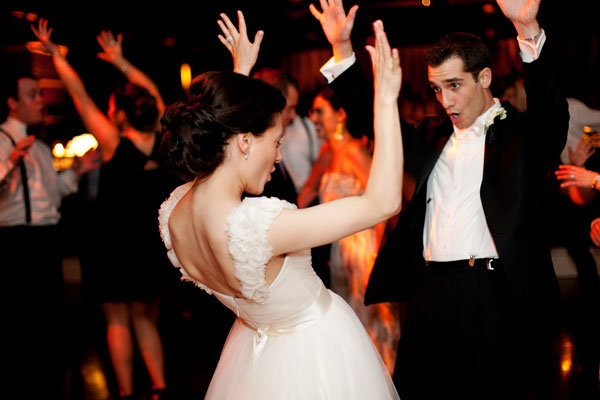 Our cake was provided by the Lighthouse and featured simple rosettes cascading across the front. Michael and I cut into it with a beautiful cake server from Kate Spade, which was a gift from Michael's brother, Joseph, and sister-in-law, Kristen. We also toasted with the matching flutes, a thoughtful present from my parents.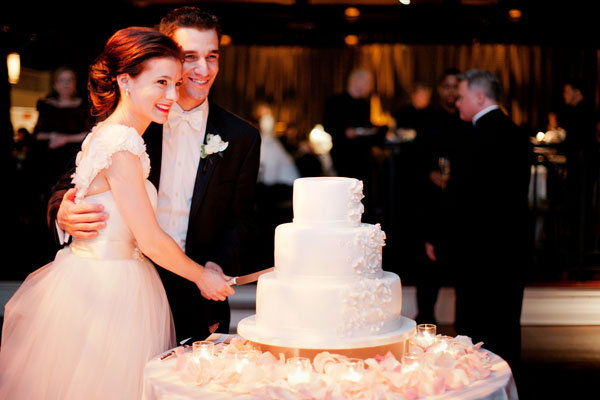 As the night came to a close, my groom and I crashed at the New York Marriott Downtown with family and friends for some much-needed R&R. Unfortunately, the relaxation was short-lived—I forgot to pack my passport and driver's license, and we were scheduled to leave for the airport the following morning!
Thankfully, our parents and my sisters came to the rescue. We headed back to my parents' home early the next morning so that I could grab my missing items prior to the flight. Michael and I spent the next two weeks on our honeymoon in Hawaii, reflecting on how the past two years of planning resulted in the most beautiful day of our lives.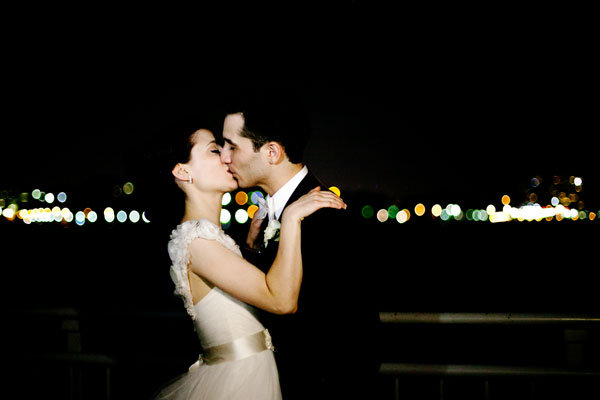 —Crista Battiato
VENDORS:
Photography: Photo Pink NYC
Videography: Kiss the Bride Films
Catering/venue: Abigail Kirsch at the Lighthouse in Chelsea Piers
Reception Flowers: Elegant Affairs, NYC
Personal Flowers: Clarks House of Flowers
Hair: Senada K. 
Makeup: A.F. Bennett Salon & Wellness Spa
Favors: La Casa Della Bomboniera
Invitations: Vera Wang 
Other stationery: Plum Blossom Press
Transportation: Romantique Limousines & AA Getaway Coaches
Wedding Gown: Christos
Shoes: Kate Spade
Bridesmaids Dresses: Amsale
Band: JK Entertainment
Photo Booth: IncrediBooths
Lighting: Luminous Designs
Ribbon Wands: Craft Up Your Life
Hotel: New York Marriott Downtown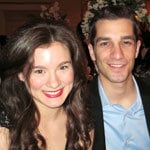 Crista Battiato is a newlywed and the co-founder of Style She Wrote. She tied the knot in July 2012 with Michael, her newly-minted husband. This chic NYC couple describes their wedding style as "modern romance"—fitting for a pair who had their first date at a quaint seaport and became engaged in the same spot, overlooking the Brooklyn Bridge. This fashion-forward blogger loves to infuse her traditional taste with unexpected contemporary accents.