On the drive home from the airport, after the first time I met my fiancé Edwin, my dad insisted that I should give the boy a chance. "This one is different," he said.
Dad has always been my best friend. From the moment I was little, he's been a safe place from all of my fears (I used to scale him like a building whenever I saw cats, which terrified me). He had numerous heart attacks throughout my childhood, but his stubborn streak always superceded doctor's notes. This winter, my father had a stroke, and his stubborn streak vanished alongside my hope. This time, I found myself saying, "This one is different." I don't know how at 26 years old, I still feel like I'm his little girl, but I do.
After two months of back-and-forth hospital trips, he's finally healing and making a full recovery, as is my heart. I feel blessed and amazed to have him in my life. With that said, I want to honor this man who has taught me so much, on my wedding day. Here, some of my favorite ideas for saying "I love you," whether it's to Mom, Grandma, a cousin, or even a best friend.
1. Do a First Look
Everyone talks about the first look for the groom, but truthfully, I am excited to see my dad's face when I put my wedding gown on. He isn't an emotional guy, but I'm holding out hope that there's a tear or two in his eyes all caught on film.

Photo Credit: Kristen Weaver Photography
2. Give Him A Priceless Gift
Do gift your mother and/or father a gift that is dear to their hearts. Priceless sentiments are the ones that they'll treasure the most. Have a photo of you and Dad when you were little that has been stored away? Frame it and gift it to him. Try personalized cufflinks with a photo as well, or, my personal favorite: send him a hand-written note letting him know that you'll forever be his little girl!

Photo Credit: riricreations on Etsy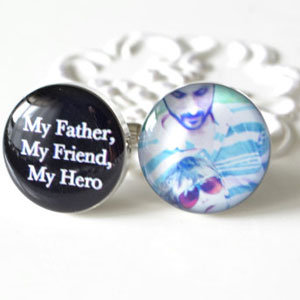 Photos from white truffle on Etsy 
3. Sweet Ceremony Tributes
Dad might already be looking forward to walking you down the aisle, but why not surprise him with a bonus tribute he'll have no idea is coming? This photo stops me in my tracks every time—I love the idea of giving a hug or kiss to a loved one as you walk back down the aisle as husband and wife.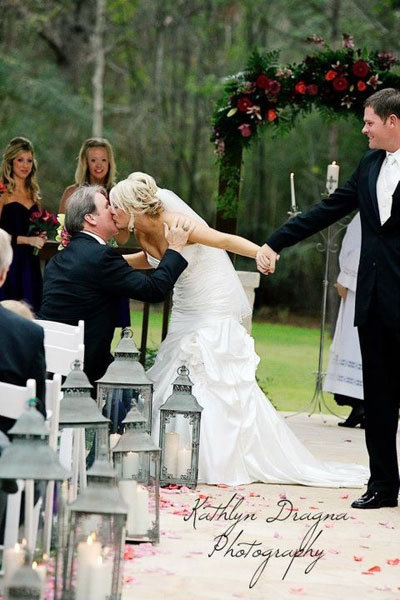 Photo Credit: Kathlyn Dragna Photography
Ask Dad to say a few words to ceremony-goers before he gives you away, like this proud papa's imprompu "don't mess this up" speech to his new son-in-law. Grab a tissue—don't say we didn't warn you first!
5. Let Him Surprise You with a Special Performance or Dance
If you want to honor someone special at your wedding and they're musically gifted, have them sing or play an instrument for the processional or at the reception. My dad played "The Wedding Song" by Kenny G at a family friend's wedding, and even although I was only 12 years old at the time, I knew that I wanted him to play his saxophone when I walked down the aisle someday.

Photo Credit: Fusion Events
My dad is also known for his dance moves, and I for one, need to take some dancing lessons before I hit the dance floor. Here, my top five favorite songs for father-daughter dances:
Stevie Wonder—"Isn't She Lovely"
Frank Sinatra—"The Way You Look Tonight"
Michael Bublé—"Daddy's Little Girl"
Heartland—"I Loved Her First"
Nancy Sinatra—"It's For My Dad"
Or, ask Dad to choose the song and keep it a secret from you until the big day!

Photo by: Orchard Cove Photography on The Wedding Chicks
Tell us: How are your parents helping you plan the big day, and how are you acknowledging them at the wedding? We'd love to hear!
—Angelica Bragg


Angelica Bragg is a real bride and the blog maven of The Bridal Detective. She and her fiancé, Edwin Mirzayans (a published author), are planning a destination wedding at the Italian Lakes in Summer 2014. With a stunning backdrop and "la dolce vita" attitude, the couple's soirée will be intimate and romantic, all while celebrating two cultures. When the couple returns from their Italian road trip honeymoon, they will throw a glam after-party with all of their loved ones back home in Jacksonville, Florida.