Last week, my fiancé Michael and I spent two hours (excessive, but necessary) debating our delicious options for our wedding menu. Our event manager presented us with images of enticing hor d'oeuvres, stations, entrées and desserts. Needless to say, we were left drooling and unable to decide which appetizer to pair with which entrée.  After much debate, we were able to create a menu that incorporates our favorite dishes yet also caters to the diverse appetites of our beloved guests.
Comfort Food
I was surprised to discover that selecting our menu was like taking a stroll down memory lane, with so many options reminding Michael and I of dining experiences from the past. We selected crispy, blanketed franks—a new spin on classic pigs in a blanket—a starter that we have during every holiday at my future in-laws' home.  Michael and I then chose a BLT salad, complete with apple-smoked bacon, asiago cheese and buttermilk chive dressing. This dish reminded us of a scrumptious salad we enjoyed while vacationing in Florida. Lastly, our wedding cake will be filled with lemon curd and raspberry buttercream as a nod to Michael's favorite lemon cake. These personal touches will probably go unnoticed to the majority of our guests, but will have Michael and I secretly grinning from ear to ear.
Pigs in a Blanket. Photo Credit: Abigail Kirsch Catering
Mix It Up
Michael and I tried very hard to diversify our menu and provide our guests with a wide array of choices. Our hors d'oeuvres range from duck rolls and vegetarian, eggplant meatballs to Portobello mushroom steak fries and lobster BLTs. Guests will savor shortrib sliders and veggie sliders with tomato basil macaroni and cheese at the Retro Station. They can also feast on a chocolate chiffon pastry tart with strawberry salsa and mint chocolate chunk ice cream for dessert.  
Eggplant Meatballs. Photo Credit: Abigail Kirsch Catering
 
Fun Extras
Similar to any venue, The Lighthouse has an impressive list of possible add-ons to enhance our menu and enchant guests. In an effort to remain budget friendly, Michael and I decided to limit ourselves to just two enhancements: frozen cocktail push pops and miniature sweets. The push pops will be butlered to guests on the dance floor in between courses to help them cool off. The mini sweets will be passed to guests while the night comes to a close. Mike and I love the idea of ending the night on a sweet note!
Cocktail Push Pops. Photo Credit: Abigail Kirsch Catering
Crista asks: What are you most looking forward to eating (or drinking) on your wedding day?
—Crista Camerlengo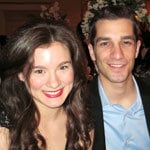 Crista Camerlengo is a real bride and the co-founder of Style She Wrote, who will tie the knot in July 2012 with Michael, her fiancé of six years. This chic NYC couple describes their wedding style as "modern romance"—fitting for a pair who had their first date at a quaint seaport and became engaged in the same spot, overlooking the Brooklyn Bridge. This fashion-forward blogger loves to infuse her traditional taste with unexpected contemporary accents.