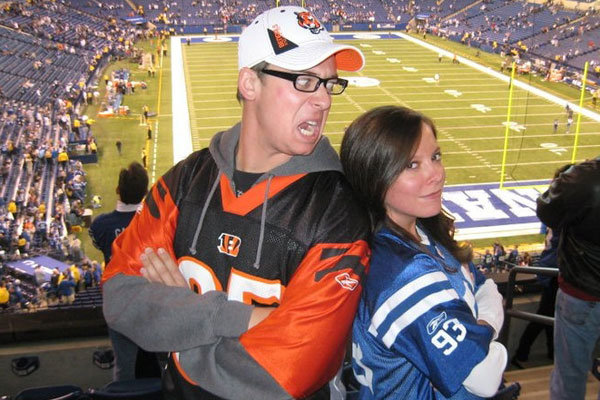 Each bride is different: Some have all the details of their dream wedding planned years prior to finding a groom and others are perfectly content with a quickie courthouse ceremony. Most of us fall somewhere in between, and when it comes to grooms, the same rule applies (okay, they likely haven't dreamt of EVERY detail).
From my experience, the level of your groom's involvement will fluctuate depending on which wedding-planning task you're currently working on. It's up to both of you to decide which aspects of the wedding you'll contribute to equally. Here is a breakdown of tasks Corey has helped with, ranging in order from most to least involved with:
1. Venue
While Corey and I were searching for places, we were living in separate states and he would often complain that he wished he was in Indianapolis so that he could be touring venues with me. In the end, we chose a venue that I toured once solo and together as a couple. I'm really glad that Corey cared about the venue (almost) as much as I did. I can definitely see how factors like chandeliers and stunning downtown views might not be of interest to some grooms.
2. Atmosphere
Corey and I both want our reception to be fun, which means having a great DJ and free-flowing drinks. We both don't want magicians, clowns or anything out of the ordinary. However, not all couples are in accordance about what they constitute as a form of entertainment. 
The strangest groom request I've ever heard: My friend's fiancé insists upon having a falcon (yes, like the bird) fly in and land on his arm! She's not entirely sure if he's joking or not, but she is adament that the atmosphere of her special day should not resemble a zoo. It's a good idea to discuss with your future hubby what kind of atmosphere you want your reception to have so that there is no falcon frustration.
3. Cake
Here's an area in which Corey can shine! Actually, diet or not, I fully intend on being right there with him. I mean really, who doesn't like cake? If you're super traditional and his taste for peanut butter cake with marshmallow icing doesn't fly, surprise him with a special groom's cake, instead.
4. Décor
As you may have read in my last post, I'm having a huge struggle when it comes to picking a color scheme. (No, I haven't made a decision, yet… still welcoming suggestions!) Corey has said, "You can't go wrong with any of the options." I have a sneaking suspicion he would say that about absolutely any color scheme I mention, unless it relies heavily on pink. For us, décor will likely be all me — and I think that's fine.
5. Attire
If you're like me and have become fully engulfed in Say Yes to the Dress marathons, you know some grooms prefer to go dress shopping with their ladies. While I am happy to hear Corey's opinion on food, décor, music and photographers, the only response I want to hear regarding my wedding dress is, "You'll look beautiful in whatever you choose." He has not and will not be going dress shopping with me. Grooms pick their tuxes and shoes…maybe. ;)
I still sometimes find myself pushing to get Corey to give me an opinion on, let's say, a shade of purple or a vase. He never seems to care and at first, I'm slightly annoyed. But then I realize I'd be far more annoyed if he was overbearing. I feel lucky that (so far) my groom's involvement is very balanced.
Ladies, how involved is your groom in the wedding planning? 
—Nikki Stroud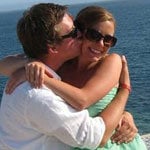 Nikki Stroud is a real bride who is learning every step of the way when it comes to wedding planning. She and her fiancé, Corey Allan (both Ball State alums), will be married in September of 2012 in front of their friends and family in Indianapolis. Glittering ivory lights, exposed plumbing and sleek wood floors depict their romantic yet rustic venue in the Downtown area. The couple hopes to incorporate personal touches to make the celebration truly reflect their relationship.