Since my fiancé Chris and I are currently living in different cities, I was feeling pretty lonely during the search for our perfect wedding venue. Each and every one of them was incredible but something was missing...Chris! Everything feels half as fun when he's not around, but I chose my new job as San Diego 6 News' evening anchor, so I just have to suck it up and learn to appreciate every blessing (and there are many). I just wish that my fiancé was here so that we could enjoy the planning process together...soon, I hope!
It was almost as if my best friend Katie could sense my sadness because she sent me a text (one of probably 200 that we send throughout each day) about Christina from OBSESSEDevents, a friend of hers who offered to help us plan our wedding. I couldn't have heard those words at a better time. (This experience has taught me that it's ok to ask for help. When you have a moment of sadness or are feeling worn down during wedding planning, please know that this is the time to reach out.)

Photo Credit: OBSESSEDevents
I could definitely use Christina's expertise: She's coordinated weddings, birthdays, fundraisers, you name it! After just one phone date with her, I could tell she was going to be our savior. She was willing to get creative to help us stay on budget. She also said that fulfilling our lofty ideas — including hosting pre-wedding events such as a brewery tour, a boat day and a half marathon — was totally doable and that our creativity will make for a really fun and unique wedding.
She began the consultation process by asking us a lot of questions about the style of wedding that we want. I mentioned a few key adjectives, including: loving, beautiful, beachy, nature, adventure, fun, exciting, happy and sparkly. From that list, she suggested throwing a whimsical and romantic celebration that plays off of nature. Then, we worked our way to more specific ideas, such as having flowers and place settings that wouldn't block guests from the view and incorporating twinkly lights to enhance a starry night. She nailed it.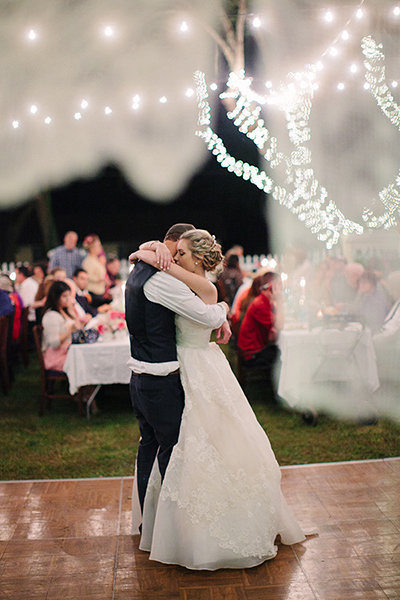 Photo by: KT Crabb Photography on Southern Weddings via Lover.ly
Most importantly, Christina made this wedding feel real — since nothing has been done yet, I briefly wondered whether I was even going to get married this year. No venue, no dress, no invites, no flowers, no decorations...no problem? Christina said that she will help me execute all of my ideas and make them a reality! I needed that reassurance that we still had plenty of time and I wasn't "messing up" as a bride-to-be.
In order to tackle each task, Christina said we should narrowdown our two top choices in each price range so that when Chris comes to visit, it's easier for us to make a final decision. Comparing different venues at various price ranges will help us better visualize what we can get for the amount of money we are willing to spend (that amount is still up for debate between Chris and I).
After the phone call ended, I immediately clicked through OBSESSEDevents' website and looked at past weddings Christina had organized, but of course, I already knew I wanted to work with her. Sometimes, all you need to do is listen to your heart and follow your instincts when it comes to choosing wedding vendors. If you get a bad vibe, then no need to force a relationship. But when you click with someone then that may be all it takes.

Here, Christina is posing with Holly Madison, from The Girls of Next Door fame!
Photo Credit: OBSESSEDevents
Tell us: Do you have a wedding planner? How has she or he helped so far in your process?
Plus, if you're still searching for a planner, check out our State-by-State Guide to the Top Wedding Planners.
— Neda Iranpour
P.S. Have an interesting wedding planning story to share? Apply to become a real bride blogger here ►

Neda Iranpour's fiancé, Chris, proposed to her after she ran three marathons in three days around Lake Tahoe. In keeping with the couple's adventurous spirit, they plan to have a four-day destination wedding somewhere in the United States. They can't wait to enjoy a fun-filled wedding experience with their guests, complete with paddleboarding, kayaking, running, dancing, sipping fine wine and drinking craft beer. Chris is a fun-loving, dedicated police officer and Neda is an Emmy-award winning news anchor who loves to share stories, even her own.