Let's be honest: We brides spend a little too much time thinking about wedding centerpieces. Personally, I've never been to a wedding where I left that night thinking about the lovely centerpieces instead of the lovely couple, and that's how it should be. My theory is that they should be beautiful, yet affordable; after all, they are just one part of the décor.
For our wedding, Corey and I will be displaying clusters of bottles and vases in the center of our tables. So far, most of the bottles have been easy to collect over these past few months. We're using lots of wine bottles (a good excuse to order vino mid-week with dinner!) and scored big at a Goodwill sale (we bought a bunch of vases for 50 cents each). My mom came up with a genius idea: When she and my dad go out to dinner, they ask the bartender if they have any recently-emptied bottles that they would be willing to donate.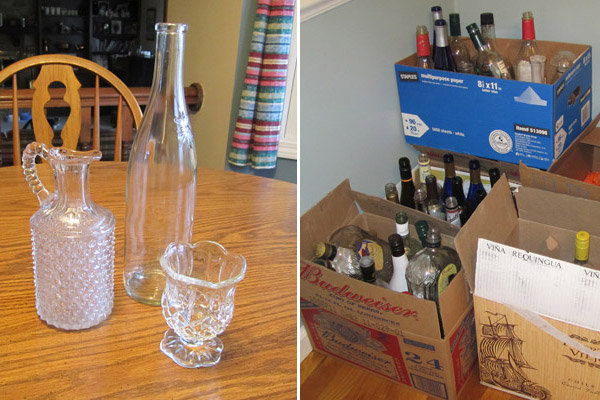 To snazzy up some of the bottles, we're going to spray paint them to match our wedding color palette. Since the bottle mouths are so small, we only have to fill them with one or two flowers to look substantial, helping us cut down on floral costs. For each vase cluster, we will choose varying shapes and sizes that look good together. I love that each of our centerpieces will be different (even if just slightly) and we can reuse or give away the vases after the wedding.
Here's an idea of what the finished product will look like: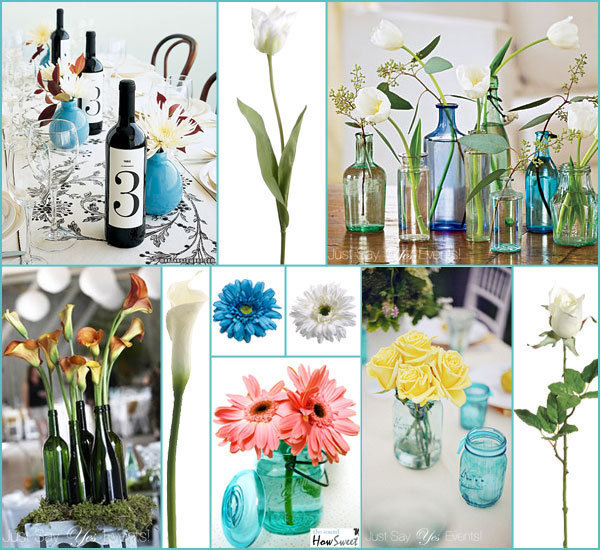 Photo Credit: Afloral.com
I've seen some other DIY centerpiece ideas lately that I also think would be lovely:
The Reverse Centerpiece: I love the idea of having décor hanging from the ceiling over the center of the table rather than having the traditional centerpiece placed on the table. 
Crepe Paper Flowers: No one wants their centerpieces to end up looking like a paper-mache project, but if executed properly, paper flowers can look ornate, sophisticated and gorgeous.
Tell us: Are you creating your own wedding centerpiece or leaving it to a pro? What's the inspiration behind your centerpieces?
— Nikki Stroud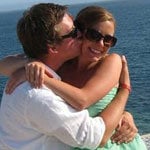 Nikki Stroud is a real bride who is learning every step of the way when it comes to wedding planning. She and her fiancé, Corey Allan (both Ball State alums), will be married in September of 2012 in front of their friends and family in Indianapolis. Glittering ivory lights, exposed plumbing and sleek wood floors depict their romantic yet rustic venue in the Downtown area. The couple hopes to incorporate personal touches to make the celebration truly reflect their relationship.