One of the first decisions that a newly-engaged couple has to make post-proposal is not only when to get married, but where. Beachy destination weddings are becoming especially popular, but in my opinion, they are simply not a good fit for everyone. BG brides, I'd love to share my experience attending my sister's wedding in Cabo San Lucas, Mexico, with you, in the hopes that it will help you decide if it's the right choice for you and your groom. I'll also share what it's like to be a guest in this scenario, so that you can get some insight on what to expect if you'll be jetting off to a loved one's wedding soon. Let me take you through some of the details...

Photo Credit: kieraphoto.com
1. How do you feel about an informal dress code? The dress code for a destination wedding is likely to be more relaxed than a formal wedding, especially if the ceremony is taking place on or near a beach. Embrace it! My dad wore flip-flops as he walked down the aisle and Corey sported khaki shorts. Typically, if you're attending a destination wedding, you can pack light: a few summer dresses and swimsuits should be sufficient. Encourage guests to kick off their shoes and have some fun—my sister's entire bridal party jumped into a resort pool (with the bride still wearing her wedding dress!) after the reception festivities ended. Can you imagine a bride wearing a ball gown and tiara doing the same? I can't, either.

Photo Credit: Nikki Stroud
2. Are you willing to host weekend events? Since guests will probably stay in town for more than one day (which is a given if they're traveling to another country or state), most destination brides are expected to organize a few group activities for their guests. The day before the wedding, my sister rented a boat for her guests, so we could all take a ride and go snorkeling together. It was fabulous! The captain pulled up to another ship and traded beer for fresh tuna, so we had fresh tuna salad sandwiches on board. I could not have felt more like a pirate, bartering at sea, and I loved it. It's a nice gesture to give your guests an experience "gift," since they've devoted so much time to your big day.
3. What are your expectations as far as gifts? Brides who host destination weddings know that their guests are probably reaching into their pockets more than they would for traditional nuptials back home. That being said, the gift-giving protocol is much more relaxed. My sister never had a wedding shower, although some guests did choose to give presents (they typically weren't as costly as a traditional wedding gift). If you're attending a destination wedding, I recommend shipping your present directly to the couple's home, so that no one has to worry about packing, losing, or breaking it.
4. Do the pros outweigh the cons? I had the time of my life at my sister's wedding and I think everyone who attended would agree! Destination weddings allow you to have an intimate celebration and spend more time with your loved ones. We got to hang out with the newlyweds for a couple of days after the wedding, before they took off on a private mini-vacation to another part of Mexico. Another huge plus is that the cost of a destination wedding for couples is minimal. Many resorts include a ceremony, reception, or both in the package if you ensure that a certain number of hotel rooms will be booked. And let's face it: You can't beat the gorgeous views and scenary. Although guests spend more on destination weddings, once they arrive, it's not a just a wedding anymore—it's a vacation!
5. Or do the cons outweigh the pros? Are you a stickler about making sure every single detail of your wedding is perfect? If so, you might get stressed and overwhelmed by hosting a destination bash. Let's face it, every nuptials has their surprises and may not go exactly as planned, but this is especially true when you're planning from overseas. Take a look at the photo of our bridal party below, taken pre-ceremony. Notice the tiny, purple flowers that the bridesmaids are holding? The only real bouquet that showed up that day was the bride's, so we were forced to "borrow" those flowers from the resort. (P.S. We did finally receive our original bouquets two minutes before we walked down the aisle, but it was a little too close for comfort.)

Photo courtesy of: kieraphoto.com
Perhaps the biggest con is that not all of your loved ones will be able to attend, due to financial, health, or schedule limitations. Corey and I considered a destination wedding, but some of his grandparents would not have been able to come, so we decided against it. On the flip side, if you're invited to a destination wedding and can't make it, the couple will just have to understand. But if you're able to save up and treat it as a vacation for yourself, I think you'll find that they are relaxing, memorable and incredibly fun!
Tell us: Have you ever been to a destination wedding? Would you consider getting married in a locale other than where you currently live?
—Nikki Stroud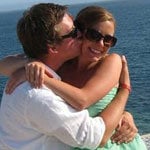 Nikki Stroud is a real bride who is learning every step of the way when it comes to wedding planning. She and her fiancé, Corey Allan (both Ball State alums), will be married in September of 2012 in front of their friends and family in Indianapolis. Glittering ivory lights, exposed plumbing and sleek wood floors depict their romantic yet rustic venue in the Downtown area. The couple hopes to incorporate personal touches to make the celebration truly reflect their relationship.