I found "The One" — my wedding gown that is (I found my fiancé six years ago!).

In my last post, I described falling in love with three completely different dresses. I left the bridal salon empty-handed that day because I couldn't decide between something elegant and traditional or modern and trendy. Recently, I found the perfect style that embodies all of those elements at Birnbaum & Bullock's flagship store in NYC (stay tuned to see a photo of "her").
Birnbaum & Bullock has four different lines — my wedding dress is from the Couture collection. The brand's in-house designers, Steven Birnbaum and Robert Bullock, custom-design all of the styles from this collection, and the process has been so interesting that I wanted to share it with you all.
After taking my measurements, the designers told me to come back in a month for my "muslin fitting." I had no clue what to expect, so when I arrived on the day of my appointment, I was shocked to find a gorgeous little cotton dress waiting for me. When I put it on, it fit like a glove — the boning in the corset felt amazing. My mom joked that the dress was so pretty, I should wear it to my rehearsal dinner!
Steven made a few alterations. The sweetheart neckline was sitting a little high on me, so he lowered it, and nipped and tucked the corset so it fit a little tighter.  
Steven hemmed the muslin so that he would know where to begin the skirt on my wedding dress. I love interesting skirts (anything that's frilly, lacy and voluminous) and being only 5'2", I was worried that I'd be forced to chop off most of the bottom, which would impact the design. Instead, my custom-made dress will come in my size, in my exact proportions.
I also asked if it would be possible to lower the back of the gown. Instead of the back being straight across, I wanted it to extend in a V shape. Steven agreed, and he drew a line on the dress so that he would know where to cut the pattern.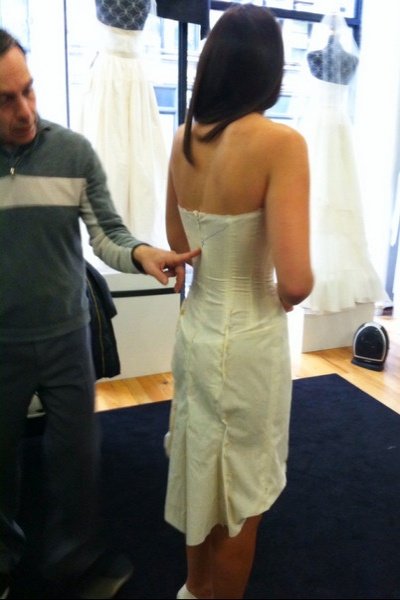 Tip: It's important to be honest with your designer. It's your day, and your dress should reflect your vision. Use clear communication and focus on the fit of your gown. Though it's an emotional day, try to be clear about what you want and not let your emotions get in the way. 
There's a big difference between getting a custom-made wedding gown and having minor adjustments made. Generally, when you order a dress from a salon, it comes from a designer who is making hundreds of the same style, whereas a custom gown is domestically made in the designer's atelier. Most major bridal designers are happy to make modifications to an existing dress style (i.e. adding sleeves, a belt, or beading) for a fee. And, even if the designer can't do it, there's a good chance any full-service bridal salon can.
However, if you want to dream up a dress from scratch, it's a good idea to either hire a seamstress or find a specialty line like Birnbaum & Bullock. It's important to keep in mind that custom gowns may be more expensive than buying off-the-rack and require more time to create than a ready-to-wear dress (you may need four fittings or more for a custom-designed dress). 
Next, Robert and Steven will copy the muslin with the actual fabric of my gown. The gown will come together in stages throughout the rest of my fittings, and on my wedding day, I will walk down the aisle in a dress that is truly one-of-a-kind!
We want to hear from other brides who opted for a custom-designed dress — tell us where you bought it and what your experience was like.
— Rachel Dichter