Welcome to our first installment of "Ask the Experts," where our contributor team of wedding planners solves readers' most pressing wedding-planning dilemmas! This week, Danielle Bobish from Curtain Up Events and Diane Kolanović-Šolaja from Dee Kay Events weigh in on how to find chic bridesmaid dresses. Do you have a question that you'd like to submit? Email [email protected] and we'll do our best to respond to your inquiry as soon as possible.
Q. "I'm searching for bridesmaid dresses but I'm having a hard time finding styles that are both affordable and beautiful. Help!" — BG reader Deserie
Danielle's Answer:
"Hello, Deserie! Finding affordable and attractive bridesmaid dresses does seem like a daunting task; however, it doesn't have to be. The White by Vera Wang collection at David's Bridal is not only affordable but stunning. I would honestly wear many of the pieces myself! They are beautifully structured, elegant and look way more expensive than they really are because Vera only puts out the best.

White by Vera Wang, Style VW360130 (on sale for $99.99, davidsbridal.com)

White by Vera Wang, Style VW360156 (on sale for $99.99, davidsbridal.com)

White by Vera Wang, Style VW360169 ($178, davidsbridal.com)
Jim Hjelm Occasions also makes beautiful bridesmaids dresses that come in several different styles and fabrics. What I like about this option is that you can mix and match the styles to suit your bridesmaids' personalities. You love them all for who they are, so why put everyone in the same exact dress?

Jim Hjelm Occasions, Style 5462 ($210, jlmcouture.com)

Jim Hjelm Occasions, Style 5362, available in short or long ($190, jlmcouture.com)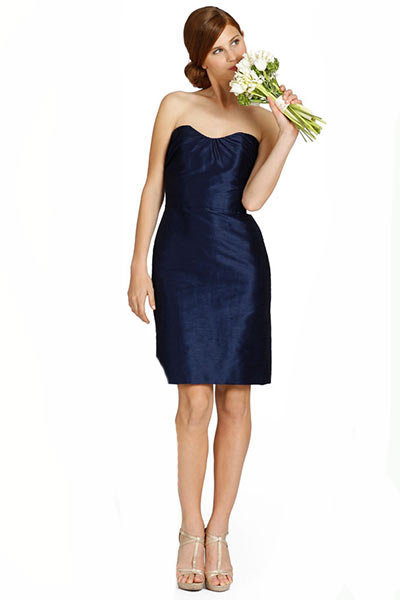 Jim Hjelm Occasions, Style 5363 ($190, jlmcouture.com)
My favorite option for bridesmaids is to choose a color palette and help them find dresses that they like and would wear again. For example, at my wedding, the bridesmaids wore floor-length black gowns of their choosing. They all looked gorgeous, and everyone got to spend what they could afford and feel comfortable throughout the evening. If you do decide to go this route, it's a good idea to use Pantone color swatches as a guide so that you're all on the same page about what constitutes magenta or sky blue.
Finally, know that you don't have to have your bridesmaids' dresses altered at the same location where you purchased them. If you or your girls have a tailor that they know and trust, they can just as easily have their dress altered by that person, which is a great way to avoid extra or hidden costs when it comes to alterations."
Diane's Answer:
"Pick a dress that your friends will feel good in and possibly wear again. If they can reuse the dress for another occasion, you've picked a winner. If you fall in love with a pricey dress, perhaps you can offset the cost and pay a portion of the dress as a gift to your bridesmaids. Your friends will appreciate the gesture, and you will be able to fulfill your vision.
Like your favorite college sweater on a crisp, autumn day, silk and chiffon are go-to fabrics for bridesmaids. Why not change it up a bit? This beautiful Amour lace dress by Wtoo evokes elegance, glamour and simplicity. The simple straight cut will flatter any hip size, and a ribbon belt will accentuate the best parts of any of your girls. At the same time, the keyhole back will keep all those bits and pieces in line while creating a dramatic effect. Are your girls worried about their back being exposed? Gift them a beautiful shawl to make them feel comfortable. After the bridal entrance, walking away will never look so good!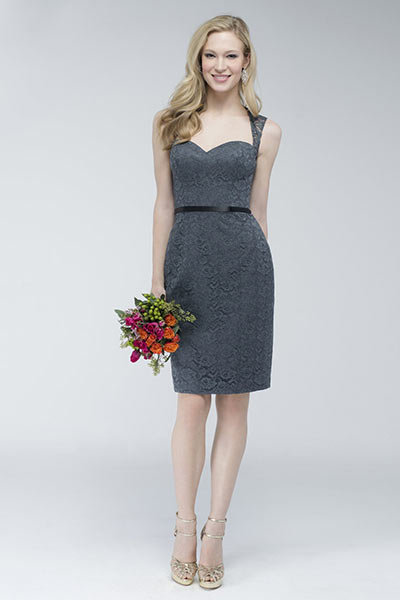 Wtoo, Style 791 ($195, watters.com)
For the romantic bride, the Chloe dress by Jenny Yoo is one of my favorites. A delicate lace appliqué coupled with a gorgeous sweetheart illusion neckline makes this dress a great choice for any occasion. The dress comes in mostly soft hues, perfect for the blush-inspired wedding. Just have your bridesmaids be careful not to snag the tulle skirt before the ceremony. At the reception, they can spin on their toes all they want!

Jenny Yoo, Style Chloe ($250, bhldn.com)
P.S. Just like perfume, shoes are a personal thing. Spare yourself some sanity by letting the girls decide which shoes to wear (bonus points if you go with a color like black, gold or silver, which they're more likely to have in their closet already). Not everyone needs to be in a 4-inch stiletto. Trust me."
P.S. Have a pressing wedding dilemma or question? Submit it here and we'll answer it in an upcoming blog post!
— Stefania Sainato
---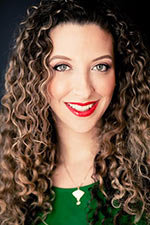 Danielle Bobish is the founder and creative director of Curtain Up Events, a full service event planning and design firm in NYC. While planning weddings, corporate, and social events throughout the tri-state area, Danielle has garnered a number of industry honors including The Knot's Best of Weddings, Bride's Choice by WeddingWire.com, BizBash Social Event Planner of the Year, and recognition as a Crystalized Swarovski Elements wedding planner.

Diane Kolanović-Šolaja is the creative director and owner of Dee Kay Events. She used to sew her own clothes with her mother, who was a bridal seamstress for 30 years. Today, her love of design takes her through every step of the wedding process. Dee Kay Events lives for style and creates inspiration for their clients for every type of event design and production. Diane and her team will transform a good party to an unforgettable event that your guests will talk about for years to come. Fête for us all!™