Photo Credit: JoPhoto
We brides are truly blessed to have those near and dear to us serve as members of our bridal party. The maid(s) of honor and bridesmaids take on so many different roles during our journey from Miss to Mrs., acting as therapists, stylists and party planners. When your friends are so eager to assist with the planning, it can be difficult to determine when to take advantage of their assistance and which tasks you're better off tackling solo. Follow my personal breakdown for guidance.
Wedding Tasks Where More is Merrier
Bridesmaid Dress Shopping: I opted to include my bridal party in the process of selecting their own gowns. Personally, I'm against asking someone to spend money on a dress that they have no interest in wearing, or—even worse—a dress they feel uncomfortable in. I brought my girlfriends to a local dress shop and had them try on different styles, which helped me see which silhouette and color flattered the group as a whole. As I suspected, I couldn't find a dress that flattered all of my girls, so I gave them some general criteria (color, fabric, and length) and had them select their favorite style. The end result: Happy girlfriends who look absolutely gorgeous!
Giving Input on Floral Arrangements: I'm big on the future groom being involved in all things wedding, but the reality is that sometimes men have no interest in certain areas of wedding planning. My fiancé Michael really didn't have an opinion when it came to our floral arrangements, whereas I had too many opinions and couldn't make a decision. I decided to call in reinforcements (aka my bridal party). I e-mailed photos of my top three centerpieces to the group and reviewed their feedback, which helped me narrow down the choices to just one winner.
Stuffing Invitations: Michael and I will be ordering our invitations this week (hooray!), but I've already decided to throw a "stuffing" party in March. Inviting my bridal party over to help me "stuff" my invitations with the necessary cards (accommodations card, directions card, RSVP card and envelope) will help make the process quicker and more enjoyable. I recommend having delicious refreshments and upbeat music on hand to help make it as fun as possible.
When to Leave the Entourage at Home
Wedding Dress Shopping: Regarding your dress, my best advice is to take only two to four close family friends (mom, dad, sisters, aunt, grandma, etc.) with you when shopping. The first time out, I took my parents and sisters. The second time, I invited my mother, future mother-in-law, and sisters to accompany me.  Four opinions were more than enough to help guide me to the dress of my dreams.
Searching for Vendors: I recommend leaving your girlfriends at home when meeting with potential wedding-related vendors, even if you share the same taste in music or flowers. Selecting your florist, photographer, and DJ or band is a personal decision that should be made by the couple (it is your wedding day after all!). However, do ask all of your recently-married friends and family members which vendors they would recommend from their wedding.
Crista asks: What tasks are your bridesmaids helping you with?
—Crista Camerlengo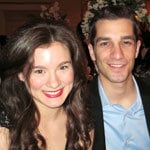 Crista Camerlengo is a real bride and the co-founder of Style She Wrote, who will tie the knot in July 2012 with Michael, her fiancé of six years. This chic NYC couple describes their wedding style as "modern romance"—fitting for a pair who had their first date at a quaint seaport and became engaged in the same spot, overlooking the Brooklyn Bridge. This fashion-forward blogger loves to infuse her traditional taste with unexpected contemporary accents.