I'm addicted to finding fabulous couture options for my bridesmaids. I've asked four girls to celebrate my big day: My best friend from childhood, my older sister, my future sister-in-law, and my cousin. A few years ago, when I originally chose them, the dress styles were very limited. Sure, there were some nice options, but never any that were full-on stylish.
To make matters even more complicated, they all had their own agenda of what they wanted to wear. The mismatched dress trend hadn't been born yet, and it's the one I'm officially crushing on for my Italian nuptials in 2014. Forget boring taffeta and horrid shades of pea green—the dresses below are incredibly chic!
1. One-Shoulder Dresses
The latest craze is a bridal party with asymmetrical details, and this soft neutral is perfection.

Photo Credit: JLM Couture
Black dresses are purely chic, but do try pops of color on your bouquet to make a bold statement.

Photo Credit: JLM Couture
If you want a dramatic color but you don't want to commit to a dark shade, try gunmetal for an elegant option.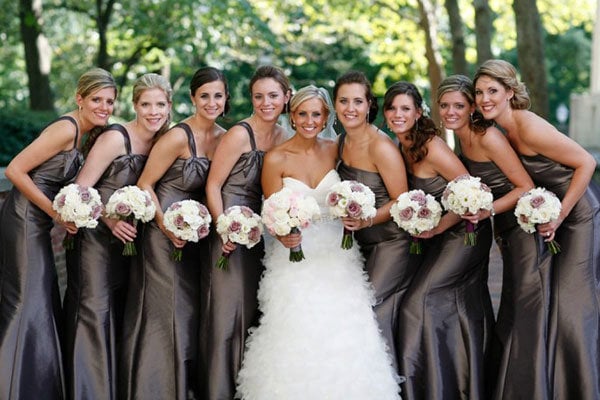 Photo Credit: JLM Couture
If you are going to pick the same dress style for each girl, do let your girls pick out their own shoe choices to let their personality shine.
Photo Credit: Jane Hammond Events
Navy is the new black. It's classic but with a pop of color in the shoes, it's beyond fabulous!

Photo Credit: Archetype Studio Inc
2. Bold and Vibrant Hues
I am currently crushing on bold hues, and this stunning shade is sassy.

Photo Credit: JLM Couture
Go monochromatic with a plum jewel tone and pair it with a lighter shade of bouquets.

Photo Credit: R.E.M. Video and Photography
I think this has to be the biggest dose of sunshine in any bridal party. They rocked this color!

Photo Credit: Amanda Wilcher Photographers via MagnetStreet
3. Mismatched Gowns
For a mismatched bridal party, use one color in different hues, like these gorgeous leading ladies.

Photo Credit: KT Merry Photography
Words cannot even describe how in love I am with these Marchesa and Carolina Herrera dresses!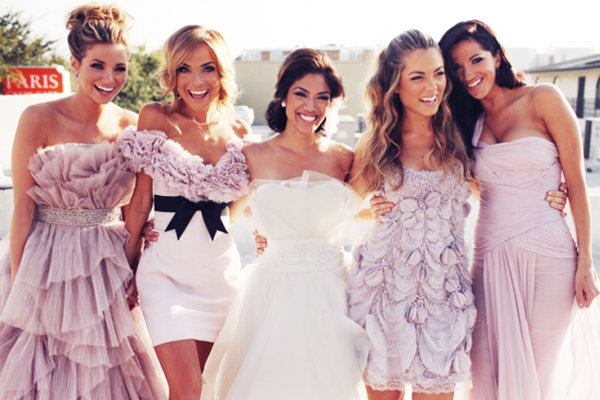 Photo Credit: Sunkissed by Jenni
This is my favorite of all the looks—classy and downright sassy.

Photo Credit: Vogue via Glafki's Dolce Vita
I love how this bridal party has different shades of neutrals, a pattern, and different necklines.

Photo Credit: Todd Pellowe via Great Expectations
Sequins? Oh. My. Word. This is a must for any girl that suffers from shiny object syndrome.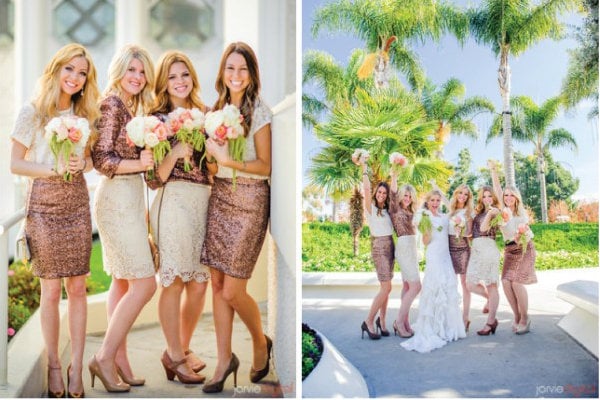 Photo Credit: Jarvie Digital Photography
4. Short and Sassy
The sweetest shade of blush on the shortest dresses ever. Could your girls rock this look?

Photo Credit: Jose Villa Photography
Shades of coral and poppy are so on-trend at the moment, and these girls look amazing.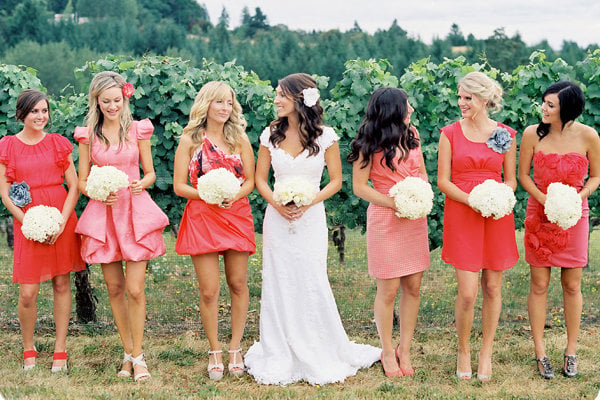 Photo Credit: The Short and Sweet of It
I can't figure out what I adore more: Their little gray dresses or their fun, natural poses.

Photo Credit: Christian Oth Studio
The ultimate proof that your leading ladies' dresses need their own photo op!

Photo Credit: Katie Vowels for Annie McElwain Photography
It doesn't get any more stylish than well-dressed bridesmaids in skirts with prints.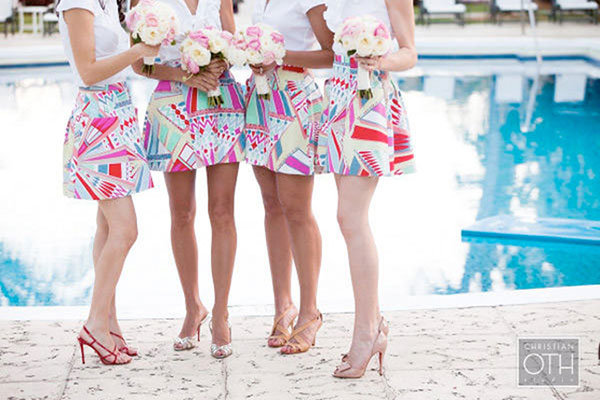 Photo Credit: Christian Oth via Belle the Magazine
5. Pastels
These mismatched bridesmaids wearing the sweetest pastel shades epitomize a springtime soirée.

Photo Credit: Allure Bridals via Wedding Insprirasi
These gorgeous bouquets and equally stunning flowy gowns are making me swoon.

Photo Credit: Jose Villa via OnceWed
Bohemian glam is one of my favorite styles. I am crushing hard on these dresses!

Photo Credit: Skyla Walton via Green Wedding Shoes
Tell us: Which dress is your favorite?
— Angelica Bragg


Angelica Bragg is a real bride and the blog maven of The Bridal Detective. She and her fiancé, Edwin Mirzayans (a published author), are planning a destination wedding at the Italian Lakes in Summer 2014. With a stunning backdrop and "la dolce vita" attitude, the couple's soirée will be intimate and romantic, all while celebrating two cultures. When the couple returns from their Italian road trip honeymoon, they will throw a glam after-party with all of their loved ones back home in Jacksonville, Florida.