I'm very lucky to have four awesome bridesmaids who will stand by my side during my wedding. Although our special day is supposed to be about my fiancé Corey and I—the love we share and the life we're planning together—it's important to us to include loved ones in the planning process as well. Bridesmaid dress shopping was no exception. I know that the notion of finding one dress to fit multiple ladies (all with different body types and style preferences) can be nerve-wracking and challenging, but I'm happy to report that it can be done! Here, some considerations to keep in mind that I learned from personal experience.
1. Remember that no two bridesmaids are built the same. When choosing a dress, it's important to keep the ladies' body types in mind. All four of my 'maids are absolutely gorgeous, but they have different body shapes and heights (one bridesmaid is 5'2 while another is 5'11). No matter how fit or beautiful your bridesmaids are, not every dress style looks good on every woman—ask them in advance if there are any particular necklines or silhouettes they find to be unflattering. One of my bridesmaids didn't think halters looked good on her figure, so we stayed away from that particular style.
Nikki and her sister Allison
Nikki and her bridesmaid Caroline
Pictured from left to right: Bridesmaid Molly, the bride-to-be and Beth, another bridesmaid
2. Consider your bridesmaids' budgets. When I was searching for bridesmaid dresses online, I found some stunningly unique ones…but they cost $300+. Try to look at styles from the POV of your bridal party and ask yourself: Would you gladly pay that much for a dress you (probably) won't wear again? My honest answer was "no." The style we chose costs just under $200. I found that to be a happy medium; we found a well-made,  cute option without breaking the bank entirely.
3. Dresses may look drastically different online than in person. Even if your 'BMs don't all live in the same area, it's critical to go to a brick-and-mortar store and have one of them try on the dresses (worst case-scenario, you can model them yourself). After shopping with my bridesmaid Beth, I searched online for the dress we liked best, since we weren't allowed to take photos before purchasing (as is the case for many stores). I was surprised to discover that the dress looked much more incredible in person than it did online. Seeing is believing—try not to judge otherwise!
The Winning Style from Allure Bridals (pictured on the left)
4. Time is ticking! I had to shop for bridesmaid dresses on two separate occasions: Once with two of my 'maids in Cincinnati and then again with my only local bridesmaid in Indianapolis a few months later, where we found a winner. I was surprised to learn that it can take just as long for a bridesmaid dress to come in as it can for your wedding dress. Our consultant advised that it usually takes about 3-6 months to receive them, so you should always allow an extra month for alterations. I'm thankful we reached a decision so my ladies can order their gowns at least 5 months out.
5. It's really up to the bride, but how about a compromise? I gave my brides the opportunity to share their honest opinion about what they wanted in a dress, with the condition that the style must be floor-length in a deep purple hue. However, the style, fabric, and price were all open for discussion. Brides, you want to be open to your bridesmaids' suggestions; conversely, it's just as important for 'maids to understand that their dresses are part of the bride's overall vision of their wedding day.
Leave a comment and tell us what your experience was like shopping for bridesmaid dresses!
— Nikki Stroud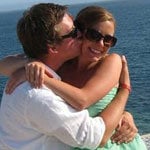 Nikki Stroud is a real bride who is learning every step of the way when it comes to wedding planning. She and her fiancé, Corey Allan (both Ball State alums), will be married in September of 2012 in front of their friends and family in Indianapolis. Glittering ivory lights, exposed plumbing and sleek wood floors depict their romantic yet rustic venue in the Downtown area. The couple hopes to incorporate personal touches to make the celebration truly reflect their relationship.