After a wedding-fueled summer, we BG staffers couldn't help but wonder what it's like to be a bridesmaid not just once, but five, six or even 12 times (that's a whole lot of taffeta). So we interviewed a panel of 11 'maids about why they were willing to say "I do" to so many different weddings and what they've learned along the way. Follow their pointers to be an amazing bridesmaid; just don't blame us if you get asked again!
1. Being Asked is a Huge Honor
The bride chose you for a reason: She values your friendship and wants you to stand beside her as she takes her vows and celebrates the beginning of a new chapter in her life. The bridesmaids that we spoke to say that although it might sound cliché, they feel it's a huge honor to be in someone's bridal party.
Being privvy to a friend's most intimate moments is part of the draw. "One of my favorite parts of being a bridesmaid is the time leading up to where your friend and/or family member says 'I do'...You get to talk about old times, help them ease their nerves and watch them transform into the most beautiful they've ever been. I love taking a moment to sit back and take it all in before we're hustled out of the room and get the bride down the aisle," says Samantha Irons from Cleveland, OH. (Check out 200+ emotional 'getting ready' moments, here!)
If you're a first-timer, you may be surprised to learn that there's much more involved with the role than simply donning a matching dress and waltzing down the aisle. Typically, you'll be expected to help plan pre-wedding events, dish out funds (more on that later) and abide by wedding etiquette that might not always be so obvious. "Overall, your job is to support your friend in her weak, stressed and potentially bridezilla-worthy moments…to help her stay accountable in her marriage and make the whole experience as great as possible," says Brittany Shanks from Newport Beach, CA.

Brittany Shanks has been a bridesmaid in seven weddings.
Feel like you're not up to the position, whether it's because of finances, work obligations or distance (if you live far away)? That stress will show, and in turn, can stress out the bride. If your heart isn't in it, Sara K., the designer for Doie Lounge Robes (a favorite with 'maids), advises declining early on to save face.
"I have never turned down an invitation to be a bridesmaid, but it is something that I would consider if I felt that I wouldn't be able to afford the time (because of work or family) or cost…or, if I were in a particularly tough place where it would be really hard for me to be truly happy for the bride," says the San Francisco native.
A true friend will accept that you can't partake in the wedding — no matter how disappointed they may be — and you can still find ways to be involved even if you're not in the bridal party.
2. If You're the Maid or Matron of Honor
Rosa Fasolo from Elmwood Park, NJ, summed it up best: "As a MOH you are the bride's go-to gal — whether you're assisting with decision-making and planning duties, running last-minute errands, attending appointments with her or being her liaison for all of the bridesmaids," she says.

Rosa Fasolo has been a bridesmaid in four weddings and a maid of honor twice.
Seven-timer Theresa Roma from Buffalo, NY, recommends writing the reception toast a few months before the wedding so that it's not "hanging over your head" and you have plenty of time to rehearse and perfect it. (Learn how to deliver your MOH speech like a pro.)
If you're a bridesmaid, be wary of stepping on the maid of honor's toes when it comes time to organize the bridal shower and bachelorette party, since she's typically the project manager for those events, and this is her time to shine. Of course, that doesn't mean you need to take a back seat entirely. Help her get the ball rolling by asking what ideas she has so far and offering to take charge of one aspect, whether it's the liquor, food, or logistics of the night.
3. How to Make the Bride Feel Special
Roma is passionate about making every bride feel like A Big Deal. "This [the wedding] is one of the biggest events of her life — spoil the crap out of her! Email/text/call with countdowns to the big day, send flowers or a note to remind them their day is approaching, get access to their wedding night hotel room and sprinkle rose petals on the bed (add a bottle of champagne)," she says.

Theresa Roma has been a bridesmaid in five weddings and a matron of honor twice.
More sweet ways to shower your bride with affection: Get her a little engagement gift, like this "To Have and To Hold" bag along with bridal magazines and Post-It tabs (to mark pages); make a DVD for the bride with all the chapters of her life and gift it to her at the bachelorette party; or, buy the couple several paperback novels that they can pack for their honeymoon.
On the day of the wedding, it's the little things that can mean the most to a bride: Refilling her glass of water or coffee, being the first one on the dance floor, grabbing slippers for her aching feet (when she can't leave the reception) and offering to stay until the end to help pack up any items she wants to keep.
4. Step in Without Being Asked
Christine Picchietti, a bridesmaid (and bride-to-be) from Chicago, IL, jokes that she's basically a free wedding planner for her friends: "I've helped create all the floral centerpieces, I've sat in on a tasting and helped pick the menu, I've helped during wedding dress shopping, I've helped pick a playlist, I've helped with all the little crafty, personal touches for the reception…the list goes on."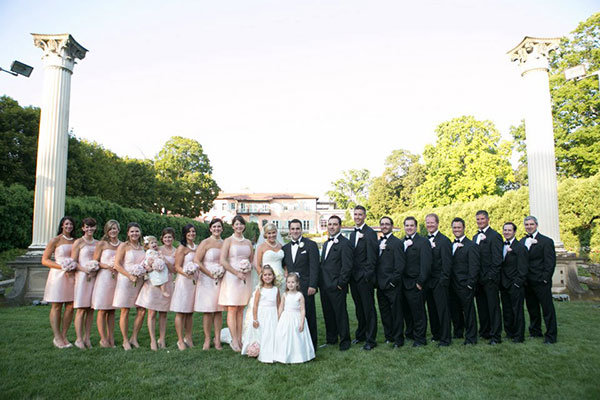 Christine Picchietti (pictured on the far left) has been a bridesmaid in five weddings.
But you don't have to be a super planner to be there for the bride; it's just as important to be present for her emotionally, even if you live in a different state or are being pulled in different directions with your own career, family or love life. Check in with the bride from time to time to ask how she's doing or lend an ear if she needs to vent.
"It's often not about doing everything and being there for every single thing, but about knowing what's important to your friend as she plans her wedding, so that you can be there for her in the right ways without spreading yourself thin," says Ilana Stern, the CEO of Weddington Way, a website devoted to making bridesmaid dress shopping fun and easy.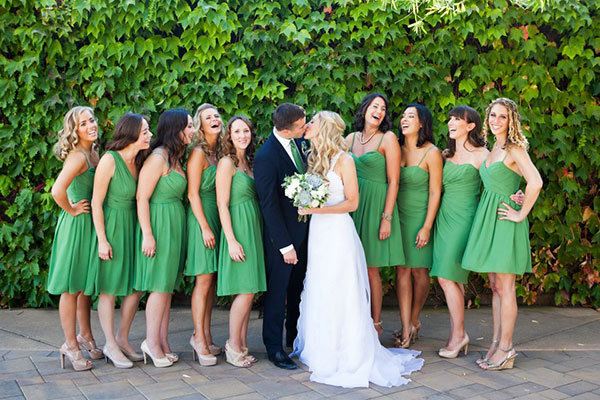 Ilana Stern (pictured at the far right) has been a bridesmaid in over 10 weddings.
Asking "Can I help?" isn't always enough — the bride may not want to assign a task to you out of fear that you don't really want to do it. Roma recommends rephrasing the question as "What tasks do you have left to do?" This better conveys that you're not being inconvenienced and it's more likely to garner a productive response.
5. Pack Emergency Supplies Just in Case
Be prepared for the unexpected — inevitably things will happen that weren't planned. Bring wedding-day staples like aspirin and safety pins in case of a snafu. "Dresses get ripped, hair falls out of place, mascara smudges, someone feels faint — nothing goes perfectly, but if you're there with supplies, you'll make the best of a bad situation," says Picchietti.
Tend to get a little irritable and spaced out when you're hungry? Join the club! Sara K. recommends packing a snack in your bag just in case you don't have access to food or get light-headed during bridesmaid duty. "At one particular wedding, I showed up to the morning meeting spot and one of my best friends looked in my bag and started making fun of me for bringing some almonds...fast-forward five hours later, and she was begging me for them! Begging me. I made her apologize and admit that I was right before sharing them with her," she says.

Sara K. has been a bridesmaid in 12 weddings — the most out of anyone we interviewed for this story!
6. What to Do When Sh-t Hits the Fan
In case something goes wrong — really wrong — offer comforting words to help keep the bride calm. If the bride is unaware of the glitch, keep her in the dark (and then tell her afterwards) unless it's an absolute emergency.
The 'maids we spoke to went above and beyond the call of duty. "For my sister-in-law's wedding, there was a blizzard that day and all the schools/roads were shut down. I called the local news to let them know there was a 'white wedding' and they had a film crew there to document their big day!" says Sadie Cornelius from Washington, D.C.

Sadie Cornelius has been a bridesmaid in six weddings.
Shanks was taken off-guard when she accompanied a friend to a gown fitting and they had an emotional breakdown in the dressing room. Her friend was upset for a multitude of reasons, including the fact that she felt insecure wearing her dress and her mom, who had passed away in high school, couldn't be there in that moment. "I knew I had to pull it together for her. I got her a glass of champs, gave her a big hug and lots of compliments (genuine, of course) — everything ended on a good note and most importantly, she looked amazing on the wedding day," she says.
But perhaps the toughest moment is knowing what to say when a bride has wedding jitters. Irons was faced with this dilemma when her BFF realized she was marrying the man of her dreams, but not the family of her dreams. Lots of late-night phone calls ensued: "It was a hard situation because it wasn't like I could say, 'Just ignore her or take this negativity out of your life.' She was a few weeks away from marrying this woman's son. So I was there for her to listen, to try and stop the tears (and anger) and provide the best insight I could."

Samantha Irons has been a bridesmaid in six weddings.
7. How to Save a Little (Every Bit Counts)
All of the bridesmaids we interviewed agreed that the most challenging part of being a BM is paying for it all: Travel expenses, dresses, shoes, beauty services, gifts and more can put a major dent in any 20- or 30-something's wallet. Being a bridesmaid may mean sacrificing a personal vacation, new clothes, or other personal things in order to be there for someone else's big day.
Iron says, "I could quit my job and live on a beach somewhere with the money I've spent the past year-and-a-half. All jokes aside, you have to go into being a bridesmaid knowing you will be spending quite a lot, and I know for me, every penny has been worth it."
Joanne Barken, CEO of The Bach, a bachelorette party planning website launching this upcoming fall, advises talking to the bride early on about her expectations. For example: How much will the dress cost? Where does she want to go on her bachelorette party? Is a relative of hers throwing the shower or are all the 'maids funding it?
"If the total expected amount is more than you can afford, be open with the bride and discuss ways in which something can be scaled back, and find out what things are most important to her," she says.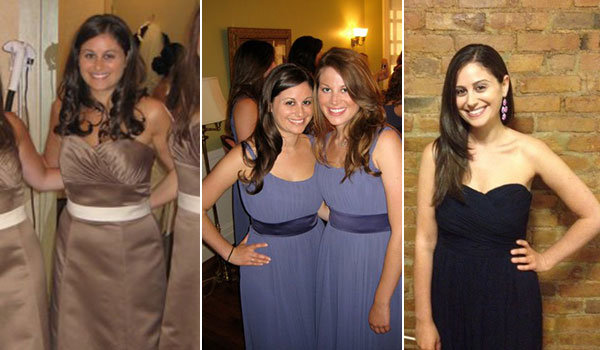 Joanne Barken has been a bridesmaid in four weddings and has planned over 12 bachelorette parties.
Traveling to attend a wedding, bridal shower, or bachelorette party? Be sure to book flights way in advance so you don't get hit with any last-minute fees, sign up for a credit card with an airline to book points (look for one that offers "flexible travel" and free checked bags) and split a hotel room with a few other girls.
Jennifer Harrington, a bridesmaid from New York, NY, suggests turning your trip into a mini vacation. After attending a wedding in Napa Valley, CA, recently, she stayed two extra days to explore the San Francisco area. 
There's also easy ways that you can save on gifts as well. Go in with the other 'maids on one big present, rather than giving individual gifts, or consider buying off the registry. Picchietti's go-to bridal shower gift is a themed basket that costs less than $50. She fills it with fun items, like pasta bowls, a monogrammed wine cork, a box of pasta and marinara sauce, for an Italian theme. She finishes it off with pretty wrapping and a personalized card. "Some people feel this [buying off the registry] is a no-no, but if you're on a budget, you do what's right for you."
8. The Dress: The Good, the Bad and the Fugly
It's unanimous — almost all of the bridesmaids we interviewed said their favorite dress was black, so if you're having trouble narrowing down a color palette, consider this goes-with-everything hue. Add a pop of color with fun accessories like necklaces or fur petticoats for a "winter wonderland" fête.
If you feel that black is too somber for the occasion, select another color of your choosing and allow your 'maids to give input on which silhouette or style they'd like, increasing the chance that they'll actually wear the dress again after your big day. (Yes, several of the bridesmaids we surveyed re-wore a few of their dresses!)
Overall, our advisory team of bridesmaids said that most of the dresses they've worn have been beautiful, but that doesn't mean they always felt comfortable in them. We're not talking about the normal aches and pains that go hand-in-hand with wearing a formal dress (and Spanx) — but emotional anxiety thay can only arise from squeezing an hourglass-shaped body into an unflattering sheath or having a seamstress screw up your dress so badly that you want to hide in the restroom for the entire night.
Harrington recalls one nightmare experience serving as a bridesmaid in her high school BFF's wedding, which took place in Kansas City. At the time, she was living in New York, so when the bride chose a style from a local dressmaker, she called in her measurements and hoped for the best.
"The dress was inexpensive and I kept my fingers crossed that it would actually fit...No such luck — the tailor had to reconstruct most of it and the alterations ended up costing me more than the original cost of the dress." (Avoid the same fate by opting out of a dress with boning or other features that will make it difficult to be altered.)

Jennifer Harrington has been a bridesmaid in seven weddings.
Our bridesmaid sources were too classy to tattle, but we did get them to reveal a few doozies they've worn throughout the years, including a navy ball gown with shoulder pads, a tea-length chocolate brown dress (re-worn as a Halloween costume), a bubble-gum pink polyester dress and a floor-length velvet dress. 
Shanks abides by this unspoken rule: "Even if you hate the dress — don't say it. One day, you'll get to select whatever your heart desires for your gal pals to cruise down the aisle in, but this just is not that time. Sure, you can expect the bride to be somewhat considerate of your budget, but your taste is a non-issue here." (If you know you won't wear a bridesmaid dress again no matter how pretty it is, consider donating it to charity so someone else can enjoy it — and you can free up space in your closet.)
9. Relationships Can Change for Better (or Worse)
Weddings are a joyous yet highly stressful time in a couple's life. As a bridesmaid, you'll learn a lot about the people you're surrounded with — not just the bride, but her friends, family, and the bridal party as well. "Friendships can form with people you barely knew before; relationships can get stronger, while others can sometimes even tarnish. I've found weddings to be a test of one's true colors," says Fasolo.
Harrington agrees: "Looking back, I am surprised by how much I enjoyed getting to know all of the other people in the various weddings, as well as the bride/groom's families…[being a bridesmaid] allows you a front-row seat to your closest friend's important life experience…it's so meaningful to see your friends in those moments."
10. Why it's Worth Being In The Bridal Party
All of the participants in this story agree that the best part of being a bridesmaid is making fun memories. "It's all about investing in life's major experiences and I wouldn't have done anything differently. I've been in so many weddings that I can only hope my small group of attendants are happy to pitch in now that it's my turn. We all have our challenges and other expenses – new tires, a new baby, a new house – but somehow I always make it work," says Katie Eakins from Laguna Beach, CA.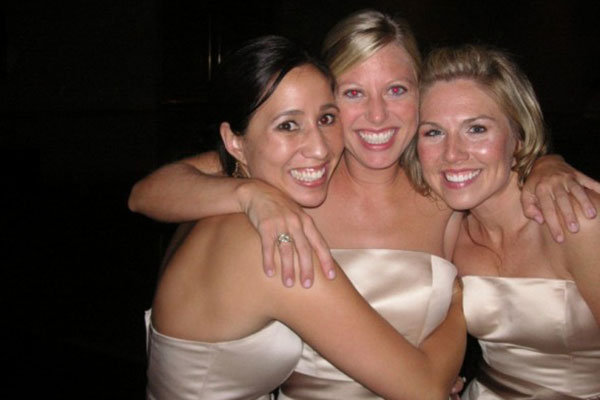 Katie Eakins has been a bridesmaid in 10 weddings.
For these more-is-merrier bridesmaids, no two weddings are alike. "You'll have the brides who need you to help with everything and then you'll have the very-involved moms who do everything…the wedding where it's all about the party (and not the wedding) as opposed to a couple who's all about the ceremony (and making sure nothing crazy happens at the reception)," says Irons.
"It's been a fantastic ride the past year and a half, and I can't wait for more of my friends to tie the knot. Maybe someday, I'll get married and won't end up being like Katherine Heigl in 27 Dresses."
Bonus: When It's Your Turn to Throw a Wedding
Getting married around the same time as other pals or family members? Be mindful of scheduling pre-wedding festivities too close together, like some of Cornelius' friends did. She was a bridesmaid in six different weddings, all of which took place in a span of six months (!) and involved taking monthly flights. "I was living in North Carolina at the time and making very little money, but I committed to one non-wedding event per wedding I was in," she says.
One benefit of being a pro bridesmaid is that when it's your turn to wed, you can put all of that knowledge and experience to good use. After Cornelius got engaged, she knew she wanted to hold her ceremony and reception at the same venue to prevent the dreaded "waiting around time." "Those are things I would have done anyway, regardless of other weddings I was in, but being in so many events reinforced them...my friends gave me so many great ideas for what to do vs. what not to do."

Sadie Cornelius tied the knot in September 2011 in Kansas City, Missouri.
Photo Credit: Mary Beth Koeth Photography
Even if you're a wedding planning tour de force, you might be surprised at how much work it takes to play Cinderella for a day, like Eakins was when she started planning her nuptials (she's getting married this November). "Being in a wedding, you don't actually understand the work that goes into it. Even as a bridesmaid, you're spared the direct responsibility of making dozens of decisions, meeting deadlines and making payments...it's wonderful but planning a wedding is like a full-time job in and of itself!"
Tell us: How many weddings have you been in? 
—Stefania Sainato