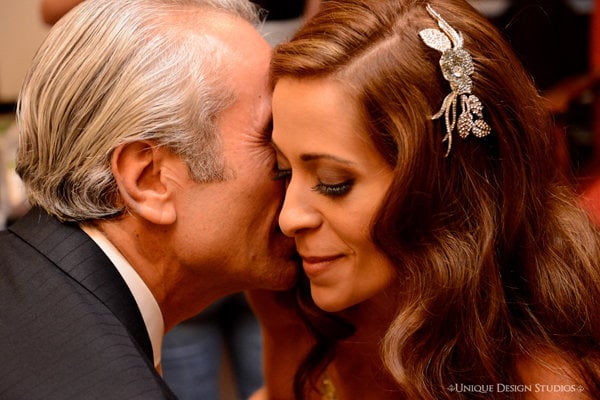 Photo Credit: Unique Design Studios
To My Chief Daddy Officer,
As a child, I never looked at my relationship with my Dad as "different" — I just knew it as unique and special. When I was seven years old, my parents went through a tumultuous divorce, resulting in my mother deciding to leave and move to Boston. Most kids, by default, would follow their mothers. And though some may have had that same expectation for me, at the tender age of nine, I made a decision that one could say marked a pivotal point in both of our lives and paved the way for my relationship with my dad being what it is today.
I made a choice — I wanted to live with my dad full-time. As the CEO of his own pharmaceutical marketing company and now a single dad, he did not run away from the challenge. He ran towards it — he embraced it, cherished it, and gave me a life and parent that some never get to experience.
I am a direct reflection of everything he has taught me and raised me to be, and I'm proud of that fact. He has instilled values and life lessons in what would seem to be an obvious way, but what I've learned is not obvious to most. He showed me by example and then let me arrive at my own decisions (both good and bad). What I never grasped until later in life — he was always strategic, and by that I mean he was always laying down the wireframe for an opportunity to teach me a life lesson. I always felt like he was five paces ahead of me (which, when I was a teenager, wasn't always fun); however, it always was for my benefit.
One of my favorite stories is when I was in high school and in the midst of college application time. I was struggling with what to do with my life (as most 17 year-olds will ponder). At the time, I was dating someone who my Dad was less than fond of and whose lack of motivation was most worrisome to him. When I shared what my college aspirations were, which was to take a year off of school, work as a hostess at a local restaurant and reconsider in a year, he responded with, "What a wonderful idea — minus the hostess job. In your year off, you can apply to the Peace Corp or Americorp and build houses for those in need." What he was doing was letting me decide for myself but giving me alternatives and guidelines so that this would benefit me; he allowed me the ability to lead myself to make the right decision for my career. Suffice it to say I submitted college applications the next day, because I realized Peace Corp equaled no blowdryers.
It wasn't until my years in college when I realized that I was never missing anything in life — my dad filled me with more love than a village of parents and provided me with a childhood and an adulthood serving as both mom and dad, confidant, best friend, designated driver, career advisor, relationship coach, and fashion aficionado, just to name a few. My dad is the businessman in a French-cuff shirt, who rolled up his sleeves to do his seven-year-olds nails, the CEO that would pick up my calls during business meetings so he knew I was okay, and the father who, without an iota of embarrassment in the inflection of his voice, would call asking for what kind of tampons I needed. When I reflected in my early college years, I recognized that most people didn't have one parent that behaved as lovingly and as selflessly as my dad always treated me. There was never a time where my dad wasn't present — he drove me to school in the mornings and tucked me in every night (which are still to this day some of my fondest memories).
In the 24 years of my young life, he has always gone above and beyond to be physically and emotionally available to me, and he's never missed any important (or non-important event). A few years ago, my dad was traveling to Thailand for a huge meeting. Conveniently, my long-term boyfriend broke up with me. The person I always turned to was half way around the world, but it felt like no distance was between us. Despite the 12-hour time difference, he made himself available to talk to me, listen to me wail and cry and offer me his kind words to ease my heartache. It wasn't until I reached milestones in my own career that I could truly comprehend the magnitude of what he did. His emotional presence never dissipated as I got older — in fact, in a lot of ways, it has increased. Throughout my two-year engagement, my fiancé and I would turn to my dad for his input as far as color schemes, floral combinations and, most importantly, for my dress selection. He has delayed trips and rearranged schedules, all of which seemed effortless to me because he's never missed a beat.
I always noticed that my friends were drawn to my dad for many of the same reasons I had taken for granted because he is all I knew — they, too, wanted a piece of his intellect, his astute business sense, his real-world wisdom. He is giving of his time, though he has little of it, to dedicate himself in helping my friends. He has employed two of them and has advised personally and professionally no less than 10 of my closest friends. He's helped prepare five others for job interviews — all of which were great successes. It was at this time when the idea of my dad writing a book begun. His book titled CDO Chief Daddy Officer is his story on how he applied his business knowledge to the business of parenting. When the concept arose, he told me the only way he'd go through with it is if I was the co-contributor to the book. If at all possible, this has brought us even closer, because it gave us a unique opportunity to work together and pull back the layers to the fundamentals of our relationship. The irony is that he wrote that book to discuss what he describes to be his crowning achievement — raising me — but what he doesn't know is that my proudest accomplishment is being just that — an accomplishment in his eyes.
Now, a week away from taking a walk down the aisle, I will have my number one man walking by my side. Though weddings usually represent "out with the old and in with the new," I am blessed to say that my soon-to-be husband is just receiving the passing of a baton from one man I love to another. Because truthfully, nothing really has to change — our lives are just transitioning harmoniously together. Every day, I cherish the blessing that I was born with, and I can only pray that as I turn a page in my life and start my own family, that I will be half as great of a parent as he was — I will then feel that I succeeded.
—Persephone Maglaya