I would have been happy just to spend the rest of my life with my best friend, Claudia, but I've come to realize that the bond we share has become even stronger by blending our two families together as one. It was obvious from the beginning that something special was happening. Like many other couples, we spent those first few months laughing until it hurt and getting to know each other. We talked about our dreams, friends, goals, and families—especially our children.
I found it very meaningful that we each have two children, a boy and a girl, from previous relationships: Analicia (16), Carter (14), Juan (10) and Riley (10). Every couple who chooses to get married must learn how to create their own family unit, but the process becomes even more complicated when there are kids involved. We made the decision early on in our engagement that this wedding would be a celebration of the union of our family, not just the two of us. Here's a look back at how the kids have impacted our journey towards becoming husband and wife.

Photo Credit: Stephen Martin Photography
1. Don't rush the first meeting; plus, how to make the kids feel more comfortable.
By the time we were ready to introduce the kids, we were 100% certain that we wanted to spend the rest of our lives together. Meeting the stepchildren can be quite nerve-wracking. Before this can happen, a great deal of "prepping" needs to be done by the respective child's parent, to reassure them that they are (and always will be) their number-one priority. We made it very clear that we weren't trying to replace their other parents, which was a very big concern that all of the children shared. 
We chose The Rainforest Café for our first meeting spot because we wanted the kids to be in an environment that was happy and fun, with plenty of distractions in case things turned uncomfortable. After a few minutes of sizing each other up, the kids did what kids are good at doing—they laughed and played for the rest of the evening. Since Juan and Riley are the same age, they immediately bonded, and today, they  truly think of each other as brother and sister. The older kids were initially a little more hesitant and skeptical, but they slowly transitioned into their new roles once they realized that they can be allies to one another.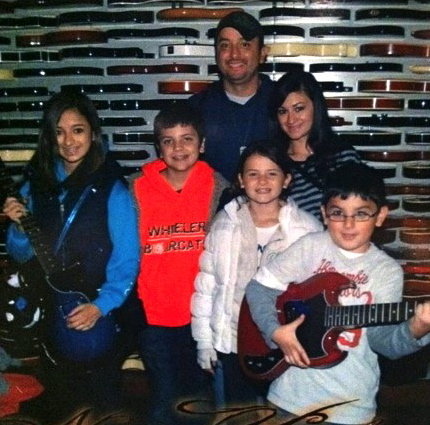 2. Take things slow when it comes to planning activities as a group.
Although the kids appeared to enjoy themselves, the real concern was whether they would accept Claudia and I individually. What we did next turned out to make the biggest difference. We would take turns on the weekends and go out for dinner and a movie with my kids one night, then do a different activity with her kids the next. Slowly establishing a group dynamic put the children at ease. To our delight, they no longer viewed our relationship as a threat, and they started asking to hang out with each other. 
We also found it extremely helpful to define our roles as parents and ask the children how they feel. We were surprised by how articulate even the younger kids were about expressing their emotions (at the time, they were only five years old). Non-verbal cues can be just as important. For example, we noticed that after all of us were together, my daughter, Riley, would become even more attached to me than usual. She was concerned that I was replacing her with another little girl. It took a few extra hugs and an ice cream cone to reassure her that this wasn't the case. All of the kids experienced a similar response that could have gone undetected if we didn't make an effort to constantly ask them how they felt.
3. Include children in the wedding-planning process.
Our kids have (eagerly) participated in everything from cake tasting to adhering stamps on the invitation envelopes. We've encouraged each of them to invite a few of their best friends and their family members to the wedding. Along the way, we've gotten some funny recommendations. Carter suggested that we invite a juggler, and Analicia would love nothing more than a Taylor Swift cover band, which were both out of the question. We did, however, hire a DJ and allowed the children to contribute to the playlist.
One of my favorite memories was when the kids took part in our engagement photo shoot at a public park. In the park that day, there were other wedding parties taking very formal pictures. The other kids were dressed in suits and dresses, marching in line like well-trained soldiers. In comparison, we goofed off in the leaves, tossed around a football, and had a waterpaint fight. The other kids were far more interested in our "distraction" than they were with taking photos. By the time we left, our children were a giggling mess, covered in leaves, mud, and paint. We made quite the entrance at our next appointment: a scheduled luncheon at a local restaurant!

Photo Credit: Stephen Martin Photography
4. Encourage each child to express their individuality.
We would strongly suggest giving the kids different options. We were able to make a few accommodations for them without having to make concessions from what we really want. For example: Analicia wanted a say in her dress style, Carter chose to wear a bow tie instead of a traditional tie, Jay was the most involved in the song selections and Riley requested a layer of vanilla cake. They have all been important contributors to the overall process, which will make the special day more sincere.  
Also, they each have their own role on the big day. A touching moment will be when our oldest son, Carter, will give a "best man's" speech at the reception. Then, our oldest daughter, Analicia, will lead us in prayer.
5. Carve out alone time as a couple.
Our honeymoon will be just for the two of us. After all of the planning and hard work associated with the wedding, we are looking forward to some time alone. We will have a lot of family in from out of town, and they are looking forward to spending lots of time with the children while we are relaxing in the sun. We have planned our first official family trip towards the end of the summer, and we're really looking forward to it.
6. Eliminate family barriers and present a united front.
One of the most important (and difficult) decisions was how to honor our kids in the actual wedding ceremony. During the ceremony, I will be waiting at the altar with the boys (and our ring bearer) while Claudia makes her way down the aisle with our daughters (and a flower girl). With all of us together, this will present a unique opportunity to acknowledge our new family. We wrote our own vows so that we could profess not only our commitment to each other, but also to our children.
After the exchanging of rings, I will present her kids with a gift (perhaps a necklace) and Claudia will do the same with my children. We have also considered using a sand ceremony picture frame, which would be a wonderful keepsake that can be displayed in our home for years to come.  

Photo Credit: Stacy Kokes Photography
Our wedding day will illustrate our strength and unity as a family and provide memories that our children can keep with them forever. The wedding planning has been an exciting journey that has only been made better because we are doing it as a family. Despite some of the stress associated with the planning, Claudia and I still find ourselves laughing until it hurts—except now, we do it with the kids.  
Happy planning!
—Rigo Garcia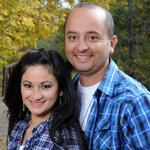 Meet the winners of our Pin to Win a Dream Wedding Design by David Tutera Contest, Rigo Garcia and Claudia Hernandez! Claudia is a registered nurse in the surgery department, which is where she met her fiancé Rigo Garcia, a nurse anesthetist. They became best friends and fell in love with very little effort, a trend that continues today. They will be married at Meyers Castle in Indiana on June 8, 2013. They are planning a fabulous wedding filled with traditions, entertainment, surprises, and many unique ideas inspired, in part, by David Tutera.