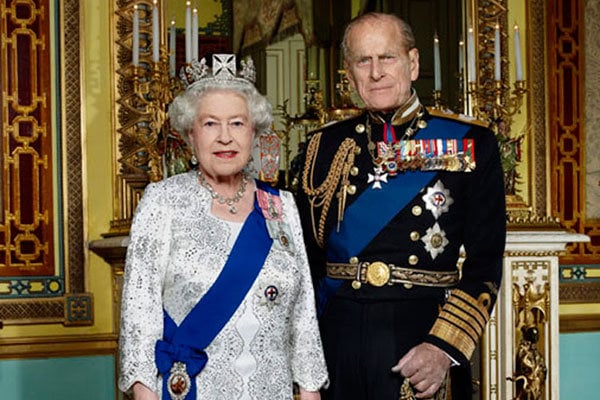 Photo Credit: Royal Household/John Swannell
Today, Queen Elizabeth II and Prince Philip celebrate their 65th wedding anniversary. The couple tied the knot on November 20, 1947 in Westminster Abbey before 2,000 guests, followed by an intimate wedding lunch at Buckingham Palace. Here, check out 20 facts you may not know about the longest-married British monarch:
1. Queen Elizabeth II and Prince Philip are third cousins — both are great-great-grandchildren of Queen Victoria and Prince Albert. Philip's mother was born in Windsor Castle and he, in fact, has more royal blood than Elizabeth—his parents were Princess Alice of Battenberg and Prince Andrew of Greece, while Elizabeth's mother was of British nobility.
2. The pair first met when Elizabeth was 13 and Philip was 18, and it was love at first sight for the young royal. Her nanny, Marion "Crawfie" Crawford, remarked that Elizabeth "never took her eyes off him," though he "didn't pay her any special attention." Regardless, the two started corresponding through frequent letters while Philip was in the Navy. "Lilibet took pride in writing to a man who was fighting for our country," wrote Crawford in her book, The Little Princesses: The Story of the Queen's Childhood by Her Nanny, Marion Crawford. "She never looked at anyone else," Elizabeth's cousin, Margaret Rhodes, told Vanity Fair.
3. At first, Elizabeth's parents and their royal advisors did not approve of Philip. He was, in essence, a prince without a kingdom — he had no financial standing, and he was considered a foreigner, despite having been born and educated in England and serving in the British Royal Navy. Further complicating his acceptance was the fact that his sisters had married German noblemen with Nazi links.
4. Philip proposed in secret to Elizabeth during the summer of 1946, and she immediately accepted without consulting her parents.
5. After denying engagement rumors, the King and Queen took Elizabeth and her sister with them on a four-month trip to South Africa in early 1947, rumored to introduce her to other, more suitable men. "I knew the separation would change nothing; when Lilibet gives her love, she gives it once and for all," said Crawford. "From South Africa, she wrote to him constantly. And throughout the trip, she put Philip's photograph on her dressing table."
6. The King and Queen finally consented to the marriage and announced the engagement on July 9, 1947. Elizabeth's engagement ring included diamonds from a tiara belonging to Philip's mother.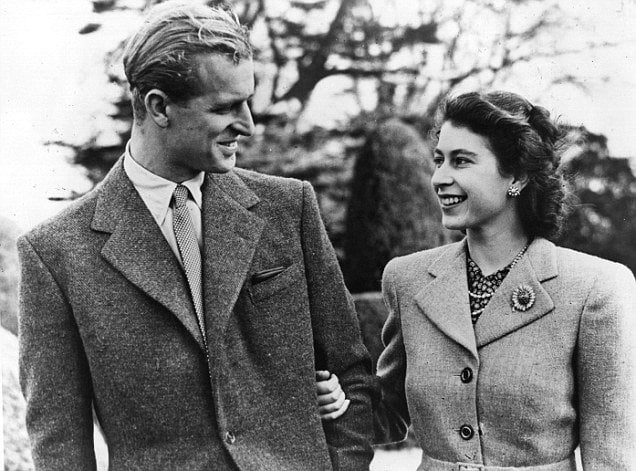 Photo via Daily Mail
7. Before the wedding, Philip renounced his Greek and Danish titles and converted from Greek Orthodoxy to Anglicanism. He was granted the royal titles of Duke of Edinburgh, Earl of Merioneth, and Baron Greenwich.
8. On the morning of the wedding, he quit smoking cigarettes cold turkey because he understood Elizabeth's concern about her father's addiction to cigarettes.
9. Elizabeth's wedding gown, designed by Norman Hartnell, was inspired by the Botticelli painting "Primavera," where the central figure wears "clinging ivory silk, trailed with jasmine, smilax, syringa and small rose-like blossoms." Hartnell purchased 10,000 pearls from the United States and made sure that no materials were sourced from Italy or Japan, recent enemies of the country, according to Vintage Weddings: One Hundred Years of Bridal Fashion and Style by Marnie Fogg. The 15-foot train, embroidered with pearl, crystal, and appliqué duchess satin, featured a star pattern. She borrowed a tiara from her mother: the diamond-encrusted Queen Mary Fringe Tiara, originally made for Queen Mary from a necklace Queen Victoria had given her as a wedding present.

Photo via The British Monarchy
10. The wedding was the first royal festivity since the end of World War II. The bride famously saved up her ration cards in order to purchase a wedding gown. The King was warned that "any banqueting and display at your daughter's wedding will be an insult to the British people at the present time… and we would consider that you would be well advised to order a very quiet wedding in keeping with the times," according to Austerity Britain, 1945-1951 by David Kynaston.
11. Noticeably missing from the wedding: The bride's uncle, the Duke of Windsor, formerly King Edward VIII, who abdicated the throne in order to marry American socialite Wallis Simpson. The pair had been exiled to Paris because "a king and former king living in the same country would had resulted in two rival courts," according to Vanity Fair. Also missing: Philip's German relatives, including his three sisters, were not welcome in post-war Britain.
12. The four-tiered wedding cake was nine feet tall and weighed 500 pounds. The newlyweds cut the cake with Philip's sword. One tier was saved for the christening of Prince Charles, and another was sent to Australia, who had provided the ingredients for the cake.
13. The King led a conga line through the staterooms of the palace during the celebratory ball.
14. The couple keeps separate bedrooms at their home in Clarence House. "In England, the upper class always have separate bedrooms," their cousin Lady Pamela Hicks (née Mountbatten) explained. "You don't want to be bothered with snoring or someone flinging a leg around. Then when you are feeling cozy, you can share your room sometimes. It is lovely to be able to choose."
15. When the King's health started declining and Elizabeth and Philip needed to take his place more frequently at public events, Philip took an open-ended leave from the Navy that effectively ended his military career. "I thought I was going to have a career in the Navy, but it came obvious there was no hope… There was no choice. It just happened. You have to make compromises. That's life. I accept it. I tried to make the best of it," he later reflected.
16. It was Philip who broke the news to Elizabeth that her father had passed away. She reportedly did not cry, but looked pale and worried at becoming Queen at age 25.
17. The marriage was truly a union based on love. In a letter to her parents soon after the marriage, Elizabeth wrote: "I only hope that I can bring up my children in the happy atmosphere of love and fairness which Margaret and I have grown up in," she wrote, adding that she and Philip "behave as though we had belonged to each other for years! Philip is an angel—he is so kind and thoughtful." Philip wrote, "Cherish Lilibet? I wonder if that word is enough to express what is in me." He remarked that she was "the only 'thing' in this world which is absolutely real to me, and my ambition is to weld the two of us into a new combined existence that will not only be able to withstand the shocks directed at us but will also have a positive existence for the good."
18. At the insistence of Queen Mary and the Queen Mother, the next generation of the monarchy continued as the House of Windsor rather than taking on Philip's surname, Mountbatten.

The couple with two of their children, Princess Anne and Prince Charles. Photo via The British Monarchy
19. Prince Philip resented the fact that his children would not bear his last name. "I am the only man in the country not allowed to give his name to his own children," he reportedly griped. After the death of Queen Mary and the resignation of Winston Churchill, Queen Elizabeth II requested a change to honor her husband. The compromise: the royal family would continue as the House of Windsor, but "de-royalized" descendants (beginning with their grandchildren who lacked royal titles) would use Mountbatten-Windsor as their surname. However, Princess Anne, the only daughter of Queen Elizabeth II and Prince Philip, also adopted Mountbatten-Windsor before marriage.
20. On her husband, Queen Elizabeth II has said: "He is someone who doesn't take easily to compliments. But he has, quite simply, been my strength and stay all these years, and I and his whole family, in this and many other countries, owe him a debt greater than he would ever claim or we shall ever know." 

Photo via The British Monarchy 
—Kristen O'Gorman Klein