Music Monday with Scratch Weddings is back! Each week, we feature music recommendations from the nation's leader with the best wedding DJs at affordable prices. This week, enjoy eight songs that'll get guests of all ages out on the dance floor!
When the guestlist includes both friends and family, you're bound to have a wide variety of age groups to please. How do you get everyone out on the dance floor? Our DJs know those secret songs that no one can resist. Set the right groove with these cross-generational crowd-pleasers.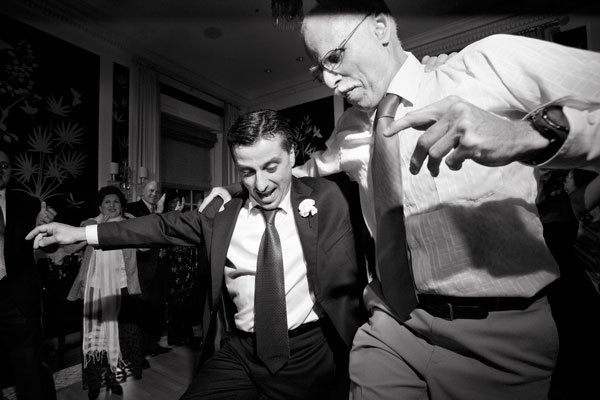 Photo Credit: Viera Photographics
►"Dance to the Music" — Sly and the Family Stone
The lyrics and funky beat send one message to your guests, young and old: Get up and dance!
►"Now That We Found Love" — Heavy D & The Boyz
Now that you've found love... all your family and friends were there to see you get married. But now what? Well, it's time to dance. Show your younger guests all those old dance moves you mastered and maybe learn some new ones.
►"Take Your Time (Do it Right)" — S.O.S. Band
Now the title may be "Take Your Time," but your grandmother and your nephew won't take their time moving their way to the dance floor.
►"Love Train" — The O'Jays
Worried about pleasing both your younger and older guests? This O'Jay hit will have them joining hands and dancing together.
►"I Want to Dance with Somebody" — Whitney Houston
Everyone loves a good Whitney track, and no one can resist an '80s pop dance song. The dance floor will be packed when this one comes on.
►"Move On Up" — Curtis Mayfield
The title says it all. This Curtis Mayfield classic will have everyone moving up from their seats and to the dance floor.
►"Flash Light" — Parliament
Dust off those platforms and bring your guests to the floor with this funky '70s track.
►"Before I Let Go" — Maze feat. Frankie Beverly
You're sure to make all your guests happy with this soulful R&B hit.
►"Ain't No Stopping Us Now" — McFadden & Whitehead
There won't be anything stopping all of your guests from showing off those great disco moves.
►"Superstition" — Stevie Wonder
This great funk hit will break down the musical barriers among your guests and get all of them to move their feet.