My fiancé Chris recently sold his home in Sacramento, and we were finally able to move in together! It was great timing because I was getting a bit too comfortable flying solo. I'm 34 years old and an independent gal, and I was loving throwing my shoes wherever I wanted and sprawling out on the bed, but it was time to share. Naturally, I was a little nervous and hoped that our tiny apartment in San Diego could handle both of us and our stuff. Here's what we've learned from our time living together so far.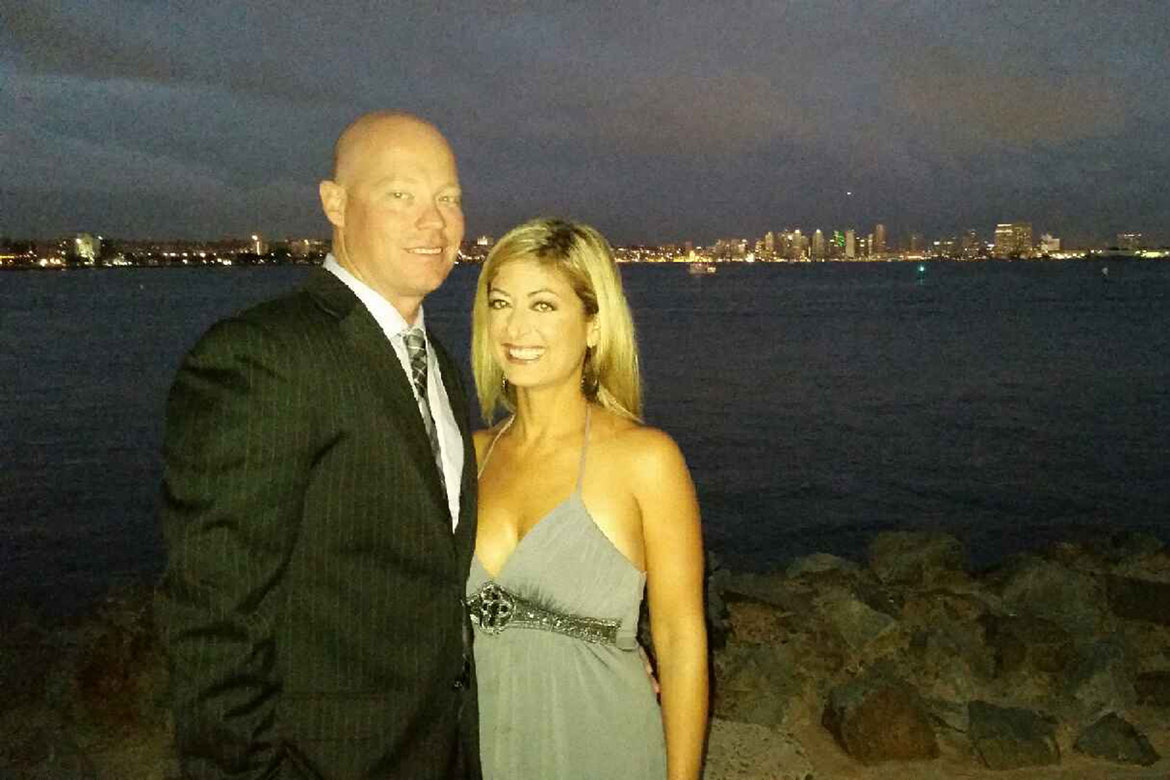 1. Decide on décor you'll both love.
I sold a lot of my things on Craigslist when I first moved to San Diego for my new job as an evening anchor, and that allowed me to be pretty mobile. However, Chris was moving from a home that he bought over a decade ago. He had accumulated a lot of stuff over the years: couches, tables, chairs, giant wine fridge, dressers and the list goes on. Our apartment is too small to hold any of the big pieces so I was looking forward to shopping around for cute furniture that would match our new beach theme.
So this brought on our first little dilemma, which is that we have different taste. My fiancé likes simple and classic pieces while I veer more on the eclectic side. We each picked out our favorite couches at a consignment store and then we found one that fell right in the middle. We ended up agreeing on a neutral, soft microfiber couch set. Then, we took a $5 coffee table that we transformed together by re-painting and sanding it. If we could DIY in peace then surely we won't have any trouble living under one roof. I'm just waiting for him to be as excited about the mosaic side table I'm hoping to create using small multi-colored tiles, grout and Ikea. (Apparently he's not a fan of mosaics.)
2. Discuss your expectations about cleaning and delegate chores.
Right away, we figured out that Chris is way more orderly than I am (that's his nature as a police officer). He never leaves a dish in the sink, and he always has a spic and span car and an even cleaner stovetop, so I'm very lucky in this way. He notices every speck of dust while I live with rose-colored glasses that need wiping. For example, he dislikes when I hang my bag on the door knob or when I forget to put on the toothpaste cap (we found the perfect solution: flip top toothpaste!).
I don't think I'll be the one nagging him to clean up around the house, but I also don't want to be nagged so okay, I'll pick up my shoes! Even if I'm too tired to do it, it will be much more exhausting to argue about it later so I've learned not to try and justify any messy behavior and just move on.
3. Practice small acts of kindness on an everyday basis.
I enjoy doing small things to make Chris happy because, in the end, I'm happier too. So even if it takes an extra step to rinse the dishes before I put them in the dishwasher, I'll do it because he explained to me why our dishwasher was getting goop in the bottom. I also find that because he loves baseball (specifically the San Francisco Giants), I've also been obsessing over his team. It's fun to enjoy something together, especially when they win the World Series for the third time in five years! I'm still working on converting him into a San Diego Chargers fan... You'll feel much closer if you can share a common obsession for a certain sport, a hobby or even a TV series. Two crazy fools in orange and black are stronger than one.
Chris is also very kind and is wonderful at doing small acts of love each day. For example, I used to call him every night during our long-distance days while I was walking from my car to my apartment because I would always get a little scared at night. I have the proper self-defense tools and skills to take anyone down, but I just felt better talking to him after work (I anchor the 10 p.m. newscast and often stay later to write other stories). Now that we live together, he has sweetly taken it upon himself to meet me by my car every night after work and I adore him for this huge act of selflessness.
4. Schedule alone time.
Now that we live together and see each other 24/7, we realized that it's important to schedule time with the other important people in our life. We didn't want to lose the many relationships that make us happy. Chris and I used to have plenty of time apart when we lived several hours away from each other. I missed the time I used to spend hanging out with my friends, running, or practicing yoga and meditation, and I realized I needed these things back in my life. Even though I'm not able to cram in as many solo activities as I did before, even a quick workout or a catch-up session with a pal helps me feel more well-rounded and fulfilled.
The same applies to my fiancé. While I'm at work, he'll watch every pro sports game that's available, and he also joined a softball league. I'm a vegan, and he's not, so he saves his carnivorous ways for when I'm not home because he knows that my stomach just can't take the blood and guts! The man loves his protein, so we just make separate meals now.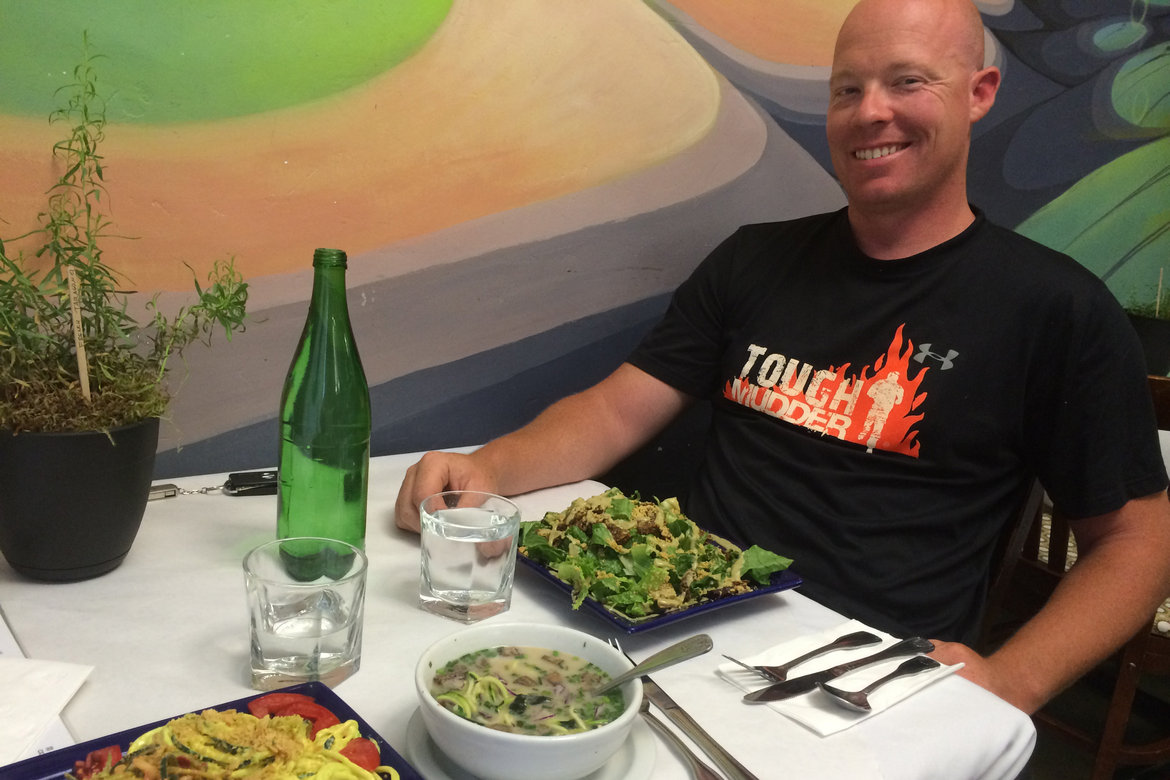 We're also supportive of going out of town alone. I recently went to the Nike Women's Half Marathon in San Francisco with a few of my best girlfriends. Tip: Just because you're living together doesn't mean your life has to revolve around each other. It's important to do all the things that you enjoyed before you ever met.
5. Appreciate your life together.
So as much as we may joke about living together being difficult, we are discovering that the things we never thought were important, now are. That's simply because we love each other, and we want to make each other happy. If I have to put a lid on everything that I put in the fridge because he gets grossed out when food isn't covered, so be it. And so what if he has to wipe down the bathroom sink three extra times because I can't stand the teeny tiny hairs from his razor? I smile when he does it and give him a huge kiss and thank him for this wonderful life. We make an effort to practice gratitude even for the little things. I think we've reached a point in our relationship where we respect and appreciate each other, instead of constantly butting heads over our differences. If we have an issue, we bring it up and calmly approach it immediately, so that it doesn't fester into a huge fight (check out my last blog post on our premarital counseling experience).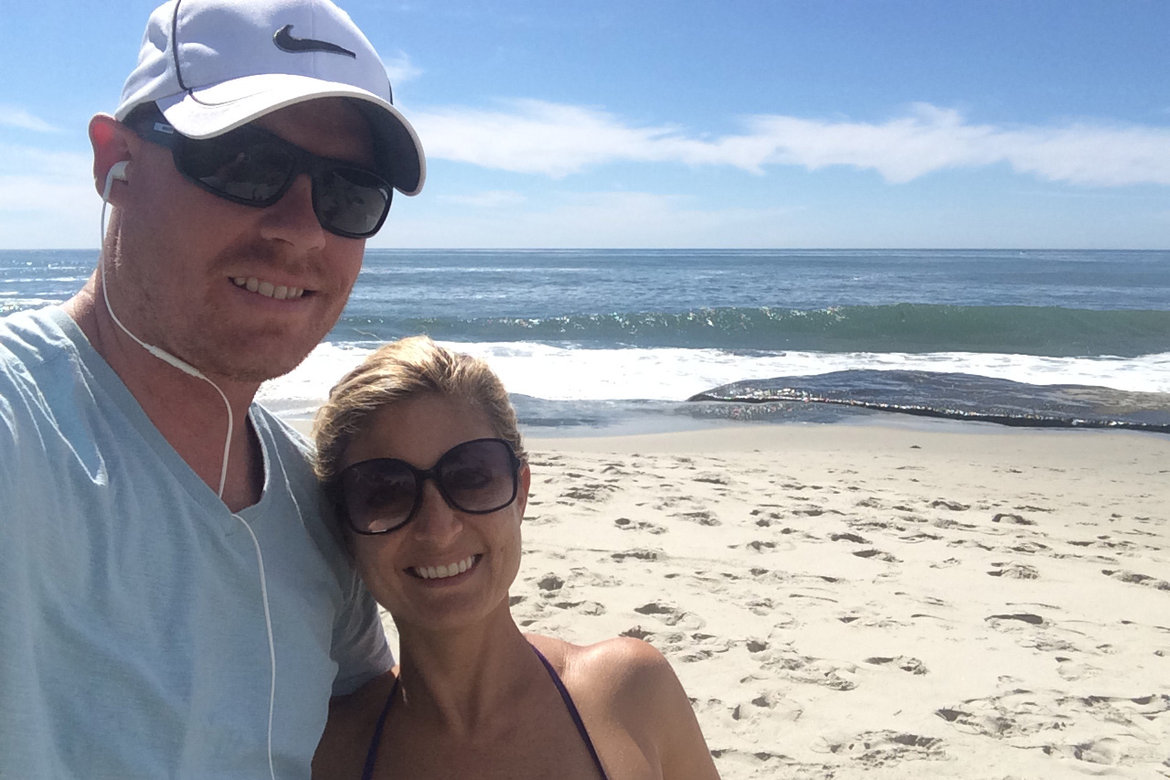 We have postponed our wedding date until we can settle into our new home a bit. We also want to save more money and be a little more established in our new jobs. It's been a busy, emotional, life-changing, wonderful year of growth for the both of us. I'm looking forward to learning more things about what makes Chris tick. I have no doubt that if we continue to love each other and work on our relationship just as much as our wedding, then we're on our way to an even greater marriage.
—Neda Iranpour
P.S. Have an interesting wedding planning story to share? Apply to become a real bride blogger here ►
---
Neda Iranpour's fiancé, Chris, proposed to her after she ran three marathons in three days around Lake Tahoe. In keeping with the couple's adventurous spirit, they plan to have a four-day destination wedding somewhere in the United States. They can't wait to enjoy a fun-filled wedding experience with their guests, complete with paddleboarding, kayaking, running, dancing, sipping fine wine and drinking craft beer. Chris is a fun-loving, dedicated police officer and Neda is an Emmy-award winning news anchor who loves to share stories, even her own.
---