Who's excited for the DVD release of Breaking Dawn?! To get the inside scoop on the beautiful wedding scene that's sure to inspire tons of upcoming weddings, we caught up with wedding designer Tammy Polatsek, the woman behind all of the amazing design aspects of Edward and Bella's wedding.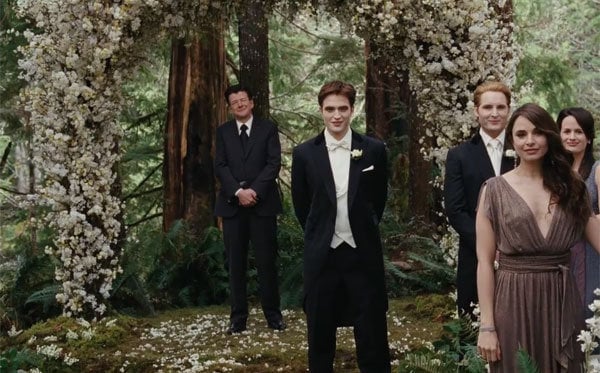 Where did Polatsek get her inspiration for the scene? "Since the wedding took place in a forest, we wanted to mimic the life that a forest can give you," she said. "We drew inspiration from the surrounding trees, stones, ferns, and everything else that grows in a forest."
Wisteria cascading from the trees, hand-strung by a group of 20 people, created an intimate feel at the ceremony.
"My absolute favorite was the ceremony!" said Polatsek. "So dreamy and worth the hard work. The flowers that fall from the trees as she walks down; just a dream!"
The biggest challenge? The weather! "It was freezing, and the flowers had to be replaced on an hourly basis at times." And, much like Forks, it rains "500 days a year," said Polatsek.
"We had the nightmare wedding all done—custom white stage, stunning, all ready to go, and—boom—rain!" said Polatsek. "We covered everything and planned to shoot the following day, but when we came back, I thought I was going to have a heart attack. An animal went from the mud to the stage that was so nicely painted and made foot prints all over it!"
At the reception, the goal was to make the centerpieces "grow out of the tables." The centerpieces used delphiniums, viburnums, white lilacs, ranunculus, and sweet pea, plus stones, ferns, and moss. "We didn't want the typical rose/hydrangea combination. That was too arranged," said Polatsek.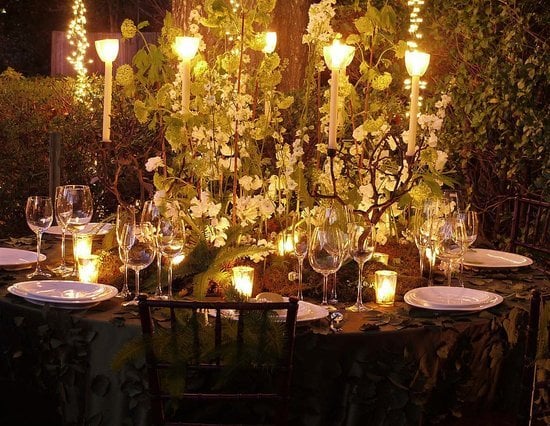 Polatsek custom-crafted the dishes used in the movie, and you can even get your own set here.
The whole wedding scene took almost four weeks to create. While Bella and Edward's wedding décor would've cost about $300,000 by Polatsek's estimate, you can get the look and feel of the Cullen wedding for less.
"Anything earthy and real to nature will bring in that look," said Polatsek. "Use a green, white, and brown combination, and keep it simple. Nature is beautiful; you don't need to overwork it! No tall vases; things don't grow in glass filled with crystals."
—Kristen O'Gorman Klein
Photos courtesy of Summit Entertainment