Our latest issue is filled with fabulous fashions, amazing reception ideas, smart planning tips and incredible honeymoons! Guaranteed, you'll find everything you need to know to plan a dream wedding and an unforgettable getaway.
There are gorgeous gowns that celebrate your personal style, from boho-chic:
to super-glamorous.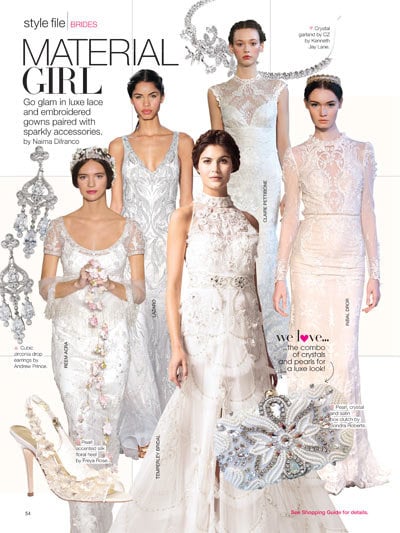 We also highlight some of the hottest new trends straight from the runway:
and showcase the prettiest, romantic dresses that are sure to thrill you and your groom.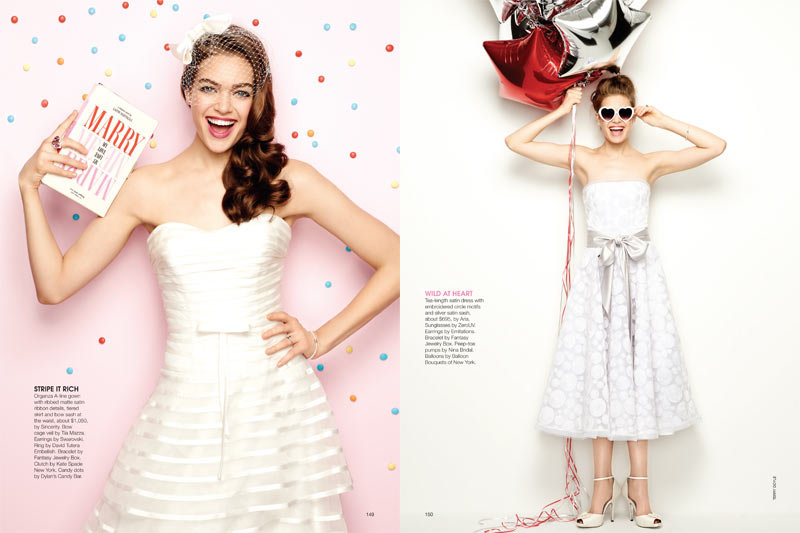 And because we want you to look absolutely beautiful on the big day, we've pulled together expert tips on how to fix those dreaded day-of beauty dilemmas (under eye circles, an unwanted blemish, chipped polish). You name it; we've got you covered!
If you're feeling a bit overwhelmed by all the planning details, take a deep breath and read our fantastic "how-to" guide that takes you through all of the planning essentials step-by-step.
Plus, with budgets always in mind, we asked three top planners to offer tips on how to pull off a chic, elegant celebration without breaking the bank. Check out their creative options on our Budget Guru page: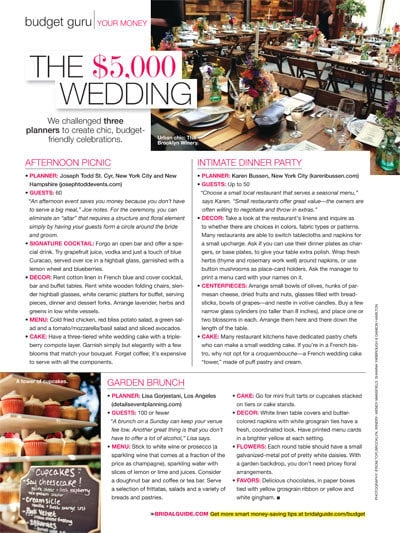 And no matter where you plan to marry (ballroom, beach, in the country, at home or at a city loft), you'll find even more clever ways to cut costs.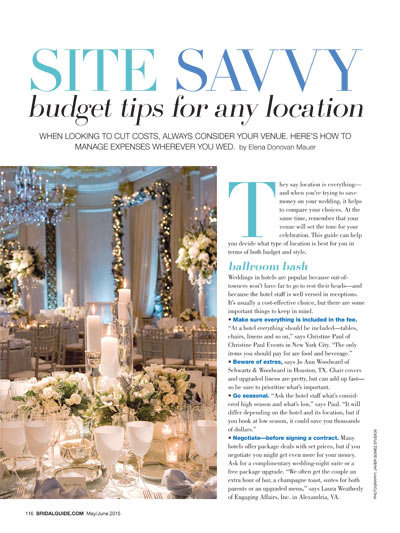 If you're in the midst of registering, be sure to take a look at some chic new items for all your entertaining and dining needs in our Registry Report:
Ideas! Ideas! Ideas! There can never be enough, and we have plenty of inspiration in this issue. I especially love the festive and colorful bridesmaid lunch where a bride-to-be asked her besties to be in her bridal party:
And there's a plethora of unique ideas for flowers, cakes, escort cards, guest books and more in our feature story. After all, isn't it always the little touches that often have the biggest impact?
When it comes to honeymoons, you'll find the best places to visit for fun-in-the-sun from Guatemala (one of our Travel Editor's favorite spots on the planet):
to exotic Bali.
And if you're considering a vacay in the Caribbean, check out our "save or splurge" story on these diverse islands. You'll find the perfect place to stay, whether you spend a little or a lot.
If you're headed south-of-the-border, you can also enjoy a thriving art scene along with beautiful beaches, great restaurants and gorgeous resorts.
]
Did you know that one of the most fun, exciting ways to travel these days is by train? These excursions are better than ever with fabulous itineraries, breathtaking views and plenty of time to enjoy your destinations. Discover how you can travel throughout Europe, Southeast Asia, Canada, the USA and South Africa to experience your own romance on the rails.
Our May/June issue promises to fulfill all of your fantasies from a dream wedding to a fantastic honeymoon. Enjoy!
—Diane Forden