Guest blogger: Rosanna Casper, co-founder of Idojour.com, a new wedding website where brides, grooms, family and friends can purchase a stylish and affordable mix of beautifully curated pieces. Designed to make wedding planning all the more inspiring and enjoyable, Idojour offers accessories and apparel for your wedding weekend, complemented by both inspirational and practical content. Rosanna oversees content, among many other things, and makes sure that everything comes together beautifully on the site.
Here, Rosanna shows how to incorporate your dog or cat into your wedding day.
All of you pet lovers out there will agree that your little furry friend is a part of the family, and it seems only natural to want to include your pet on your special day. However, working with pets presents it's own set of challenges, from venue restrictions to their general unpredictable behavior. From must take photos to apparel and other décor ideas, here are our favorite ways to incorporate your dog or cat into your wedding day.
1. To-Die-For Apparel: 
Many will argue that dressing your animal up in cute clothes is plain wrong, but on a special occasion like your wedding, how can you resist some of these adorable accessories?
Throwing a formal wedding? Dress your dog in a doggie tuxedo! For a more casual affair, have him wear a preppy bowtie.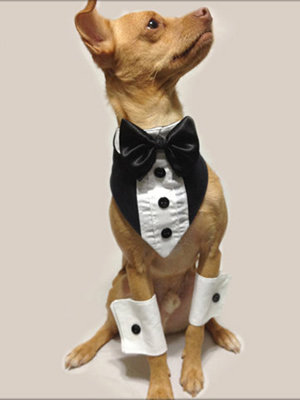 Photo Credit: SewPuppy/Etsy (left); BowWowCouture/Etsy (right)
A mini hat is the perfect fit for a cat. And if you're planning to have your dog walk down the aisle, a tutu to match the bridesmaids' dresses is too cute.

Photo Credit: ToScarboroughFair/Etsy (left); TutuDoll/Etsy (right)
Give your dog's collar a wedding makeover with a customized engraved nameplate.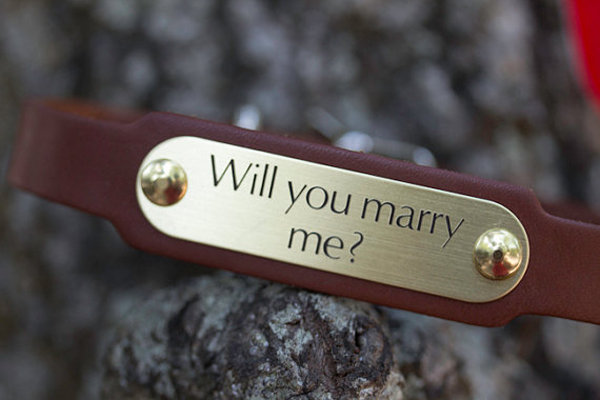 Photo Credit: Dog Gone Nice/Etsy 
And dress up your dog's leash with flowers and pearls.

Photo Credit: InspiredbyViolet/Etsy
2. Must-Take Photos:
There is nothing more adorable than bringing your pet into your engagement or wedding photos. Animals bring personality and fun to your photos and it's a great opportunity to get creative and spunky with your portraits.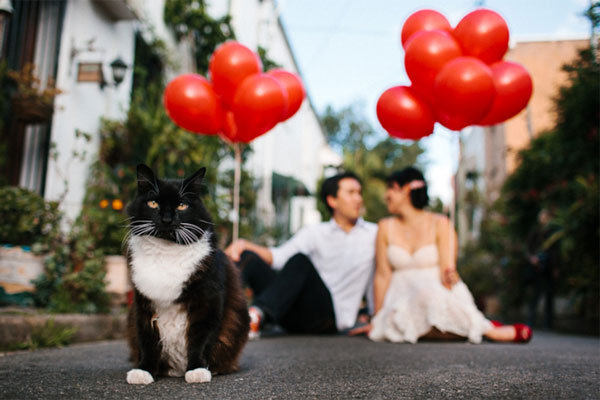 Photo Credit: Hilary Cam Photography
Photo Credit: Dottie Photography

Photo Credit: Gambol Photography (left); Parallel 57 (right)
3. Décor Ideas:
If bringing your pet to your wedding is more trouble than it's worth, consider some pet-themed décor ideas.
Use these adorable coasters during your reception or send them home with your guests as favors.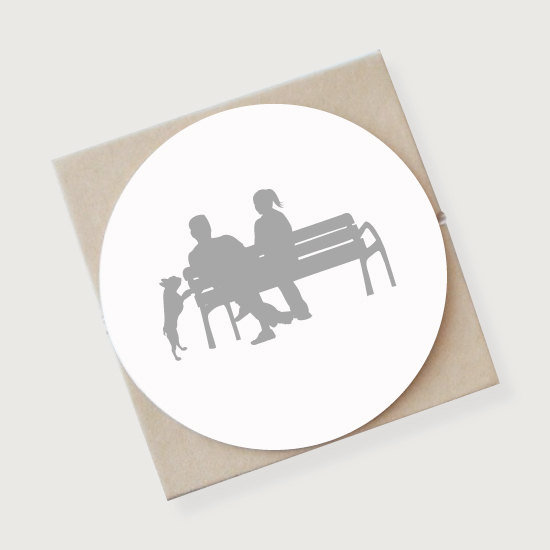 Photo Credit: LePapierStudio/Etsy
Honor your pet with your escort cards or table numbers!

Photo Credit: JonNiPaperGoods/Etsy (left); tiffzippy/Etsy (right)
Attach customized dog tags to your favors.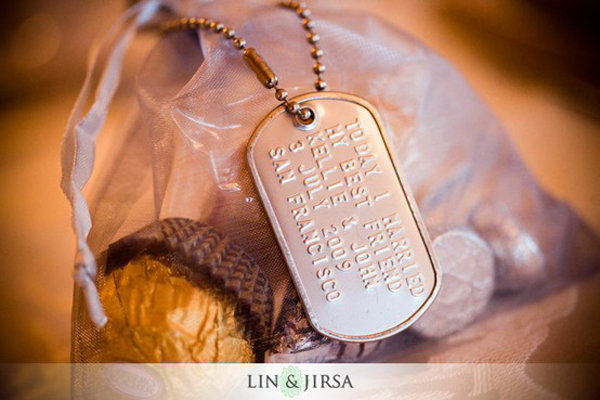 Photo Credit: Lin and Jirsa
Serve up cake pops modeled after your beloved pet!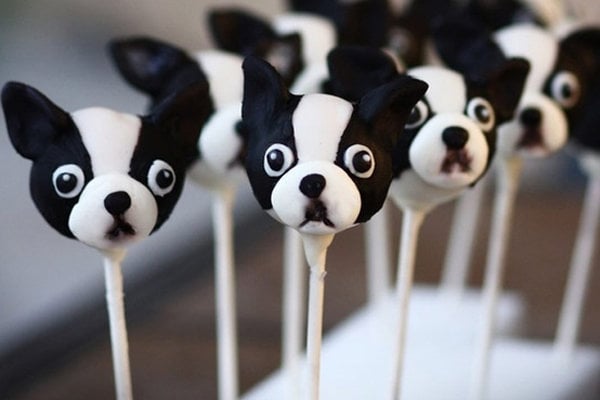 Photo Credit: Bakerella
Tell us: Will you be including a pet in your big day?
—Rosanna Casper