For nine years I've had the honor to participate as a judge in the bridal gown design competition from New York City's High School of Fashion Industries (HSFI) in partnership with Kleinfeld Bridal. Every year the incredible junior year students from HSFI amaze us with their creativity, passion and talent—and this year was no different. For all of us on the judging panel having to select one winner seemed nearly impossible.
The competition began several months ago when the students under the guidance and supervision of their instructor, Stephanie Balmir, presented mood boards that illustrated their inspiration, gown sketch and other design elements. From 60 boards, 6 were chosen as finalists. A master class at Kleinfeld with bridal industry experts Mara Urshel, Kleinfeld co-owner, and Dorothy Silver, Kleinfeld Director of Sales and Merchandising, soon followed. And a visit to Morilee Bridal enabled students to get tips from designer and fellow judge Madeline Gardner as well as all the fabric needed for their designs. Kudos also to HSFI Patron, Multimedia personality and Lifestyle Commentator Robert di Mauro: Robert founded this competition with Mara Urshel and created HSFI's Industry Partnership Program dedicated to his father, Thomas Gaetano di Mauro, who had attended the school. With unbridled enthusiasm, Robert encouraged the students every step of the way helping them to achieve their dream.
The six finalists eventually brought their visions to life after logging in many long hours and working closely with fellow classmates who made up their teams. From "rock royalty" (Rihanna) to real royalty (Marie Antoinette) here are the six finalists' inspiration boards and wedding gowns.
1. "Let Them Eat Wedding Cake"
Dalia Taverez found inspiration in history and the opulence of Marie Antoinette. Her satin, lace and organza mermaid featured a boned sweetheart bodice and hand-beaded and handsewn organza flowers on the skirt. 
2. "Pink, Blush, and Gold"
Iris Jeffries imagined what it would be like to be a celebrity designer and based her design on a dress she envisioned style icon Robyn "Rihanna" Fenty would wear. Her rose gold, silk-satin mermaid with its sparkly tulle skirt and illusion lace bodice, worn by Iris herself, was designed to reflect Rihanna's "youth, elegance and sexy, fun" vibe. 

3. "Simplistic Serenity"
Nature and the environment was the inspiration for Brianna Jones. Her satin fit-and-flare gown with short, lace sleeves, an open heart-motif back and a detachable organza skirt ("cascading like a calla lily") offers brides a 'two looks in one" option. 
4. "The Sparkling Goddess of Waterfalls"
Nature also inspired Kianmy Garcia. Her satin halter mermaid with cascading double sleeves and beaded lace appliqués mirrored the flow of waterfalls and their sparkling effect on water. She also made the veil, handsewing glittery crystals along the edge. (This was a family affair: Kianmy's sister Chelsea modeled the dress and said she wanted to wear it when she gets married one day.)
5. "The Heir"
Royalty also influenced Gabrielle DeLeon who was inspired by Queens Elizabeth I and II, Princess Diana and Grace Kelly. She wanted to pay tribute to the strong women in her own life and to "the movement of females holding power and being bold yet classy." Gabrielle's strapless satin mermaid featured a lace bodice with gored lace insets on the skirt. And the detachable satin, beaded lace and flowing organza cape enhanced the regal style.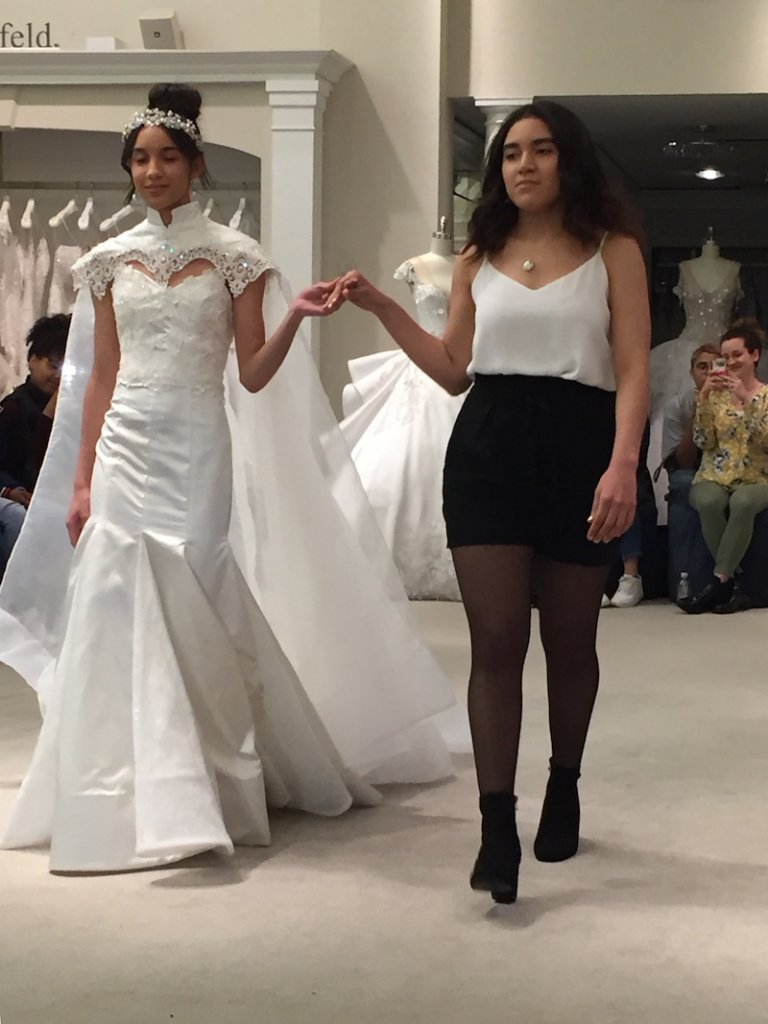 6. "Tulipa's Hopeless Love"
Keena Hall's imaginary bride, Tulipa, with her "free spirit and love for nature" inspired her to create a dress where "Tulipa would marry in Italy in the spring in the center of a yellow tulip field at dawn." Her multi-tiered tulle and organza ballgown, which she modeled herself, featured a high-neck, gold-beaded (all handsewn) open-front satin bodice with a sparkly bralette.
And here…drum roll, please…the winner—Kianmy Garcia (right) and runner-up, Brianna Jones, (left).
More exciting news awaited Kianmy. When her dress was first shown during the judging, Mara Urshel turned to Dorothy Silver and said "We can sell that dress!" Several days later it was decided that Kianmy's dress will be produced by Morilee by Madeline Gardner. It doesn't get better than that: They all said, "Yes! To The Dress."
Congratulations to Kianmy and Brianna and to all of the students for their creative vision and enthusiasm. And a special shout-out to their team members who told us what a privilege it was for them to support their fellow classmates. They spoke of working together to overcome unexpected design challenges, pulling all-nighters and experiencing an emotional roller coaster often crying and hugging throughout the process. Ultimately, they learned how important it was to work as a team to achieve their goals.
I'd also like to acknowledge HSFI Principal Daryl Blank and the high school's dedicated faculty, fellow judges and especially Robert di Mauro and Mara Urshel whose commitment and contributions to the competition provide invaluable opportunities for these talented students.
The finalists with judges, standing from left to right back row: Madeline Gardner, designer Morilee Bridals; Dorothy Silver, Kleinfeld; yours truly; Mara Urshel, Kleinfeld; Standing, far right: HSFI instructors Stephanie Balmir and Anika Carter, and Freddie Leiber, New York Fashion Stylist and Creative Director. Kneeling front row: Hailey Paige, designer JLM Couture; Rachel Leonard, The Bridal Council, and Robert di Mauro. 
—Diane Forden