Ever feel like you need a vacation from your vacation? After a wonderful weekend in North Carolina (more on that below!), I was exhausted — just another day off from work would've been amazing. Here, the most important lessons I learned this week:
If you fall off the wagon, get yourself back on track as soon as possible. Rene and I had the best time exploring the city of Charlotte, going out, and seeing his great family to celebrate his father's 80th birthday in North Carolina. It was a weekend I will not forget, but I sure hope my body does after all of the food and alcohol I consumed. Unfortunately, I did not eat too well. I had fast food (gross!), comfort food (fried chicken and macaroni and cheese), and bagels and eggs for breakfast on Saturday and Sunday. I drank tequila, rum, and wine on Friday and Saturday, too. I was just a disaster all weekend. I did have fun, and I got myself back on track as soon as we returned home. For dinner Sunday night, Rene and I ate sashimi and salads for dinner, so at least I had one healthy meal that weekend! 
I definitely felt better Tuesday morning after eating well and working out on Monday — I felt like I burned off some of the many calories consumed over the weekend. 
Have a one-bite rule when it comes to sweets. The first bite or two always tastes the best anyway! At work on Monday, we received a delivery from Magnolia Bakery with banana bread pudding — I couldn't resist, but I limited myself to one fork-full (okay, maybe two). Then, I made myself a fulfilling salad with mixed greens, reduced-fat gorgonzola cheese, sliced almonds, dried cranberries, and light raspberry-vinaigrette dressing with a small grilled chicken breast on the side. Delicious!

Photo courtesy of Magnolia Bakery
Spending time with friends doesn't have to mean blowing your diet. Since I had a Summer Friday this week, I went over to my girlfriend Laura's house Thursday night. She made guacamole, and we also noshed on frozen grapes and cheese and crackers. I ate leftovers for lunch earlier and didn't eat after that so that I could enjoy this good stuff for my dinner. I had two glasses of wine and one beer. It was so hot outside, but it was nice to see my friends and catch up! On Friday, I met two of my girlfriends at my mother's house to go swimming and lay out by the pool all day. It was much needed and so nice to relax in the heat! We made sandwiches and salads for lunch, drank mimosas, listened to music, and soaked in the sun. What a nice Friday off, right?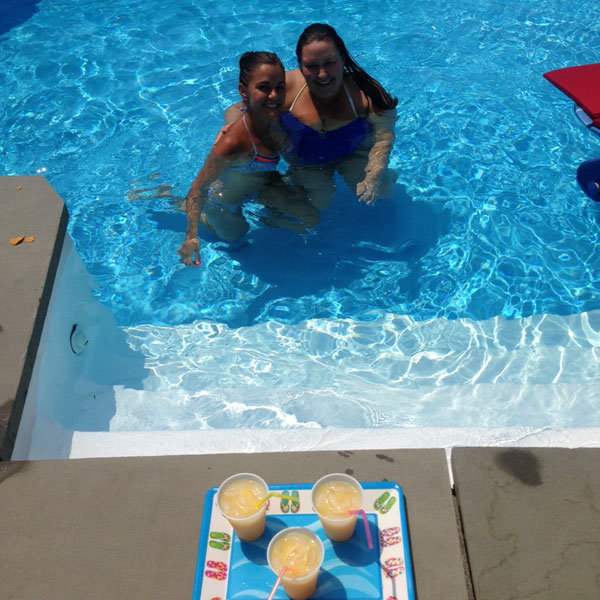 Maximize your workouts with intervals. On Tuesday, I woke up at 5 a.m. and went for a walk/jog. I walked half of the block and ran the other half, contiuing that pattern for each block. I know that I need to start burning more calories throughout the day, and cardio is the only way I'm going to do it. 
Having a hard time getting through a workout? Remember that it will get easier with time. Wednesday night, Rene and I ran through the workout Bonne Marcus had given us two weeks back. It's great because each time we get through the routine, it feels easier and easier, which means we are getting more and more fit! It's nice noticing the things like that, because then I know that our hard work is paying off.
Exercising with a buddy makes it more fun. Taking advantage of my day off on Friday, I woke up bright and early for spinning with my trainer, Bonne, and my sister. Bonne gave us a private class again, and it was awesome. We sweated like crazy and definitely burned tons of calories. It was a nice bonding experience for all of us, too!
Next week, I'll be trying out some new things in my diet. I'll keep you posted on how it works out!
—Jennifer Crow