Hope you all had a great Fourth of July weekend! My week started off with wonderful weight-loss news and a killer new workout plan. I regrettably overindulged a bit on the 4th, but I got myself right back on track the next day. There's no stopping me from here!
Monday, July 1
I had an awesome workout with Bonne Marcus on Saturday. Because I didn't see her last week, I hadn't been weighed in two weeks. When I got on the scale, I was down six pounds! I was completely overjoyed, and I'm even more motivated now that I know this is working. Bonne also took my measurements for the first time since our first workout nine weeks ago, and I'm down one inch off my arm and waist and a half inch off my thigh and hips. I was so happy, I can't even explain the feeling!
Bonne gave us a new workout this week — and, thank god, there are no step ups! Rene had some trouble breathing in the middle of the routine and had to sit down and rest after 40 minutes. He needs to learn to breathe through his nose and not hold his breathe in order to keep his heart rate down. Some of the new moves in this routine incorporated the stability ball and the medicine ball, which made it fun but even more difficult.
By the time we were done, Bonne had to literally peel us off the floor:
We also have a new meal plan to try for the week. It consists of three meals and two small snacks in between breakfast and lunch. The portions are really small, so I can definitely see how it will work. Have you ever seen a ½ cup of cereal? It barely covered the bottom of my bowl! We are going to give it a shot all week and see how it goes. I'll try anything at this point.
I was pleasantly surprised to find that I actually wasn't left as hungry as I thought I would be. For lunch, I ate a Mexican tortilla wrap filled with grilled chicken, squash, onion, red pepper and fat free shredded cheese on a small whole wheat tortilla — it was so good. And for dinner, I made a green salad with brown rice and swordfish steak.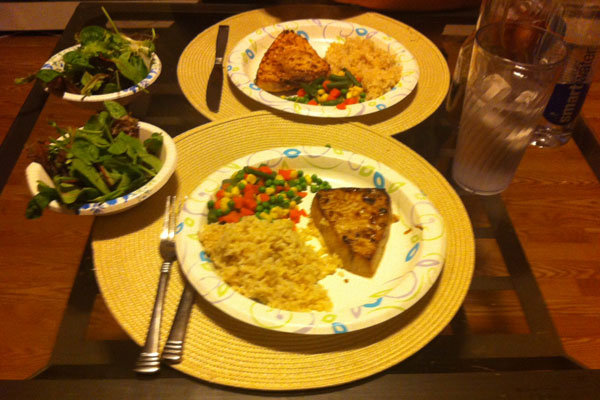 Tuesday, July 2
5 a.m. wakeup call this morning! I did the workout routine Bonne gave us because I knew I wouldn't have time later, and Rene and I went for a walk/jog last night to get some cardio in.
Today, the meals are a little different but follow the same concept of three meals and two snacks. I'm going out for drinks for a coworker/friend's birthday after work, so I will make sure to only have two drinks and drink water in between. It's so hard with it being summer and me wanting to go out and have drinks and enjoy time with my friends. It's frustrating because I want to eat and drink whatever I want, but I need to remain focused on the ultimate goal. Ugh!
Wednesday, July 3
I have a half day at work today for the holiday, so I'm out of here by 2:30 and off the rest of the week. Yay!
I'm going shopping with my mom and sister later this afternoon to get decorations and favors for my engagement party. For the centerpieces, I plan to spray paint mason jars in a metallic silver color and put them on mirrors with white flowers. When I make one, I'll be sure you show you — I think it's going to look so cute! For favors, I'm thinking of doing two mini black and white cookies with a cute ribbon and tag.
Thursday, July 4
Happy 4th of July! Today, we are going to our friend's house for a BBQ, so it's going to be tough. I'm letting this be my cheat day, but I am still going to watch my portions and what goes into my mouth — I'm just not going to starve myself.
A trick for surviving parties: Bring "safe" foods for yourself (that others will enjoy as well, of course!). I'm making spinach dip in pumpernickel bread and these BBQ chicken roll-ups to bring — each roll is 100 calories, and everyone loves them.
Right now, I'm going to enjoy this amazing weather and lay by the pool with my girlfriends. Hope everyone enjoys their day!
Friday, July 5
I ate horribly yesterday. I was so bad, and I'm so mad at myself. I ate a cheeseburger with the bun, had some spinach dip, one of the chicken roll-ups I made, a salad, and a few bites of sausage on Italian bread. So much for trying to be good!
Thankfully, Bonne took me to the Jewish Community Center in Roslyn (where she is a trainer) and gave me a private spin class. It was amazing, and I felt so much better after that. She picked awesome music, and after spinning for an hour, I was right back to being motivated.
—Jennifer Crow