I had a very successful week last week! I'm down another two pounds, and I also got to cross a bunch of things off my wedding-planning checklist.
Throughout the work week, I continued my no-starch challenge. For breakfast, I enjoyed coffee and hard-boiled eggs or egg whites. I had the Boca veggie burgers for lunch, and they were quite delicious! I think I like the Morning Star veggie burgers better, but these have fewer calories, so I would definitely try them again. Each day, I made a different vegetable to have with them, with such as steamed sugar snap peas, sautéed eggplant and zucchini, or a side salad.
For dinners, Rene and I ate protein and vegetables — no carbs! Now that I haven't been eating carbs as often, I realize I don't crave them as much. Instead of chicken with rice, I look forward to chicken and vegetables — definitely a good thing! For example, last night, Rene made one of my favorite meals from Skinnytaste.com — homemade turkey burgers with a broccoli slaw and blue cheese, with steamed asparagus on the side. We had them without buns and a little bit of fat-free cheddar cheese on top, and they were excellent! I recommend you try them for dinner this week — and the recipe makes enough so you have leftovers for lunch the next day. 
So aside from eating right and working out five times last week, I had a lot of fun and was very accomplished, too! On Saturday, Rene and I booked our wedding photographer, videographer and DJ, all with the same company! The company is Complete Wedding Packages in East Meadow, NY and they are amazing! I knew when I met with them a few months ago that they are who I wanted to capture my special day for me. Amanda and Andy are a husband and wife team and are absolute experts in the industry. Their photos and videos are truly beautiful, and their style is exactly what I am looking for. I am more than thrilled to be working with them and can't wait to see how incredible they help make my day! 
Saturday night, Rene and I went to our friend's 30th birthday party, which was a pajama party. It was so much fun! My drink of choice was vodka and club soda with a lime and fresh blackberries. There was so much food, but I was good until the end of the night, when I ate a piece of pepperoni bread with cheese and sauce. I couldn't help myself, and at least it was only one piece... okay, maybe two. And, of course, making that one bad decision led to another bad decision the next morning...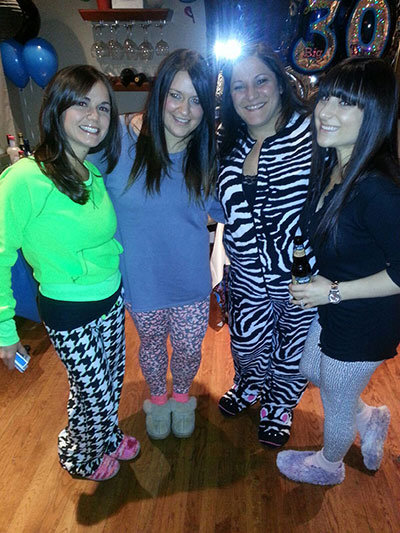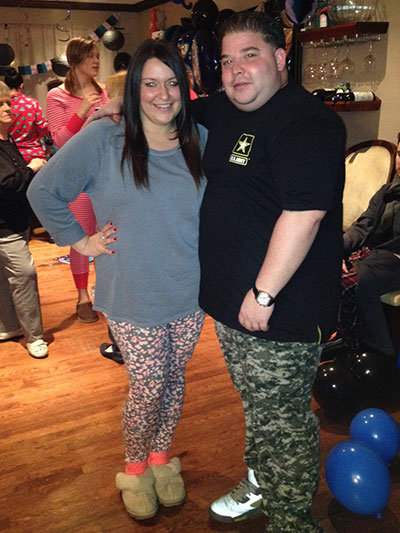 On Sunday, my sister (matron of honor), my best friend Heather (maid of honor), and my best friend Nicole (bridesmaid), went shopping for bridesmaid dresses! Soon after I got engaged, I fell in love with a bridesmaid dress in one of the first bridal magazines I read, and I haven't been able to get the dress out of my head since. We went to Bridal Reflections in Carle Place to try it on, and it was perfect! The girls loved it, and we didn't even need to look around for others. We knew that was "The One," and they said "yes" to the dress. So now I have to get my five other bridesmaids to get measured, and we can order the dresses. Check!
After dress shopping, I took Heather and Nicole out to the diner and ended up splitting a grilled cheese, chicken fingers, and French fries with one of them. I know, so bad, especially after a great week! This is why drinking alcohol can greatly affect your decisions, especially for me the next day. Luckily, after my diner splurge, I went to Nicole's house for some bridesmaid boot camp. I brought over the workout Bonne had given me last week with my equipment and went through it with her. It was nice showing her and doing it with someone else. She's very fit, but I still got the text the next day that she was in pain, so at least I'm not the only one!
Nicole works for Hudson Jeans and surprised me with a new pair when I got there. They are a size 31 — I was able to get them on but can't yet button them up, so they are my new goal jeans. Six months ago, I wouldn't have even been able to get them over my ankles, so now all I care about is getting into these jeans. Once I do, there's one more thing I can check off my list!
—Jennifer Crow