This week was filled with firsts, challenges and triumphs as part of my ongoing mission to slim down and get in shape for my wedding day. Here, an inside look at my eating and exercise diaries.
Monday, June 24
I had my usual breakfast this morning of two egg whites and a skim latte. I brought a homemade veggie burger and sweet potato fries for lunch. The fries are amazing! Here's how I make them: I peel and cut up sweet potatoes; I sprinkle some salt, pepper and olive oil on them; then I pop them in the oven for about 40 minutes. 
For dinner, my meal was even better. I made Butternut Squash Pasta and Sausage, a recipe I found on my favorite website, skinnytaste.com. You couldn't even tell the creaminess came from a vegetable. 
My fiancé Rene and I went for a half-hour walk after dinner and did some jogging, too. My shins were really bothering me but I pushed through it anyway. Luckily, Rene's back is feeling much better! P.S. Next time I need to remember to wear bug spray — I got eaten alive out there.
Tuesday, June 25
My wake-up call was at 4:45 a.m. to do my workout from Bonne Marcus because I knew I wouldn't have time to exercise at night. I woke up in excruciating pain with terrible shin splints. It hurt just to walk down the stairs to let the dogs out. Not good! 
I spoke to Bonne, and at first, she thought maybe 
it was time for new sneakers, but my shoes aren't old. She thinks my pain was likely caused by doing too much, too soon. I was instructed to ice my legs down, because there was probably some inflammation, and avoid impact activities like running, walking and kickboxing until I feel better. She recommended spinning for cardio.
Bonne also reminded me to stretch and gave me an exercise that would strengthen my muscles. It involved pressing my heels into the floor and quickly lifting my toes towards my knees until I felt a slight burn in the front of my shins.
On the plus side, waking up early gave me time to pack mine and Rene's lunch, which consisted of leftover pasta, and I even put together a split pea soup in my crockpot to cook all day! I was so relieved that it was only 6:30 a.m. and I was done working out for the day.
At night, I attended a cocktail party with some work friends for someone who is leaving our company, so I had two vodka and club sodas and then went home to meet my girlfriend Heather for dinner. We went out for sushi and shared edamame for an appetizer. I also had a small garden salad, sashimi and some green tea.
Wednesday, June 26
My shins are still killing me. Today was a pretty normal day for me. I had my usual breakfast and ate split pea soup for lunch. All day I couldn't wait for it to be 6 p.m. so that I could leave and have wine night with my girlfriends!
The amount of food they had was ridiculous and it was so tough not to eat everything in sight. There was spinach dip, fresh mozzarella and tomatoes, cheese and crackers and so much more. I saved myself 800 calories so that I could have three glasses of Pinot Grigio and pick on what I wanted to eat as my dinner.
My favorite treat of the night was a salad that my friend Amy made with arugula, watermelon, feta cheese, olive oil and salt and pepper. It was so refreshing and easy to make. We had an awesome night but unfortunately I had to leave by 11 so I could get home and get some sleep. Now I'm going to go join my future hubby in bed. I missed him all day.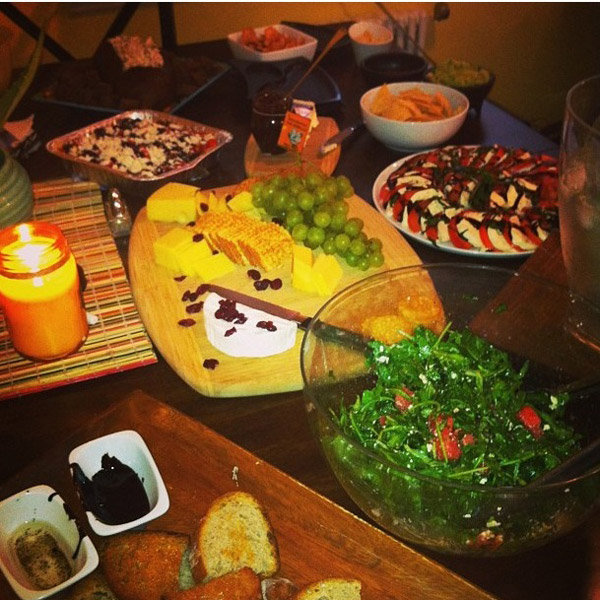 Thursday, June 27
I set my alarm for 4:45 a.m. again to wake up and work out, but I didn't end up going to sleep until after midnight last night, so it just wasn't happening. When I get out of work, I plan on going home and cooking dinner. Tonight I'm making baked chicken breasts with a Dijon and lime sauce and then sautéed asparagus and cauliflower on the side.
Friday, June 28
Happy Friday! This morning I woke up early to do my arm exercises from Bonne's workout plan. I didn't have time to do my abs and legs but plan on doing that later with some cardio. Tomorrow morning I'm training with Bonne so I'll let you know how that goes next week. Wish me luck on the scale!
—Jennifer Crow