Two weekends ago, I had my first gown-shopping appointment at Kleinfeld Bridal in Manhattan, and it was as amazing as I'd always dreamed it would be. Ever since I was a little girl, I imagined trying on the beautiful white wedding gowns at Kleinfeld and finding the dress of my dreams, which (kind of) happened! Although some people poke fun at the whole "Kleinfeld experience," I have to disagree, because the way I felt that day was the way every bride should feel when going to find "the dress."
I brought along my mother, my sister (my matron of honor), my best friend Heather (my maid of honor), and my aunt (and personal trainer) Bonne Marcus. When I walked in, I instantly got excited because they were filming Say Yes to the Dress in the showroom that day, which was pretty cool. Deborah Asprea was my bridal consultant, and she was phenomenal! If you are planning a trip to Kleinfeld, you should absolutely request her. She was attentive, helpful, and so sweet.
When I got into our consultation room, she asked me to show her photos and describe what I was looking for in a dress, and based on that info, she went and chose a few dresses she thought I would like. The first dress I tried on was absolutely perfect. If I could draw a picture of what I envisioned myself walking down the aisle in, that was it. I put it on and instantly starting tearing up, and so did my sister, who was in the room with me. I thought maybe it was because it was the first dress I was trying on, so after I went out and showed everyone (and of course they loved it), I was open to trying on more. I put on another two dresses and liked them both, but I didn't get that same feeling. I put the original dress back on and immediately got emotional again. I swear, I didn't think I could possibly have such an emotional attachment over a dress, and I honestly didn't even think I was going to find one I liked!
I was so lucky because the designer of the gown, the incredible talented Mark Zunino, was having a trunk show that day, so I got to meet him and show him the dress on me! I'm in the dress below, but Deborah, Mark, and my ladies are hiding it: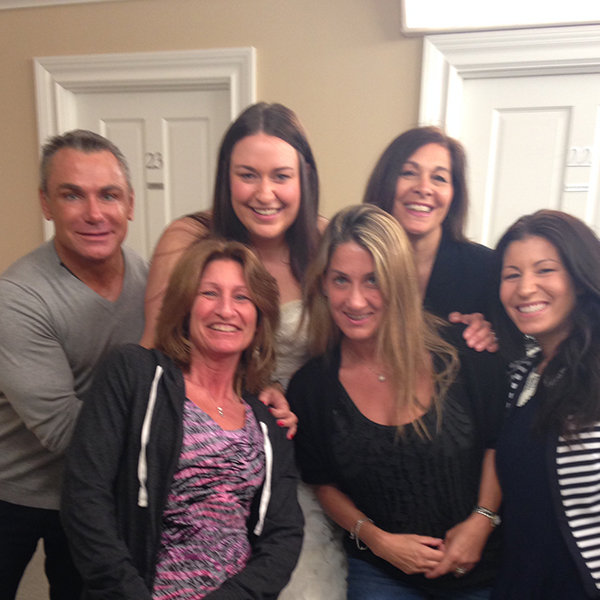 I ended up trying on a few more dresses, but nothing compared to that first one. I didn't end up walking out with the dress because it was a little out of my budget at that moment, but I do plan on going back to make it mine. Below are some photos of the other dresses I tried on so you can see all of the different styles:
If you are in the process of looking for your wedding gown, my number one tip is to be open-minded. Deborah put a dress on me that I never thought I would like, and although it wasn't the dress I wanted to wear on my wedding day, it was beautiful and fit me wonderfully.
I've been nervous for this day ever since I got engaged because of my weight. Knowing how hard it was to find a shirt to wear to a random party, I couldn't imagine how hard it was going to be to find something I loved that over 200 people would see me in. My hard work this past year is definitely paying off, though, because I can honestly say I was happy with the way all of the dresses I tried looked on me. Yes, I have more weight to lose, and I have problem areas I need to work on in order to be exactly where I want to be on my wedding day (arms and back), but because I was comfortable and confident in myself after losing all of this weight, it was one of the best days of the life.
So I didn't end up buying the dress that day. I have another appointment on Friday at Bridal Reflections in Long Island to try on more dresses and to confirm that the Mark Zunino is meant to be mine and to make sure there's not something more perfect out there. I will keep you posted on my final decision next week!
Be sure to check out Bonne's most recent posts for Bridal Guide demonstrating workouts to hit your problem areas in your wedding gown. These are all from her upcoming book, Fit to Be Bride, available December 2014. I know I need to do a million of each of them!
I also got a fun surprise last week: My engagement photos came in, and I'm so happy with them! See below for some sneak peaks: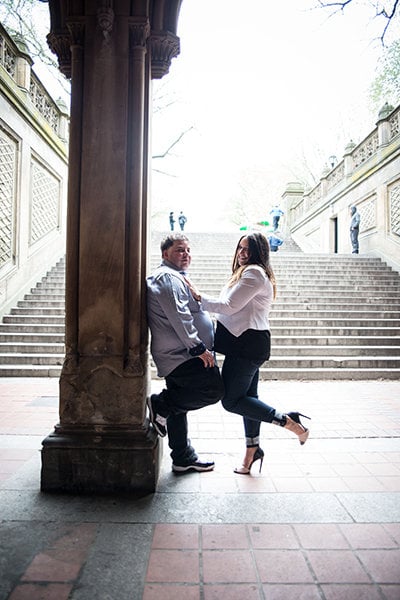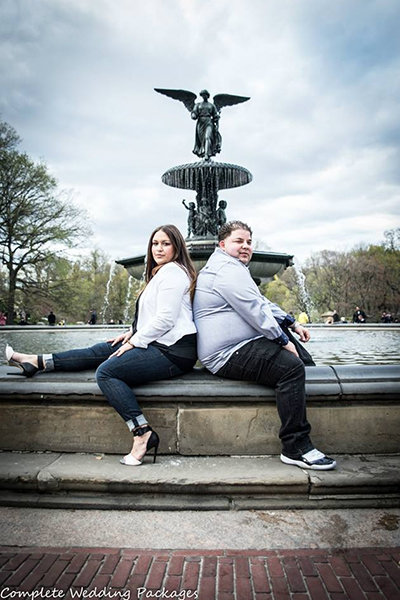 —Jennifer Crow