I'm sure all of you will agree with me when I say that fulfilling goals is one of the best feelings in the world. Being able to check that item off your list and say "I did it!" is truly empowering.
Last weekend, I completed my first 5K! Some of my friends and I ran the 3.1 miles in the "Run or Dye" 5K Color Run last Saturday at Nassau Coliseum in Long Island, NY. It was so much fun because people are literally throwing colors on you as your running, and it was a gorgeous day. I ran most of it and walked some, but the fact that I was able to complete it was a huge accomplishment for me and something I am very proud of doing. Six months ago, I couldn't run on the treadmill for longer than two minutes and dreaded the long NYC subway stairs, but now I can run three miles comfortably with a smile on my face. Something about crossing the finish line made me realize, "Okay, I am doing this; I'm going to get to my end goal."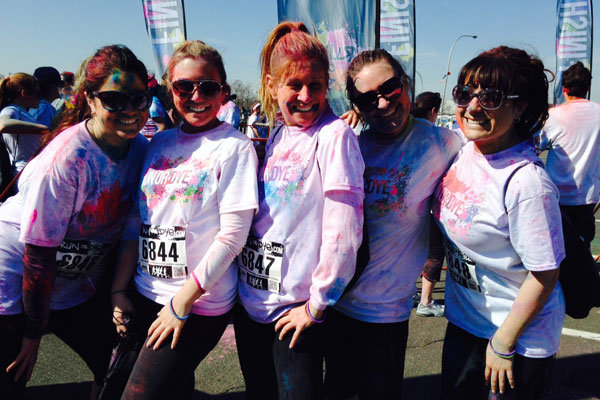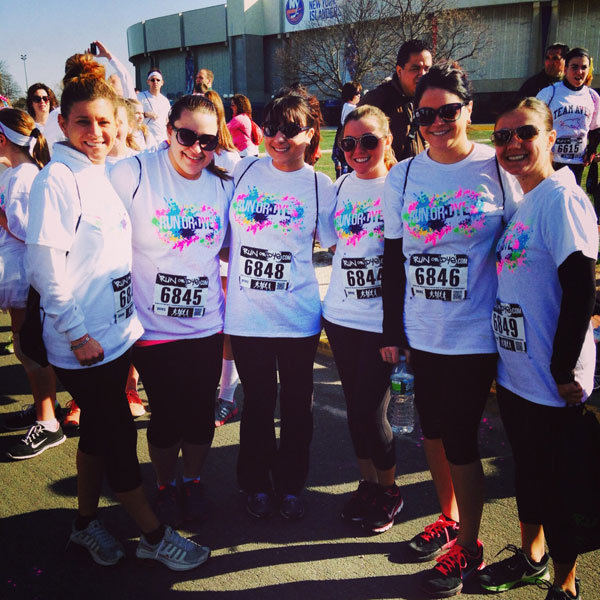 The second best part of my day was when I came home and found "congratulations" balloons on my fence and lining my stairs, plus beautiful roses in the kitchen. Aside from fulfilling one of my goals and challenges last week, I have a pretty amazing fiancé, too.
I woke up pretty sore on Sunday after the run, but I was training with Bonne for the first time in three weeks, so I had to get over it. She texted me that morning and told me she had some new "toys" for me, so I was a little nervous, but I ended up having the best workout ever that day! It was sunny outside, so we trained in her courtyard, and it was just her and me, so I had a personalized, amazing session. The new "toys" consisted of battle ropes, Lebert Equalizer™, and the BOSU™ (which we've used before).
First, we used the battle ropes. Bonne described them as a fun, quick, and and different way to work out your arms, back, legs, and especially target the core. Spending just a few minutes working with the ropes sent my heart racing and my muscles aching in a good way, and I totally felt it the next day.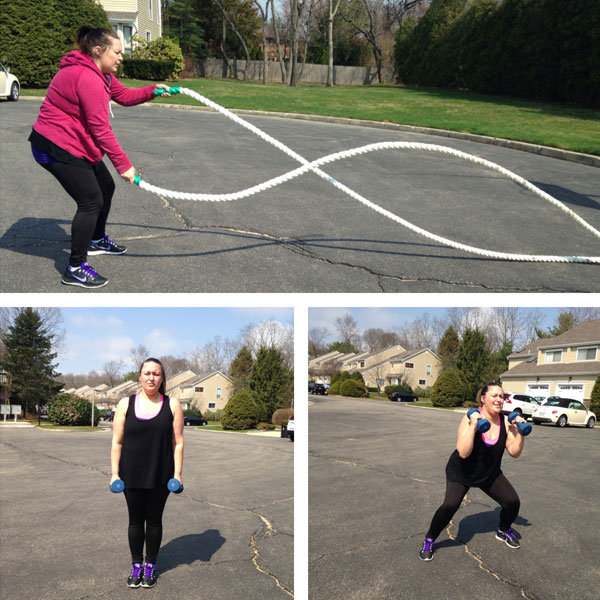 Next, we used the Equalizer bar. When I first saw her setting these up, I wanted to run and hide in my car, but it was such an awesome workout. Created by trainer Marc Lebert, this has fast become one of Bonne's favorite pieces of equipment. It is simply a pair of "hurdle-like" bars that work the arms, chest, back, and core muscles like nothing I've experienced before because you use your own body weight as resistance. We did the Equalizer inverted row exercise (seen in the photo), which targets the back and biceps. We also did push-ups and a triceps press.
We then used the BOSU® Balance Trainer, another of her favorite pieces of equipment — and now mine, too. I learned that "BOSU" is an acronym for "Both Sides Up" because it can be used on either side, the dome or the platform. This week, we used the BOSU for our burpee/mountain climb, which was bittersweet because it was so hard and made me so out of breath, but I felt it working all of my areas that need help.
Finally, we worked "down the aisle," as Bonne referred to it. We took our free standing exercises, like the squat, lunge, and plié, and performed them with movement across the courtyard. Bonne said doing this increases the intensity of the exercise, engages more muscles, and works on balance. The upper body movements added that extralayer of muscle strengthening, and when you integrate upper body and lower body exercises while traveling, you also engage your core. Some of the exercises we did were walking lunges with a wood chop (a.k.a. "the wedding march"), squats with bicep curls, and plié squats with a front raise and a twist.
I was totally drained after this workout, but because of the new equipment, it was fun, new, challenging, and exciting all at the same time. I really think it was my favorite workout yet with Bonne — and I was sore up until yesterday, so it had to be good, right?
On top of the heavy training I did last weekend, I fulfilled one more goal when I tried on the Hudson Jeans my girlfriend gave to me that I mentioned a few posts back. They're a size 31 and now fit me like a glove! When I got them in December, I literally could barely get them over my butt, and now they are my new favorite jeans. When you put your mind to it, you can fulfill your goals, and dreams really do come true.
I'm taking my engagement photos at the end of the month, and I have an appointment at Kleinfeld at the beginning of May so I have lots to look forward to and many more goals I need to cross off my list, one pound and one step at a time.
—Jennifer Crow