The past few weeks have been difficult for me both physically and mentally. There are only 100 days until my wedding and I am still finding it hard to lose the last 20-30 pounds needed to reach my goal weight. I also have many important wedding plans to finalize, including ordering my invitations and booking transportation. I know feeling overwhelmed is normal while planning a wedding (especially for brides trying to lose weight), but I would prefer to not be so stressed. Working out has been my stress reliever these past few weeks and I thank God for it.
I didn't realize how stressed I was until I was arguing with my mother about the dress she would wear to my wedding. Fortunately, I was on my way to my trainer Bonne's house for a kickboxing class. She was there to listen to my problems, and the kickboxing class was the answer to my prayers! I was able to sweat, kick and punch out all of my frustration and I felt a million times better once finished. That morning, I learned that trainers not only push you to be strong physically, but they will listen to you and offer emotional support as well.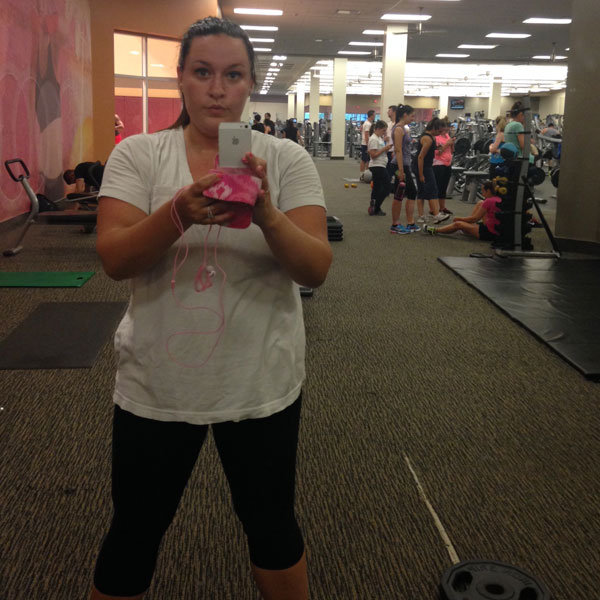 I've also increased my workouts, to help take more weight off and to keep my stress level down. I've been seeing Bonne at least once a week and she has been giving me routines to do on my own — which really helps me stay on track. We have been trying to "heavy up" on certain body parts in order to maximize the results in specific problem areas. Here's an example of a routine Bonne gave me that concentrates on triceps and shoulders that you could try at home: 
1. 3 sets of 10 pushups
2. Chest press drop set: do 10 reps with 20 pound weights, do 15 reps with 15 pound weights and finish with 20 reps with 10 pound weights
3. Repeat drop set for 2 rounds
4. Tricep press downs for 15 reps using 15 pound weights
5. Side shoulder raises for 12-15 reps using 8 pound weights
6. Alternate number 4 and 5 for 3 rounds
7. Chest fly for 15-20 reps using 10 pound weights
8. Skull crushers for 20 reps using one 15 pound weight
9. Alternate number 7 and 8 for 3 rounds
10. Bent over side raises for 15 reps using 8 pound weights
11. Overhead tricep extensions for 15 reps using a 15 pound weight or kettlebell
12. Alternate number 10 and 11 for 3 rounds
I you do these exercises correctly, I promise you'll will be sore (in a good way) the next day. You can also email Bonne at [email protected] for advice and more information on training with her! Aside from increasing my workouts I also have been trying to switch up my eating habits. I'm getting sick of eating the same foods every day so I've been trying some new recipes.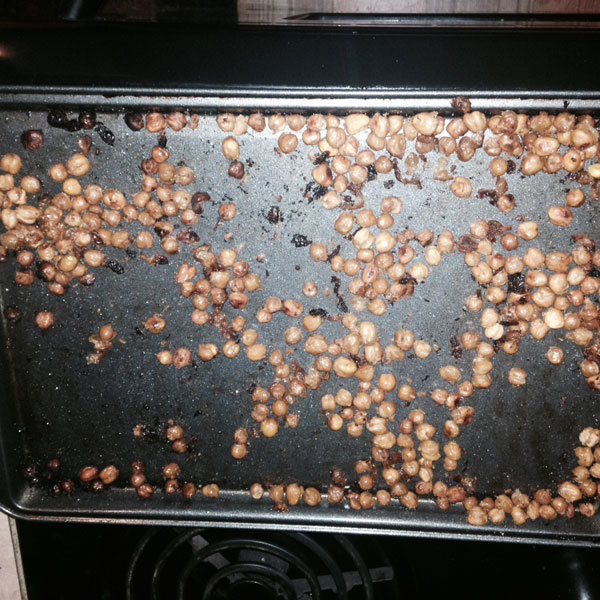 Last week, I made roasted chick peas from a recipe I found on Pinterest and they were amazing! I rinsed and drained two cans, added 2 tablespoons of olive oil, salt, pepper and garlic powder and then baked in the oven at 450 degrees for 30 minutes. They are the perfect low calorie, high in protein snack. I've also been eating nectarines which are in season right now and are so sweet and delicious. Sometimes when I get sick of eating a certain meal, I find myself wanting to binge on something unhealthy. Switching it up in the snack department definitely helps me fight these urges.
I recently came across this photo from one year ago at my engagement party when I was only 20 pounds into my weight-loss journey. When I put it side-by-side with a recent photo, I realized that even though I have more to lose,  I should be proud of how much I have accomplished so far!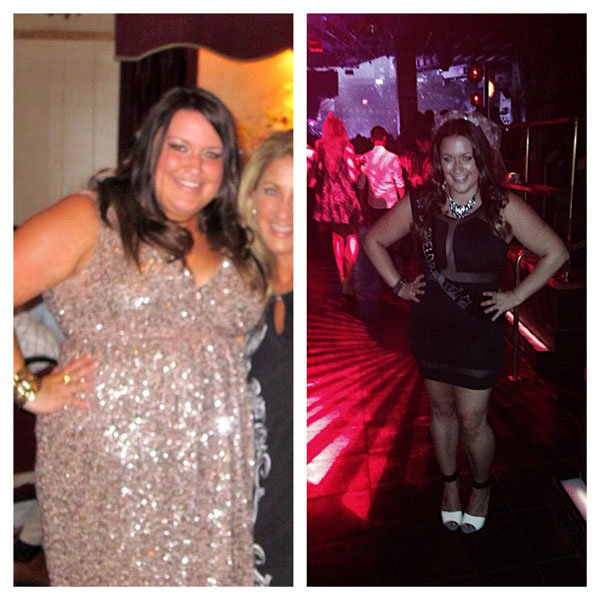 Stay tuned for my post on my bachelorette party in Vegas!
— Jennifer Crow