Guest blogger: Bonne Marcus
A fitness industry expert for 27 years, Marcus holds numerous certifications from the Aerobic Fitness Association of America (AFAA), including Step, Spin, Bosu™, Pre/Post Natal, Youth Fitness, Aqua, and Personal Training. She has taught for New York City's top health clubs, including Crunch, New York Health and Racquet, and Reebok Sports Club. A recognized name on Long Island, Bonne has taught at Dany Holdstein's Two Worlds, North Shore Health Club, LA Fitness, Sport time, Equinox and currently teaches at the Sid Jacobsen JCC in Roslyn. Learn more at getfitwithbonne.com.
It's no surprise that cardiovascular exercise is the cornerstone of most weight loss programs and the key to shedding excess body fat. Aerobic activity also nourishes a positive mental attitude by increasing the body's level of serotonin (one of the feel-good hormones that helps reduce stress) and most brides agree stress comes along with wedding planning! The question is what is the best cardiovascular exercise? 
There are arguments on whether the elliptical is better than the treadmill, or the Stairmaster better than the stationary bike, but the reality is that you will reap the most benefits from any cardio that you do consistently.  The secret to success is to find an activity you love. 
Below I've highlighted the benefits of five different types of cardiovascular exercise. Read and decide which one is best for you.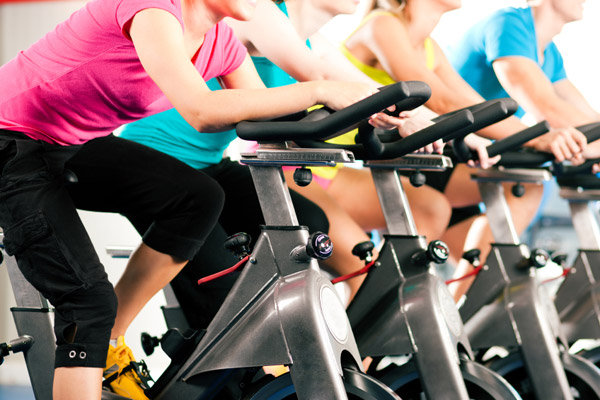 Photo Credit: iStock
1. Elliptical Machines
In a half-hour or less, depending on the intensity level, you can experience a full cardiovascular workout with little or no impact on the joints. What makes it even more appealing is the combined upper and lower body workout. With a variety of options and settings to choose from, there is no other piece of equipment that delivers a more efficient workout. With an elliptical, you get a workout that targets the quads, hamstrings, glutes, chest, back, triceps, and biceps. The more muscles you use, the greater the energy expenditure, so you end up burning more calories and fat in less time.
2. Treadmills 
While it may seem that treadmills were invented by the same people who designed hamster wheels, walking or jogging in place is one of the best and easiest exercises you can do. Why? We walk upright by design. There is no formal instruction necessary unless you consider "put one foot in front of the other" instruction. Few machines that have been around as long, can measure up to treadmills in terms of providing consistent health benefits. Burning calories is not the only reason treadmills appeal to so many people. Treadmills allow you to easily intensify the speed and difficulty of your workout. Running on a treadmill is a great way to stay on track when it is not nice enough outside. In the comfort of your home, you can continue with your usual outdoor pace. Even a certified couch-potato can get a good workout without giving up the remote. 

3. Stationary Bikes 
Stationary bikes are time-tested machines that offer a great cardio, lower-body workout. They are very easy to learn and for most people the cycling motion comes naturally. With your own stationary bike, you can get a health-club quality workout while burning fat and improving heart fitness. Two major types of stationary bikes are upright and recumbent. The upright type looks like a regular bike, while a recumbent bike reclines at an angle. Most recumbent bikes offer bucket seats and cushioned backsupport which may lessen strain on knees and lower back. Compared to running, a stationary bike provides users with a thorough low-impact workout that creates less stress on joints.
A great advantage of stationary bikes over other fitness equipment is that it is very easy to read while cycling.  As you are sitting on the bike, your hands are free and upper body remains relatively still, allowing you to focus on a book or wedding magazine. If you are someone who is easily bored, reading on the bike is a great way to exercise your mind and body. 
4. Jumping Rope 
Jumping rope is a fantastic way to burn calories and lose weight. It's a complete cross-training workout that combines elements of cardiovascular and endurance training with muscle strengthening. You can jump rope at your own level of intensity for any length of time almost anywhere. Depending on your height and weight, in only 15 to 20 minutes you can elevate your heart rate, work up a major sweat, get an overall energy boost, and burn an average of 300 calories. Jumping rope is not only good for shaping the calves, glutes and quads, the constant turning motion of the rope will also tone your upper body.
5. Kick Boxing
Similar to jumping rope, it is a complete cross training workout that combines cardio training with resistance training. Kick boxing a total body workout that improves strength, flexibility, coordination, reduces stress, and teaches self-defense. It is also an incredibly efficient workout. In a kick boxing class you can burn about 750 calories in an hour. Add in jump rope and conditioning drills, and you could burn anywhere up to 1000 calories in an hour.
While I am a fan of kickboxing in a group fitness class, I prefer to work one on one with a certified Mixed Martial Arts trainer. There is something about hitting and kicking a heavy bag that relieves stress better than anything else. Besides being a great workout for your booty and arms, it's awesome for sculpting your abs. Burn calories, tone your entire body, and relieve wedding planning stress all in one hour? Sign me up.
Need more ideas or have questions? Email me at [email protected] and follow me on Facebook.
— Bonne Marcus