Recently, we were honored to be a part of the judging panel for the third annual bridal gown design competition from the High School of Fashion Industries (HSFI), in partnership with Kleinfeld Bridal. The incredibly talented students created beautifully detailed gowns that were nothing short of amazing.
Last year, each student designed the dress she'd wear to her own wedding. This year, the students were asked to create a gown that represented their vision of what a woman should wear on her big day. From 40 sketches, the judges chose three finalists who then with the help of fellow classmates, brought their vision to life using fabric provided by Mori Lee.  Students also attended a master class beforehand at Kleinfeld from Dorothy Silver, Director of Sales and Merchandising.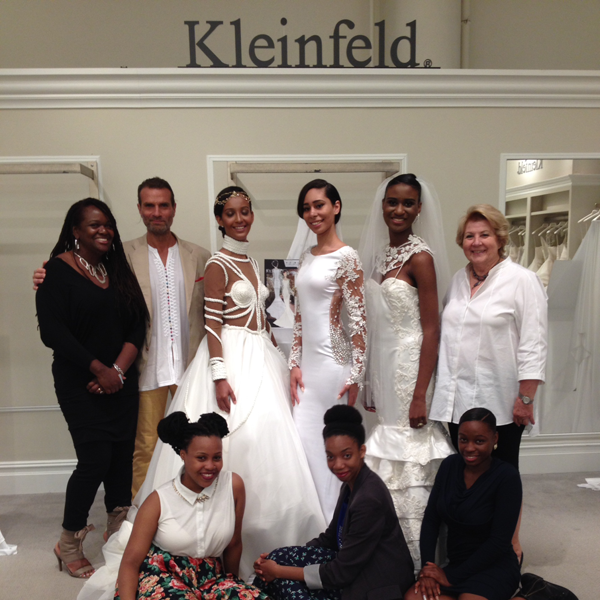 The designers and models with instructor Sandra Manning, Robert di Mauro and Mara Urshel.
Joining us on the judging panel were (from left) bridal designer Madeline Gardner (Mori Lee); co-owner of Kleinfeld, Mara Urshel; couture designer Carmen Marc Valvo; bridal designer Michelle Roth; the winning gown and student designer Hadassa Dorcean; Kleinfeld Fashion Director, Terry Hall; NY1News anchor and reporter, Cheryl Wills; and founder of the Industry Partnership Program and Advisory Board Member at the High School of Fashion Industries, Robert di Mauro. Kudos, by the way, to Robert di Mauro and Mara Urshel who first created the contest and spearheaded this invaluable opportunity for the students three years ago.
Needless to say, we were amazed at the quality of the students' work, their ability to execute their vision with precise attention to detail and their undeniable passion. Here, a look at their creations.
Winner: Hadassa Dorcean
Hadassa, who told us that she's loved designing ever since the second grade, was inspired by social media and called her inspiration board "Virtual Love."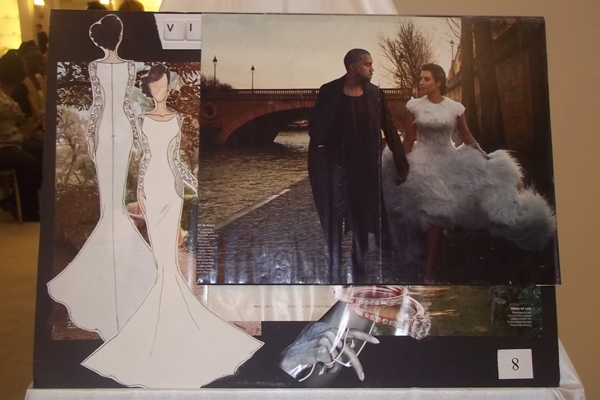 "I wanted to create a gown for an independent New Yorker," she said. "I envision her as someone who uses social media regularly and perhaps even meets her future husband online." The result: a sleek, sophisticated gown that impressed judges with its beautiful fit and romantic details.
The silk charmeuse gown features a bateau neckline, illusion lace sleeves and side illusion panels embellished with teardrop-shaped beading.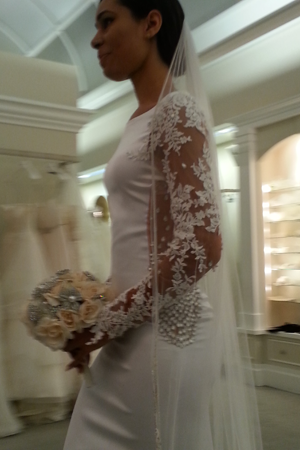 A beaded scallop-edged veil completes the ensemble. Hadassa, who will attend St. Francis College in Brooklyn Heights, New York next year, noted that she learned a great deal of patience during the process as well as the importance of working with a team and making friends from it. "I couldn't have done it without them," she said.
Runners Up
Stacy Isaacs
"I've been sewing since the 6th grade," said runner-up Stacy Isaacs. "It is my passion." This passion was clearly evident in the inventive ballgown that was inspired by the fairy tale Rapunzel. "I wanted a fierce approach to a sweet fairy tale," said Stacy. "And to me, this was the perfect dress."
The basque-waist ballgown features a voluminous skirt of silk satin beneath an airy organza top layer. The bodice is decorated with all hand-stitched braided rope that wraps around the front, back and arms of the nude illusion netting. (It took Stacy and her team a full week just to complete the braiding.) A matching choker and draped headpiece are the ideal finishing touches.
"I loved creating this gown," said Stacy who will be attending the Fashion Institute of Technology next year. "Everyone was so helpful…all the teachers and even the other competitors!"
Lashun Costor
After seeing the Broadway play Dream Girls, Lashun was inspired to become a costume designer for movies and the theater. Her striking gown, inspired by Versailles' "Hall of Mirrors," pays tribute to her love of glamour and beauty.
Her peau de soie mermaid design features beaded appliqués and a multi-tiered skirt. A detachable beaded appliquéd collar and fingertip-length veil add to the sense of drama.
Lashun, who will be attending Parsons next year where she will specialize in designing eveningwear, said that she, too, "learned a lot" and also credited her team with helping her bring her dream creation to fruition "I really enjoyed the experience,'" said Lashun. "And I am very thankful."
Congratulations to the winner, the runners-up and all of the students and teachers who participated in this wonderful design contest. We applaud your incredible talent, passion and dedication and look forward to seeing more of your amazing designs on future runways!
Tell Us: Which one of these stunning gowns is your favorite? 
— Diane Forden