It's a given that guests always look forward to indulging in fabulous food at a wedding. At the many I've attended, I'm always amazed at the presentation, the quantity and the taste of the food, from cocktail hour to reception dinner. Long after the big day, your family and friends will probably regale you with how much they ate and what dishes they loved!
As the busy summer wedding season approaches, we spoke with caterer Jeannette Maier of Fancy Girl Table, a catering and event design company, for tips on how to plan a unique summer menu. Jeannette only uses ingredients from local farms and can create options for every type of celebration (barn wedding, summer picnic, rooftop party), as well as for every type of wedding guest, whether they're vegan, vegetarian or a meat lover.
Here, a few of her suggestions for sure-to-please summer menus:
Summer Barn Party Menu
Hors d'oeuvres:
Grilled Sourdough Spelt Pizza with Potatoes, Summer Herbs, Aged Goat Cheese, Caramelized Onions & Truffle Oil: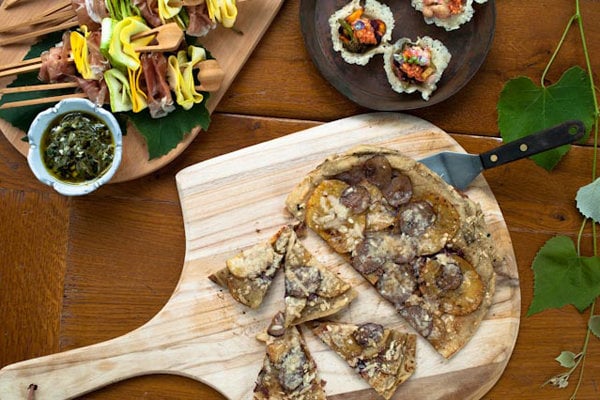 Squash Blossoms with Smoked Ricotta: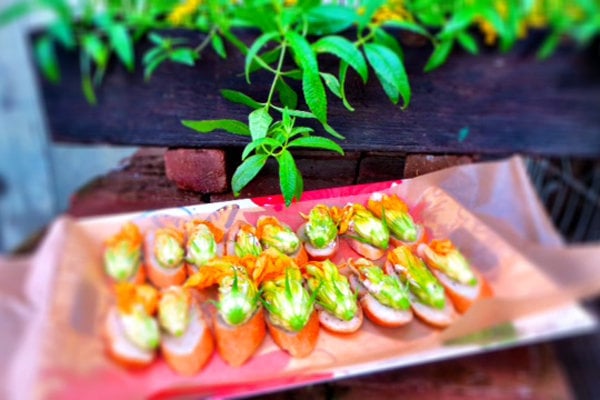 Zucchini Fritters with Smoked Pepper Romesco: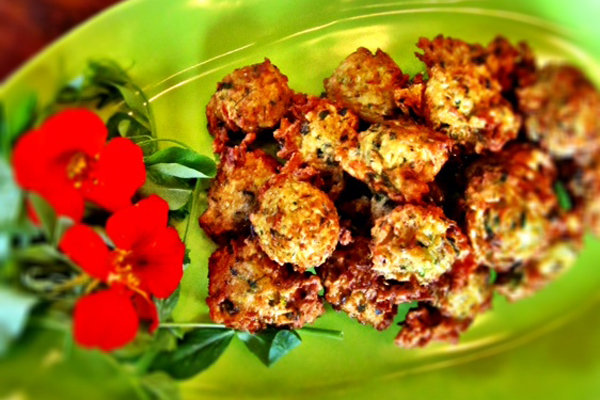 Main course:
Guests can choose from Chicken Grilled on a Plank with Grilled Corn and Lovage Relish: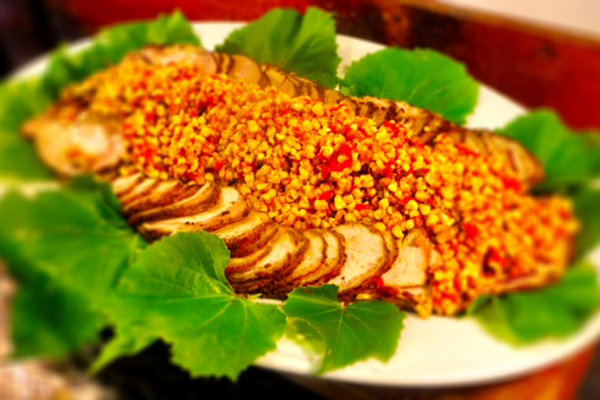 or Grilled Porterhouse Steaks with Smoked Black Pepper & Sea Salt, served along with Pickled Blackberry & Nectarine Salad with Cherry Tomatoes & Mint Dressing:
and Summer Succotash over Dandelion with Opal Basil Vinaigrette: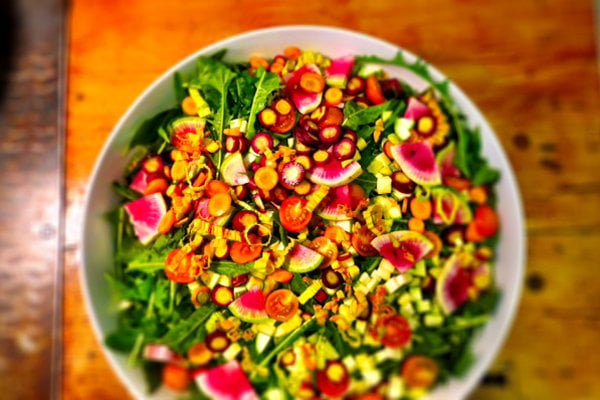 Dessert:
Mouth-watering S'mores Cupcakes:
Summer Picnic Wedding
Hors d'oeuvres:
Roasted Butternut Squash & Local Mushroom Phyllo Turnovers with Sage & Goat Ricotta:
Enchilada Corn Summer Tarts in a Smoked Crust:
Flatbread with Steak, Tomato Chutney and Kale Pesto:
Main course:
Serve small plates for a buffet dinner that includes barbecued chicken breast with roasted corn and cherry tomato relish, a fresh green salad with roasted grapes, smoked pecans and goat cheese, and orchiette with corn pesto, butternut squash, vegetarian sausage and fried sage.
Dessert:
Whimsical Butterfly Cupcakes are guaranteed to enchant:
Summer City Rooftop Menu: For Vegans & Meat-Lovers
Hors d'oeuvres:
Vegan: Flatbread with Opal Basil Pesto, Sun-dried Tomato Relish & Grilled Summer Squash.
Vegetarian: Parmesan Cups with Roasted Root Vegetables and Smoked Tomato Pesto: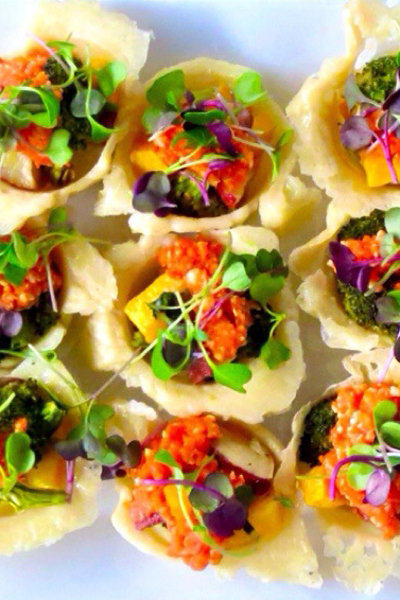 Meat: Skewered Blackened Grass Fed Hanger Steak with Herb Remoulade Sauce.
Main course: Family-style dinner
Vegan: Summer Succotash Salad with Sweet Corn, Edamame, Heirloom Squashes, Rainbow Carrots, Basil & Extra Virgin Olive Oil: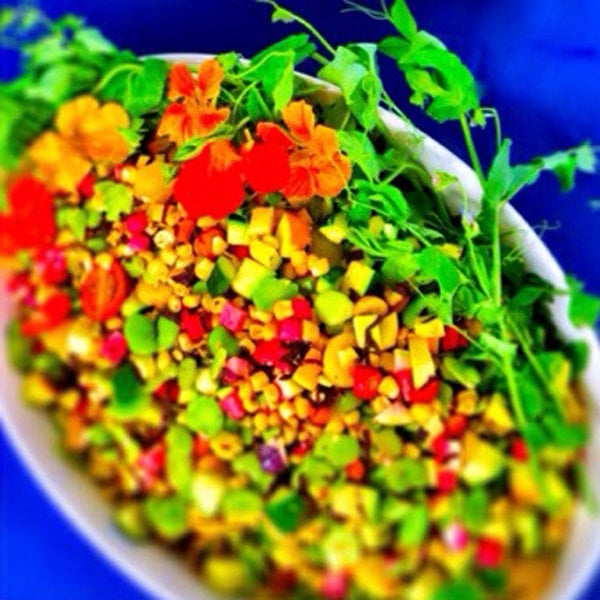 Summer Vegetable Skewers with Pressed Tofu & Chimichurri Sauce:
Vegetarian: Orchiette with Corn Pesto, Butternut Squash, Vegetarian Sausage & Fried Sage.
Meat: Barbecued Chicken Breast with Roasted Corn & Cherry Tomato Relish: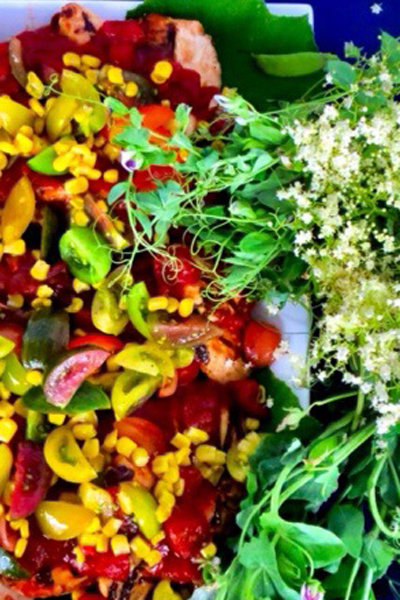 Dessert:
Festive Floral-Topped Cupcakes:
Remember to start searching for your caterer about six to 11 months before the wedding, make a list of questions to ask that will help narrow down your choices. Meet with potential caterers about four to nine months before, and plan a tasting (the fun part!) about three to eight months before the big day. After receiving proposals from your "finalists," you should then be able to determine which caterer best suits your needs and make a decision at about two to seven months before the wedding. In the meantime, enjoy all the tasty treats that await you!
—Diane Forden