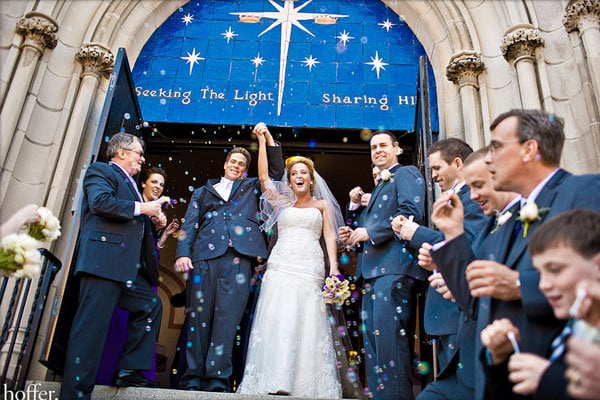 Q. I think receiving lines are outdated and take up too much time. It is necessary that we have one? I'm worried that our schedule will be delayed by having to greet each of our 175 guests after the ceremony. Any suggestions? 
A. Although a receiving line is not necessary, taking time on your wedding day to greet all of your guests is. If you choose to forgo a line altogether, then be sure to take some time during the reception to visit each table and thank your guests for helping you to celebrate your marriage. They'll want to congratulate you, and they will greatly appreciate your consideration. 

Photo Credit: Rebekah J. Murray Photography
If you do decide to have a receiving line, there are several things you can do to keep things moving. Consider having a smaller receiving line after the ceremony: The traditional line, which includes parents and attendants, can be shortened to just the two of you and your parents. If you keep your conversations pleasant but brief, the line should move quickly.

Photo Credit: Joy Marie Photographers
Another idea: After the ceremony, and before the bridal party recessional begins, you and your new husband can recess up the aisle (followed by your attendants) and personally dismiss each pew of guests. This way, they will have an opportunity to congratulate you as they exit their seats, and the process will not take that long.
Or, if you plan to attend your cocktail hour, have a small receiving line for guests as they file from the cocktail hour venue into the reception room.
—Diane Forden