Get ready to enjoy our special "Color Issue" filled with amazing ideas on how to choose and use pretty palettes throughout your wedding.
Have an iPad? Be sure to check out our digital edition! Get one issue for $5.99 or a one-year subscription (six issues) for just $9.99. Click here to download the Bridal Guide Magazine app from the App Store. 
Plus, you'll find three magazines in one! On the flip side is our "Your Home" section featuring the hottest tabletop trends and gift ideas for your registry.
And you'll get a separate "Honeymoon & Destination Wedding Guide" packed with the perfect getaways.
But first, here's a sneak peek at some of the fabulous color-themed stories in the issue from bridal gowns in soft, romantic hues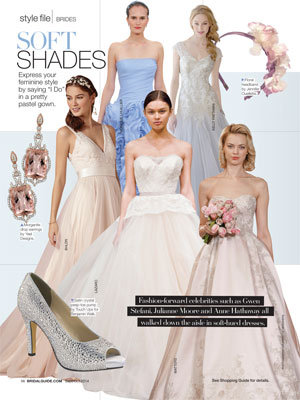 to vibrantly colored bridesmaids' dresses.
We also have dazzling engagement rings in every color of the rainbow.
And Pantone's color of the year, Radiant Orchid, comes to life with ideas from Lover.ly's Kellee Khalil who shows how to incorporate this hue into all your wedding details.
Celeb event planner and TV star David Tutera offers invaluable advice on how to select your wedding colors.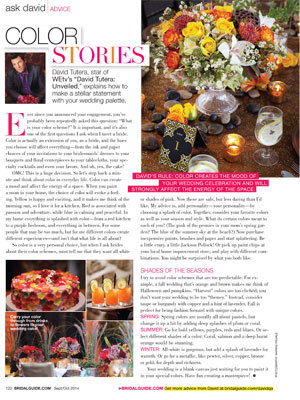 And renowned event planner Preston Bailey shares a colorful and flower-filled wedding he created for a recent bride and groom.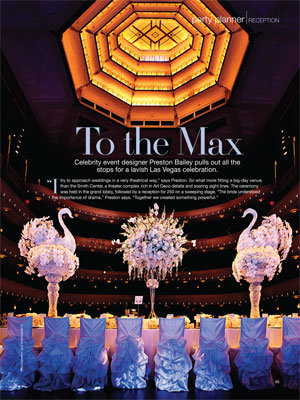 Real weddings are also showcased in "Color Your World" where palettes of green/blue, lemon yellow and coral/pink play a starring role.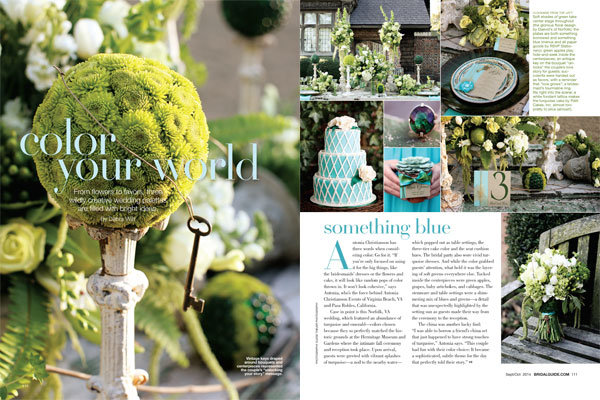 Along with all of the wonderful color stories in this issue, you'll find lots of expert planning advice. For those who might be marrying away from home and opting for a three-day celebration, check out "Your Weekend Wedding Planner."
In this story, you'll find tips on how to map out three fabulous days with friends and family as well as fun ideas for venues, menus, activities, décor, gift bags and more.
Of course, planning a wedding and spending money always goes hand-in-hand so if you're concerned about over-extending your budget be sure to read "On the Money" to put your mind at ease.
We've culled some of the smartest cost-cutting tips from in-the-know wedding experts who share savvy ways to save on everything from invitations to music, flowers, catering and more.
If you're about to register or still working on your gift list, turn to "Your Home." In this special section, other brides and grooms share their top registry tips and picks…
and style icon Aerin Lauder showcases her new collection, AERIN for Lenox, offering some of her best registry and entertaining advice.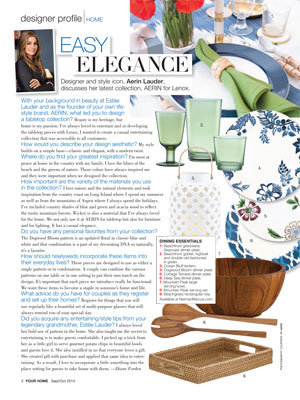 When you feel like putting wedding planning on hold, pick up our exclusive "Honeymoon Guide" and peruse its gorgeous pages. You'll find top-notch travel info on exotic islands around the world
Tropical locales in the Caribbean,
all that Mexico has to offer day and night
and many more honeymoon-perfect destinations for your fantastic getaway.
So whether you're searching for the perfect dress, selecting your wedding colors, setting up your registry or planning your honeymoon, the September/October 2014 issue has it all. Enjoy!
— Diane Forden