Welcome to our big 3-in-1 issue! You'll not only find fabulous wedding fashions, beauty, reception and planning news in our September/October magazine...
Get a behind-the-scenes look at our cover shoot here:
...but on the flipside, you'll discover a special "Your Home" section: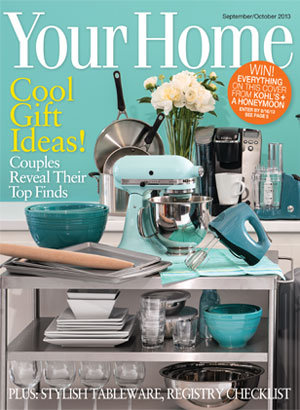 Bonus: All of these registry-perfect products from Kohl's are available for you to win, along with a honeymoon in Aruba, so be sure to enter our sweepstakes at bridalguide.com/winkohls!
And speaking of honeymoons, you'll also find a separate Honeymoon Guide magazine with this issue:
It's filled with the most gorgeous places around the globe tailor-made for your amazing getaway.
Plus: Experience Bridal Guide like never before when you download our new issue on your iPad! Get more info here ►
But before you start your travels, we know you'll be busily planning your wedding and searching for the perfect dress. You'll love our "Dream Day" story, featuring some of the prettiest new gowns.
And you'll swoon over the dazzling ruffled and tiered dresses in "Frill Seekers":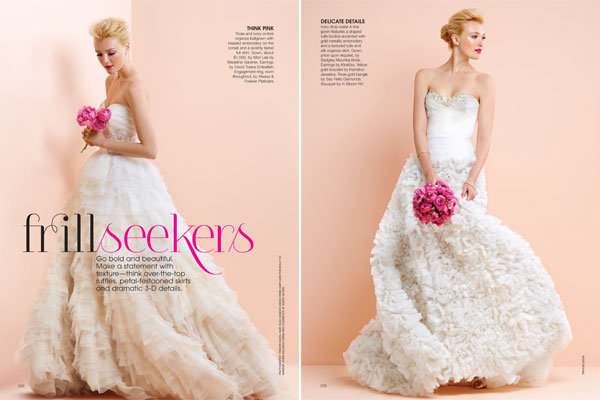 Plus, there are more fabulous trends to consider in Runway Report:
...and stunning looks for your BFFs.
We've also got you covered when it comes to looking your very best on the big day. Check out our "Seasoned Beauties" story, showcasing perfect makeup, nail shades and fragrances for winter, spring, summer or fall brides: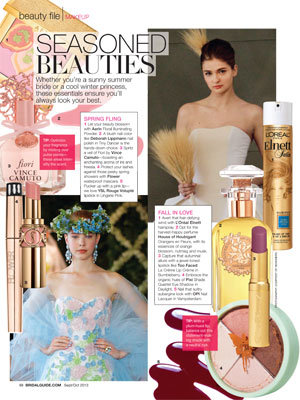 And read up on the latest news in teeth whitening to ensure a pearly white smile in all your photos.
Every bride loves seeing fresh, new ideas for her pre-wedding parties and reception, and there are plenty for you to relish in this issue, from an elegant, intimate bridal shower:
to ideas for an urban chic theme, courtesy of noted event planner Matthew Robbins.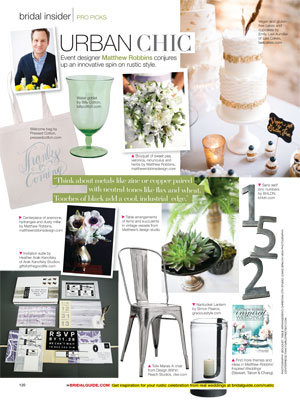 Plus, discover some of the prettiest wedding color palettes selected by none other than My Fair Wedding's David Tutera.
We also have a bevy of ideas for outdoor weddings, whether you're marrying in a garden, countryside or on a beach. And even if you're not, you're sure to get inspired by these ideas that are just as suitable for your indoor celebration.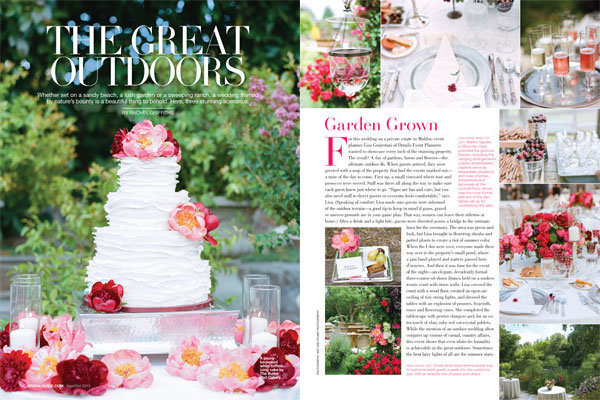 If the planning process has you feeling a bit daunted, relax! "The A to Z Guide to Wedding Planning" spells it all out for you easily and succinctly.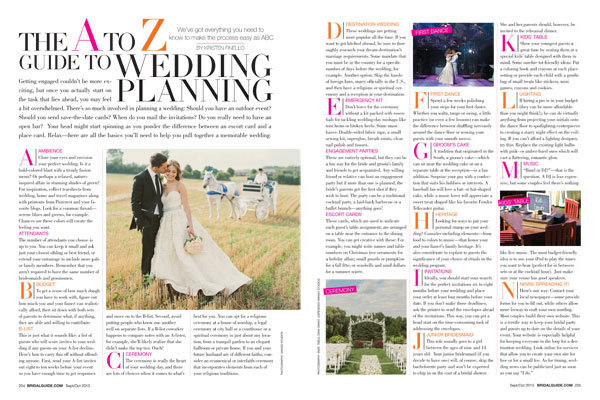 And if budget worries are keeping you up at night, be sure to read "Trade Secrets" where you'll discover — from wedding vendors themselves — some of the best ways to cut costs. These smart, practical tips will have you sleeping like a baby!
Now, let's get back to that dream honeymoon! After all, you and your fiancé deserve the best vacation ever, and you'll find plenty to choose from in our Honeymoon Guide, whether you opt to stay close to home...
...or prefer a more tropical escape to Hawaii:
the Caribbean: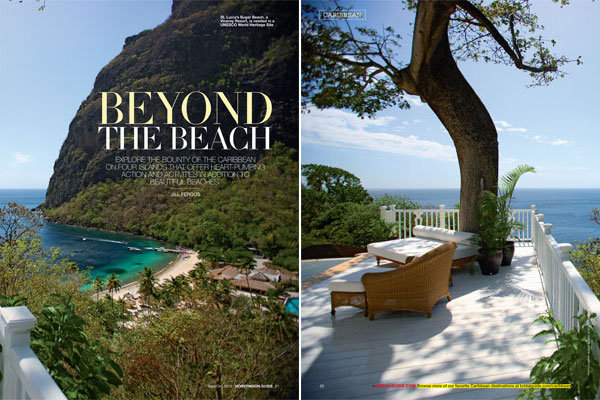 or Mexico:
And if you and your honey are the types who love to jump in the car and hit the road, check out "Cruise Control" for the top honeymoon-perfect road trips around the world. You can be the stars of your very own Two for the Road movie.
There's much more for you to enjoy in this idea-filled issue, so kick back, relax and have fun planning and dreaming. We promise you'll have the best wedding ever!
—Diane Forden