The September/October 2011 issue of Bridal Guide is on the newsstands and you're going to love it:
Not only will you find gorgeous gowns and lots of inspiring ideas for your wedding but when you flip the magazine over you'll discover a special Your Home section:

Plus, included with your purchase is a separate Honeymoon & Destination Wedding Guide:

What a buy! It's like getting three magazines in one. In the main book, you'll find lots of fashion and beauty news like this dazzler from the "Embrace Lace" story...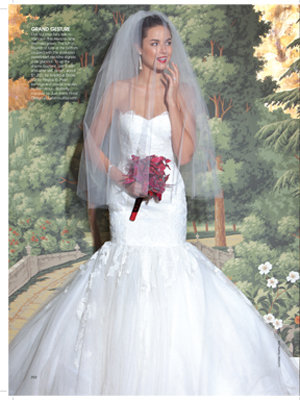 ...or this stunner from "Floral Fantasy":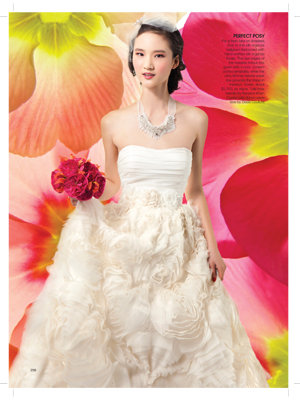 You'll also see more new styles from the runway, bridesmaid dresses and a variety of wedding-day hairstyles from the latest bridal shows.
And, since we're always trying to help you save money, check out the article, "Feasts for Less," that offers plenty of smart ways to cut back on the catering bill:
You'll also discover some fantastic ideas on how to decorate your reception tables: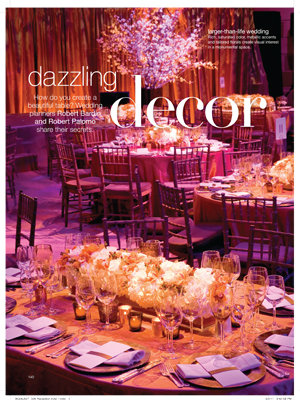 And if you've ever wondered what recent brides might have done differently when planning their weddings, you've got to read "Real Brides Confess…" for pointers on what not to do!

In the Your Home section you'll see what other couples are registering for and perhaps get inspired to add a few more items to your own list:

And be sure to enter the contest featured inside this section to win fantastic products from Kohl's as well as a honeymoon in Mexico. As they say, you never know!
Our Honeymoon Guide offers you the best roundup of romantic getaways from Hawaii... 

...to Panama... 

…to the good 'ole USA for those who want to stay close to home but still experience a truly magical escape:
And beach lovers, never fear, there are plenty of fab resorts for you to consider in our "Best Beaches" of the Caribbean story. (You'll probably have a hard time deciding just where to go!):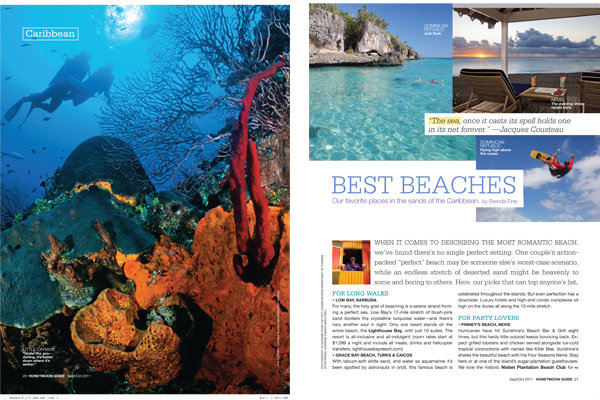 There's so much more in store in the September/October issue (bridal shower ideas, a beautiful real wedding, a guide to wines, amazing jewelry) so enjoy the read and let me know if I can help in any way! 
—Diane Forden