Our new issue, November/December 2012, is on the newsstands, and it's filled with so many fantastic stories that I don't know which one to talk about first!
But let's start with fashion, since I know many of you are on the hunt for that perfect gown, and there are lots of beautiful — and affordable — dresses featured. You're sure to love the gorgeous gowns that were photographed on the fabulous Disney cruise ship, the Disney Magic. Here's our model with Captain Mickey himself:
This state-of-the art cruise ship was the perfect venue for showcasing dreamy dresses that exude grace, style and elegance:
You'll also find more have-to-have looks in our "All An Illusion" story, showcasing romantic dresses with sheer necklines, backs and cover-ups:
And check out the latest runway news, chic looks for bridesmaids and a little "something blue":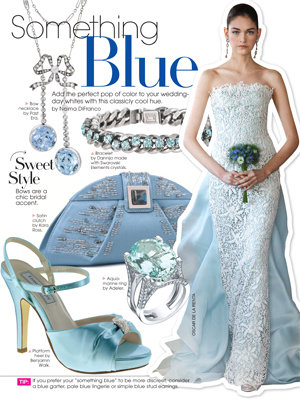 Of course, what would a bridal magazine be without some tips on bridal beauty? We show you some of the hottest hair and makeup trends straight from the catwalk to help you determine your favorite look: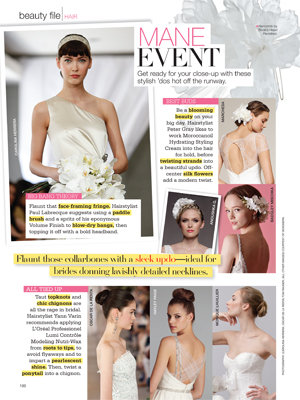 And to ensure that you get photos to treasure for a lifetime, take a look at "Picture Perfect," where photographer Elizabeth Messina offers tips and ideas on how to capture those unforgettable moments: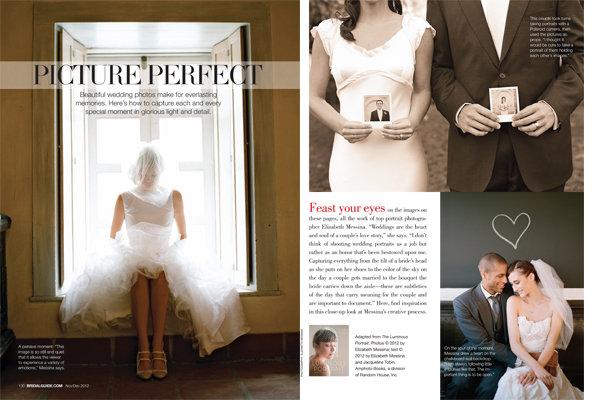 Another yummy (pardon the pun) story in this issue focuses on dazzling dessert tables created by super-stylist Amy Atlas. Just imagine an incredible display like this at your own wedding: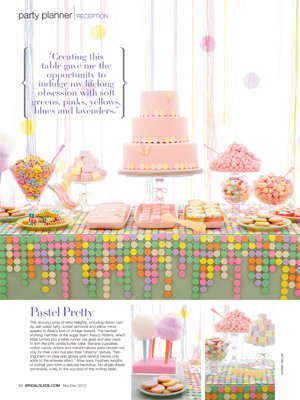 And DIY brides, rejoice! You are going to love, love, love "Be a DIY Diva" featuring unique ideas from Khris Cochran, author of The DIY Bride. There's a centerpiece, guest book, favors and a seating-card holder featured that you can easily make yourself. These DIY projects are fun to do, cost-effective and sure to give your celebration that special personal touch: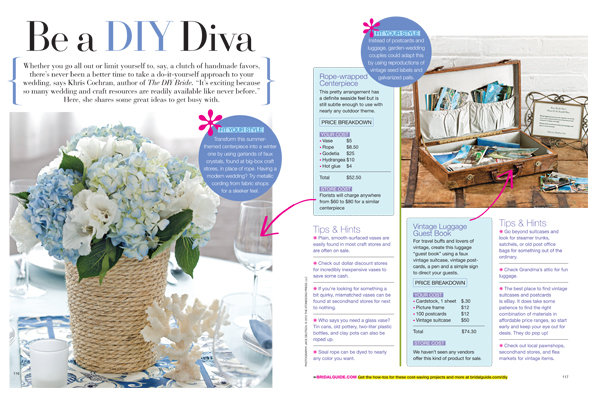 And speaking of cost-effective, you may be tackling some money issues and wondering just how much you can afford to spend. Relax! You'll find some of the very best ways to save money and have an affordable wedding in "101 Budget Tips." We cover everything from the invitations, venue, catering and décor to the music, photography and transportation costs. Read it, save it and have it on hand to help keep you on track with your budget.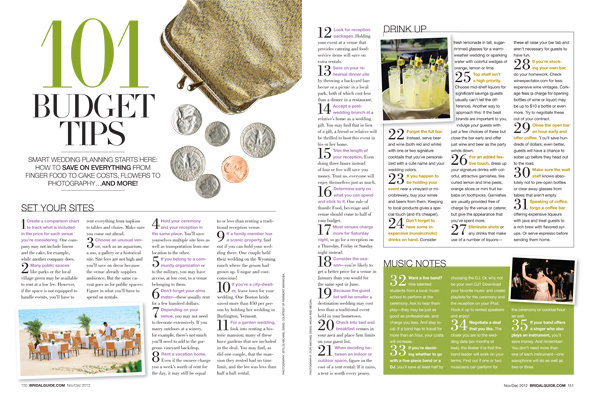 Also, in recognition of October being breast-cancer awareness month, please be sure to check out the fantastic gift, home and travel items that all contribute a portion of their sales proceeds to fighting this disease. Purchasing any one of these products is a wonderful way to give back and you'll find even more on our website at bridalguide.com/breastcancer.
I have to admit, when we are "closing" an issue and reading tons of copy before the pages ship to the printer, I always look forward to the travel stories coming across my desk. Not only are they filled with great information, but even if it's a rainy, gloomy and cold day outside they can also instantly transport me to an island paradise or a fantasy European castle.
And, just think, all of you lucky brides and grooms can actually plan to honeymoon at one of these magical places! Of course, we're here to help, and if you prefer staying stateside, there are some incredible spots on the west coast:
And on the east coast:
If a tropical locale is more to your liking, take a look at some of the best all-inclusive resorts in the Caribbean: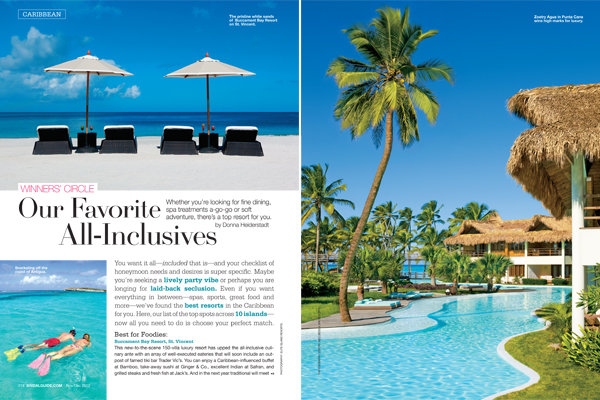 Or stunning places south of the border:
Plus, as an extra bonus in this issue, you'll discover a few of those fantasy castles in Europe (Austria, Ireland, Czech Republic, Turkey and Italy) to consider for your trip of a lifetime. After all, everyone deserves to be treated like royalty!
There's so much more in store — a Q&A with David Tutera, dazzling rings, a real wedding, pointers on how to write your own vows, etc. So enjoy the issue, have fun poring through it and I hope you not only find your perfect dress and discover a multitude of ideas you can use but also get inspired to start planning your dream honeymoon.
—Diane Forden