When it comes to fabulous fashion, expert planning advice and magnificent honeymoon destinations, our May/June 2013 issue has it all.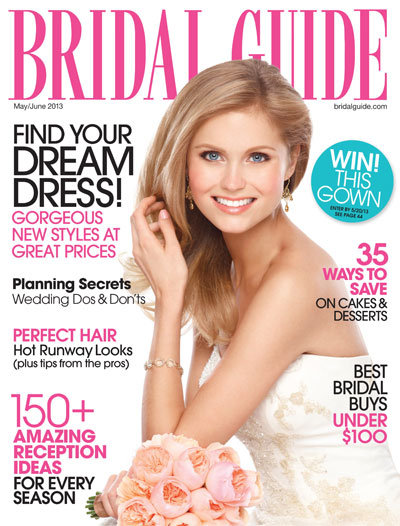 Get a behind-the-scenes look at our cover shoot! And enter for your chance to win the cover gown.
You'll find some of the dreamiest, most romantic dresses in our "Sweet Reverie" story: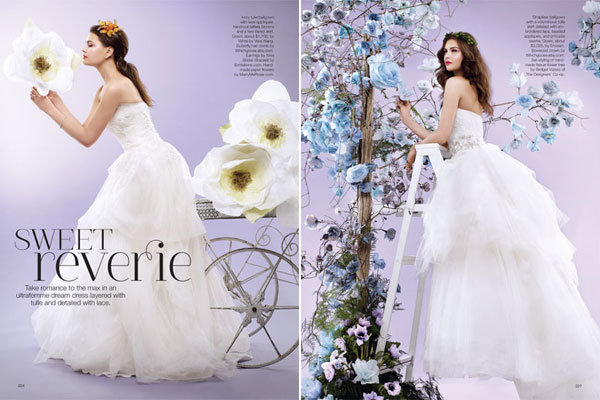 And if you're wondering what dress style to choose for your BFFs, check out "Perfectly Paired" to discover chic bridesmaid looks that easily complement a variety of wedding gown styles:
We also have the hottest new trends…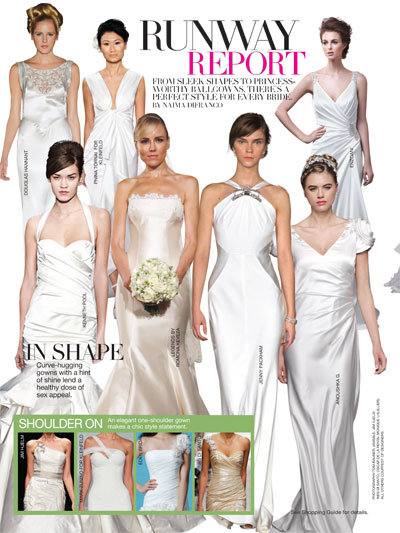 …and hairstyles straight from the runway…
​
Plus, there's a bevy of beautiful accessories to choose from, all priced under $100:
And let's not forget about the little ones! Your flower girls will charm the crowd in any one of these adorable frocks:
Wedding planning, of course, can bring on a slew of questions and concerns, and we've got expert advice to help you navigate this uncharted territory. Wondering how to get you guy more involved? Be sure to read "Well Groomed" for some all-important tips on how to pique his interest: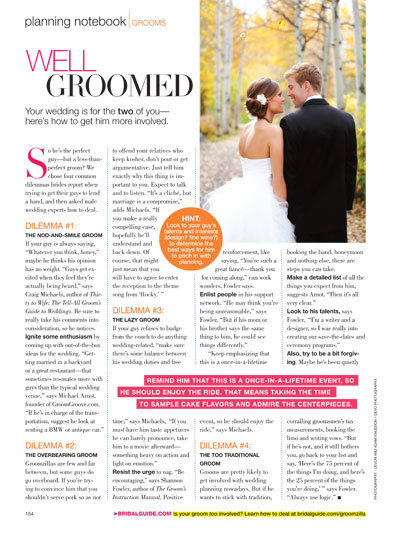 And if choosing and dealing with your bridesmaids has you totally perplexed, you'll definitely want to know what every bride's best friend, David Tutera, has to say on these issues:
One of my favorite stories is "The Golden Rules" — a must-read for everyone! If you keep these 10 top things in mind when planning the big day, I promise you'll be a happy, stress-free bride.
Have some budget worries (who doesn't!)? Ease your money fears with sage advice offered in "Your Budget Your Way":
And learn how to cut costs on all your desserts — including the cake — in "Sweet Relief." (Did you know that in some areas cakes can run as high as $1,200-plus?):
Ideas, Ideas, Ideas — we have plenty — and in our "In Season" story, you'll find fabulous inspiration for your big day, whether you marry in winter, spring, summer of fall.
And if you're pulling together your registry list, turn to "Table Talk" to see all the amazing options available. With these gorgeous gifts, you'll want to entertain every day of the week!
But before you start planning dinner parties, you'll want to enjoy an unforgettable honeymoon. Your trip of a lifetime should be everything you imagined, whether it's an island-perfect destination like the Dominican Republic...
...or a tropical hideaway in the Caribbean tailor-made for the two of you: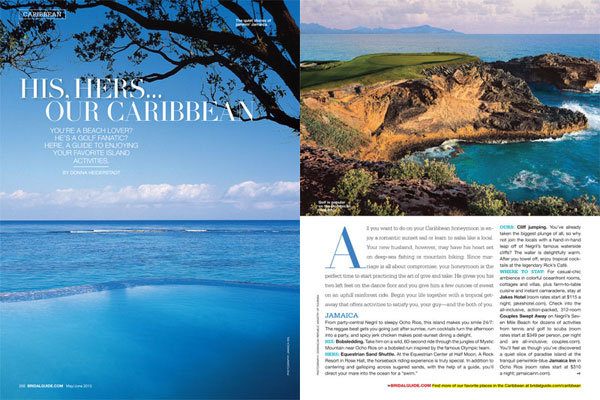 You might also want to consider a charming spot south of the border in Mexico:
...or perhaps a city closer to home:
And for those who yearn for a more exotic destination, discover all the beauty and adventure that awaits in South America's Chile:
…as well as the romance and sophistication of some of Europe's best cities for honeymooners:
There's so much for you to look forward to and so much to enjoy in this issue. Have fun planning your wedding and honeymoon… and let us know if we can help in any way!
—Diane Forden