I always get excited when a new issue hits the newsstands, and can't wait to tell you all about it. But I'm probably most excited about this particular issue because David Tutera, the breakout star of WEtv's "My Fair Wedding" and a regular Bridal Guide contributor, is on the cover!
This is, in fact, the first time we have featured a male celebrity on our cover, as well as more than one bride, and I hope you love it as much as we do. I first met David more than a dozen years ago when he created a gorgeous "Moroccan-themed" wedding that appeared in our July/August 2000 issue.
His warmth, grace and talent were obvious. Flash-forward to 2012, his own TV show, instant fame and well, he hasn't changed a bit. David is as charming and gracious as ever, a delight to work with and he truly cares about "his brides." So be sure to enter our contest and you, too, might just win a one-on-one consultation with David, a honeymoon at the Paradisus Playa del Carmen La Perla in Mexico, a David Tutera by Mon Cheri gown and more great prizes!
Speaking of gowns, if you just got engaged, fashion is probably foremost on your mind right now. We have some knockout styles in this issue for you to consider from glamorous, sophisticated looks:
To the most dreamy, romantic lace dresses.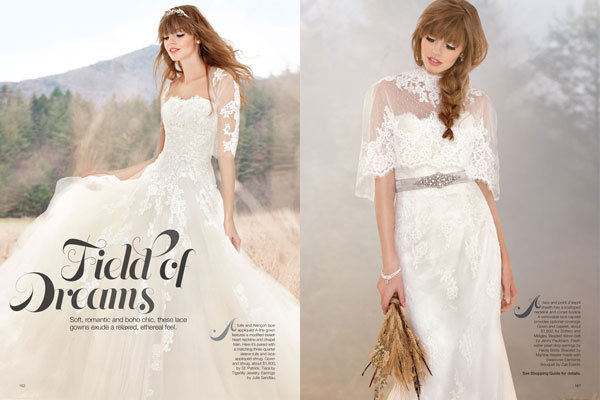 And if you're not sure what dress shape works best for your body type, check out "Find Your Style" for expert advice on the styles that suit your figure best.
Along with great fashion ideas, we have plenty of creative inspiration for your reception in "It's All in the Details." Event designer Matthew Robbins shares his tips for how to pull together an entire theme from just one object! Take a look at this spectacular celebration inspired by the colors of a single bead. You'll be amazed at how an object, color or idea can translate into an unforgettable party.
Of course, parties don't come without a price tag and we want to make sure (as you do!) that you don't go over budget. In "Dazzling Décor for Less" you'll discover a boatload of amazing ways to save on the wedding décor. (Make this your mantra: less is more!)
Some of you make be thinking about marrying away from home (ah, visions of a ceremony on the beach!). Be sure to read our "Destination Planning Made Easy" guide to help get you started.
But even it you don't marry on the beach, you'll certainly want to honeymoon near one! You'll love our story, "Swept Away" featuring some of the most remote and luxurious places in the Caribbean for pure honeymoon bliss.
We'll also give you the scoop in a variety of cruises from the more intimate and romantic to those with 24/7 non-stop action.
For couples that may want a destination that's a bit more exotic, check out our stories on hot! hot! hot! Brazil:
And magical Morocco:
We also have terrific places to honeymoon in Mexico and a few places closer to home if a mini-moon is more to your liking. There's a perfect spot for everyone so dream, plan and enjoy the issue!
—Diane Forden