Here's a genius idea for those of you who had (or will have) a destination, lake or beachside wedding or plan to honeymoon at a beach resort — jewelry designed with sand from those destinations. Dune Jewelry, founded by Holly Daniels Christensen — who is originally from Cape Cod and a bona fide beach lover — features uniquely-designed collections made with sand from just about anywhere in the world. Prices range from $40 to $184, and you can choose from an array of rings, bracelets, charms, necklaces, earrings, cuff links and key chains. I love this idea: It's sweet, sentimental and very romantic, and whenever you wear the jewelry, you'll be happily reminded of your wedding day or honeymoon. Here's a sampling of some of the gorgeous pieces from Dune Jewelry.
The Island Necklace, $140, with sand from Laguna Beach, CA, left, and Siesta Key, FL on the right: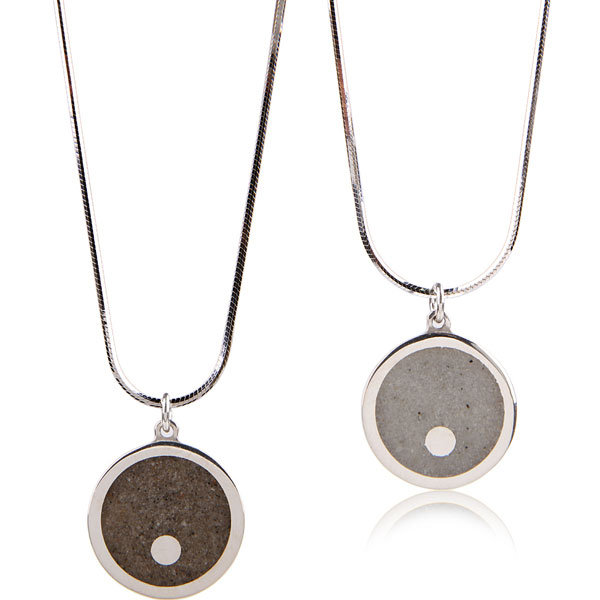 The Island Ring, $58, with sand from Jobson Bay, Bermuda:
The Sandbead Bracelet, $120, featuring sand from Seven Mile Beach, Grand Cayman: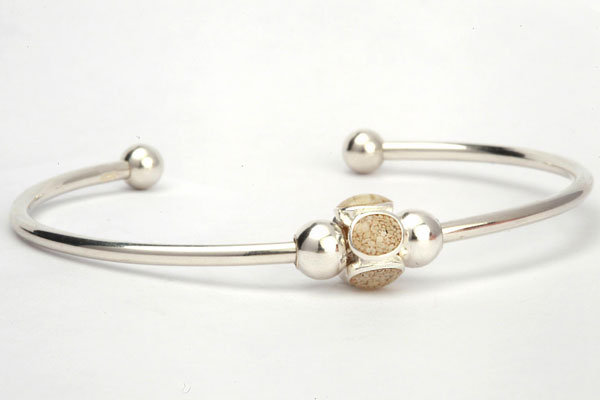 The Traveler's Bracelet, $150, featuring sand from Reykjavik, Iceland, can be made with up to seven different sands: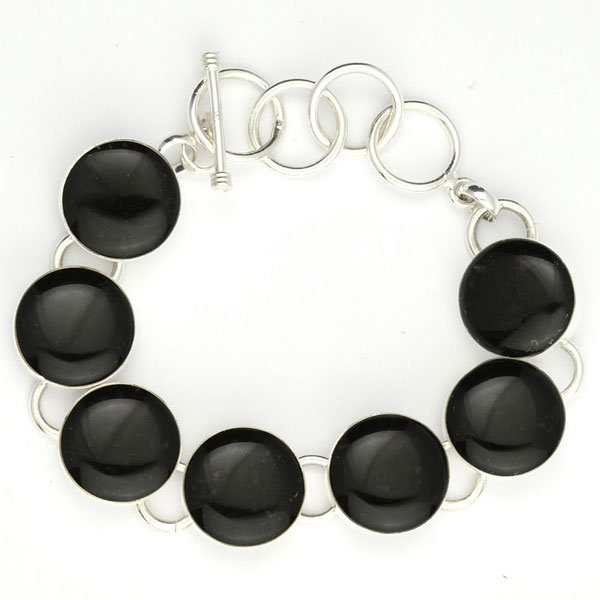 The jewelry also makes a great gift for your bridesmaids, or you can give it to a family member or friend to commemorate a fabulous vacation you once shared. Send in your own sand or order online from hundreds of destinations including beaches and lakes throughout the U.S.A., the Caribbean, Central America, South America, Europe, Africa and Asia.
Also, in the spirit of giving back, Dune has partnered with HOPE for Ariang, founded by Gabriel Bol Deng, one of the Lost Boys of Sudan, and Le Moyne College (Gabriel's alumnus). In Dune's HOPE Collection, each jewelry design supports the construction and maintenance of educational facilities and programs in the Ariang Community of South Sudan, Africa and is handmade with pieces of actual bricks used to build Ariang's Primary School — a truly wonderful idea for a very worthy cause. Go to dunejewelrydesign.com to find a retailer near you or to place your own order. I'm sure you'll love wearing this treasured jewelry for years to come.
—Diane Forden