There is something so magical about a destination wedding: The endless blue sky, cerulean sea and white sands create their own breathtaking backdrop. And if the wedding is on a tropical island, the abundant flowers are beyond beautiful.
A few weeks ago, I had the privilege of visiting Disney's new Aulani Resort & Spa on Oahu in Hawaii. It is a fantastic location, and the resort perfectly captures all of the beauty and charm of the Hawaiian architecture and culture. The beach, set on a cove, is one of the prettiest I've ever seen, and all around, there are innumerable sites for the most amazing photo ops. Plus, the Disney wedding coordinators will work their unparalleled magic to guarantee that you have the wedding of your dreams.
As part of the visit, I was invited to attend ABC's "Live! With Kelly" TV show. That day, the show featured a wonderful couple, Kevin and Eileen, who were getting married on air and merging their two families of seven children (very Brady Bunch!) into one. Both had tragically lost their spouses several years ago but were lucky to find love a second time around. It was a lot of fun to watch the wedding take place, and the incomparable Kelly Ripa herself, along with her husband Mark Consuelos, led the proceedings.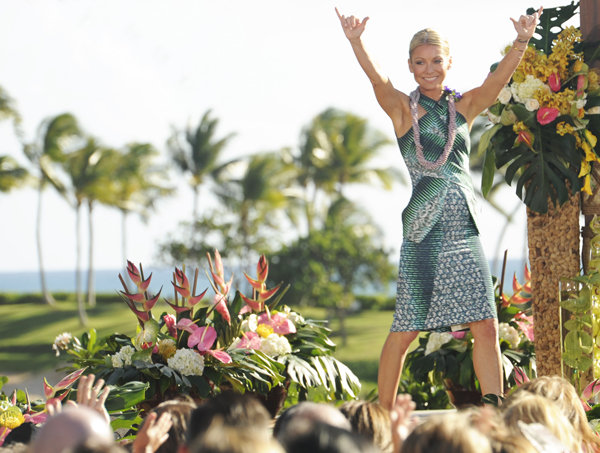 I have to say, it was fascinating to watch Kelly in action. She is adorable, a gracious host, funny, smart, witty and very engaging. Even during commercial breaks, she cracked jokes and had the crowd wrapped around her finger (and she looked gorgeous! How does she do it?).
But, back to the wedding: Along with the scenery, one of the best things about marrying in Hawaii is the flowers. Take a look at these beauties: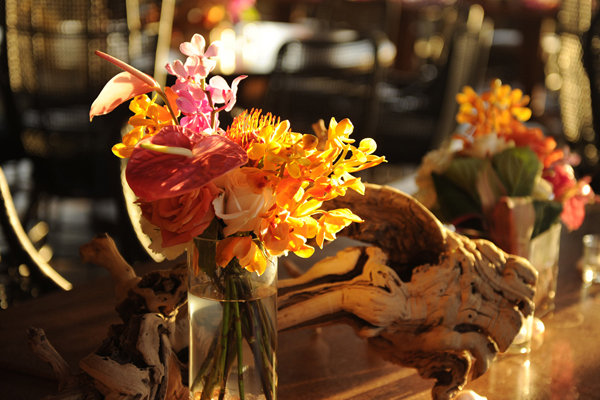 And here are some of the displays used during the ceremony. I love the tall straw- and rope-accented containers:
Here's how the fully-decorated ceremony site looked on stage:
And check out the petal-strewn aisle runner and the exotic blooms at the end of each row: :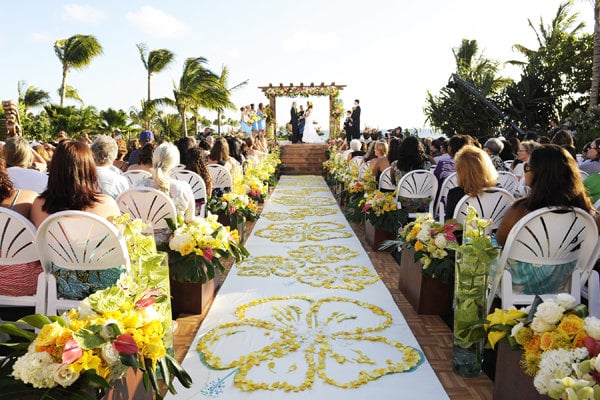 Here, Kelly and the groom's son walk down the aisle:
And the couple exchanges their vows of love and commitment:
Afterward, they posed for family photos. The bride and her attendants are all wearing dresses designed by the incomparable Michael Shettel.
The showed aired on Friday, February 24th, so some of you may haven seen it. Check out this clip from the show:
Even though most of us in the audience had never met the couple, we couldn't help but be moved by their heart breaking and ultimately heartwarming story. Kevin and Eileen, we wish you much happiness and to everyone at the Aulani Resort and Disney Fairy Tale Weddings thank you for a fabulous experience. Mahalo!
—Diane Forden
Photos courtesy of Disney's Fairy Tale Weddings