Dessert tables are a fan fave at weddings. Guests not only get to satisfy their sweet tooth longings but they can also take delight in the visually beautiful displays and the wide variety of treats.
Here's a nifty idea from Kelven Book, event planner at NYC-based catering company, Canard, Inc.: Instead of a separate table for your sweets, why not let your drinks bar do double-duty as your dessert table? While everyone is seated during the dinner, the bar can be re-configured to include all of the yummy desserts. When guests go back to the bar for more cocktails, they'll be treated to a stunning display of mouth-watering sweets. Your bartenders can also offer cordials to pair with each dessert selection for an extra dose of wow.
Take a look at these amazing dessert displays from Canard, Inc.
This table features parfaits of Armagnac cheesecake mousse, lemon and blueberry compote and clove shortbread crumbs garnished with a candied lemon wheel. Other treats include dark chocolate pot de crème with whipped cream, blueberry and raspberry and lemon tartlets and miniature s'mores.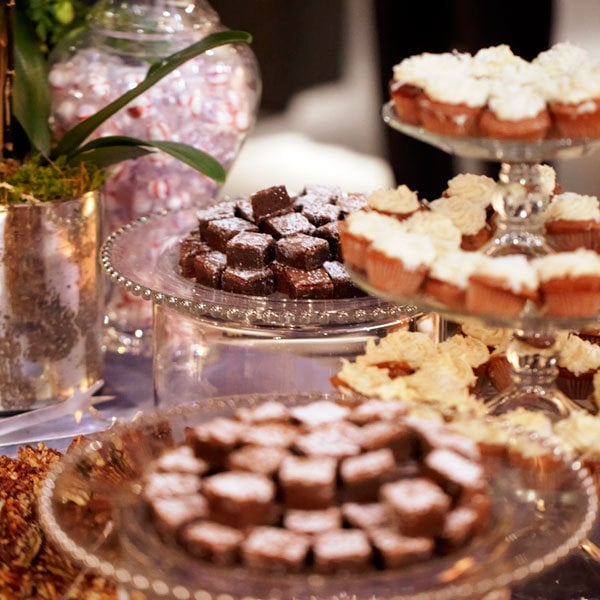 These pretty glass plates feature double fudge brownies, mini vanilla bean cupcakes with buttercream icing and mini German Chocolate cupcakes.
On this table, orange snowballs, Champagne aspic, a tower of caramel cornballs and a creamy oatmeal parfait await the revelers.
For more fun, tasty and inventive ideas for your reception go to canardinc.com.
Now I'm off to comb the offices in search of some chocolate!
—Diane Forden