Recently, I was invited to participate on a panel of judges to select the winning dress design for the "Bride of the Future," created by the super-talented students of the High School of Fashion Industries in New York City.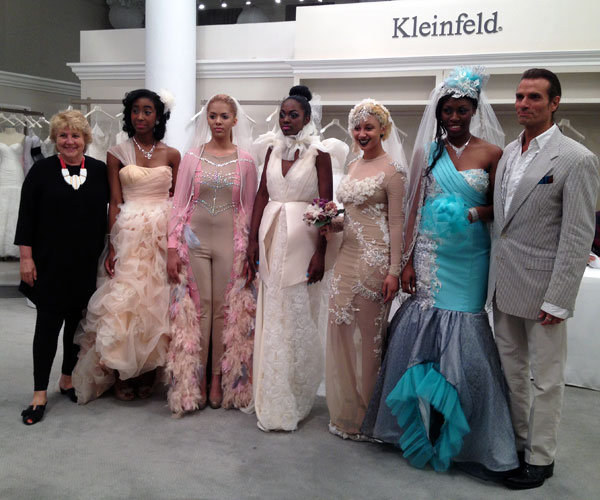 Mara Urshel and Robert di Mauro with the finalists' gowns.
The judging took place at the Kleinfeld Bridal Salon, where Mara Urshel and Robert di Mauro, who created the contest, presented the students and their designs. My fellow judges (designer Lazaro, and Kleinfeld's Dorothy Silver and Jacques Vignault) and I were thrilled to see the level of creativity and skill exhibited by these high school students. This past semester, under the guidance of their instructors, Sandra Manning and Adrian Carranza, they sketched gowns and created inspiration boards for the "Bride of the Future." From the 25 or 30 sketches we viewed in February, five finalists were chosen and the class was then divided into teams to bring the sketches to life.
The day of the big reveal finally arrived on June 6, and we were treated to a delightful mini fashion show at Kleinfeld. Each of the five finalists presented her dress, described the fabrics that she and her team used and explained how they executed the design. The results were fantastic and it was obvious that the hours and hours they spent hand-sewing intricate details and creating coordinating headpieces is not only a testament to their talent but also to their passion and dedication. The finalists, Kai Bussant, Alicia De Floremonte, Alice Wang, Emely Tejeda and Jocelin Williams, along with their team members, did an outstanding job. It was a challenging to select just one winner (congrats to her and her team!) and without a doubt, should any of these super-star students decide on a career designing bridal gowns, the brides of the future have a lot to look forward to! Here's a look at the day's event:
—Diane Forden