An incredibly moving story came across my desk recently that I'd like to share with you. Last December, San Jose, CA hairstylist, Jen Bulik, received the worst news possible and was diagnosed with stage IV lung cancer. She and her boyfriend of six years, Jeff Lang, a yoga instructor, decided to marry as soon as possible. Due to time constraints, her illness and limited finances, they planned to have a very low-key backyard barbecue.
That is, until Jen's friend, Emily LeDeau, posted Jen's story on a Facebook group page for wedding professionals. Enter wedding planner Erica Ota (right), who spotted the post and immediately responded. She offered her services, met with the couple and was so moved by their story that she decided to give them a wedding they could only dream about. "As a former social worker, I met countless people with terminal illnesses but was only able to offer emotional support. However, as a wedding planner, I now had the ability and resources to do a lot more for them," says Erica.
With only two weeks to plan, Erica started to pull together all the details. She looked at Jen's Pinterest board to get an idea of the "rustic chic" wedding Jen truly wished for and, with the help of Jen's friend, Emily, and Erica's intern, Elizabeth Tarantino, secured over 65 vendors to donate everything from decorative items like chalkboards, wands, and wood signs, to a guest book quilt, succulent favors and mason jars. Several wig companies also provided custom-made wigs that Jen loved wearing on her wedding day. It was a Herculean task, but Erica worked 'round the clock to secure place settings, furniture, rustic wood tables and chairs and more.
It all came together, and on July 27, 2013, under the Redwood trees of Saratoga Creek Park in San Jose, Jen and Jeff walked down the aisle surrounded by 120 family and friends, who had received e-mailed invitations just two weeks in advance. The couple selected their own readings, picked their own rituals and asked their friend, Anne, who had introduced them, to be their officiant. They were in awe of Erica's efforts and by everything she had accomplished for them, calling her their very own "Olivia Pope" (the main character on TVs "Scandal") who had made the impossible happen. Here a few scenes from this happy day!
The beautiful bride gets ready:
Jen walks down the aisle with her parents on either side:
Her groom awaits: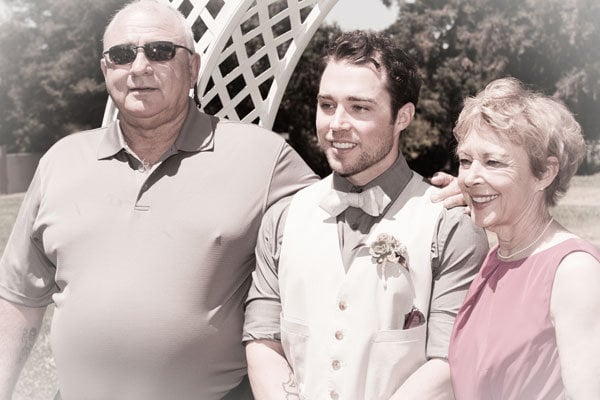 The ceremony site adorned with lush flowers and graceful swags of fabric: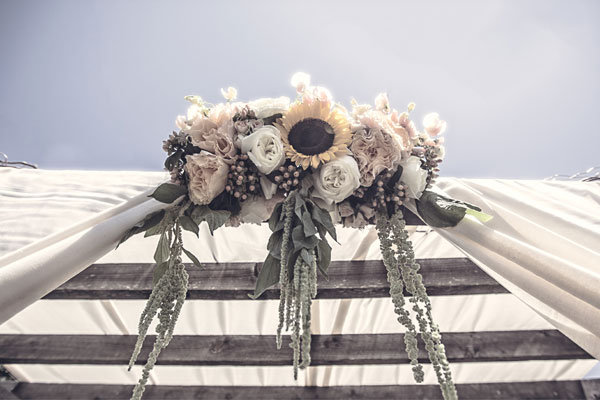 The bride and groom exchange vows:
and become husband and wife.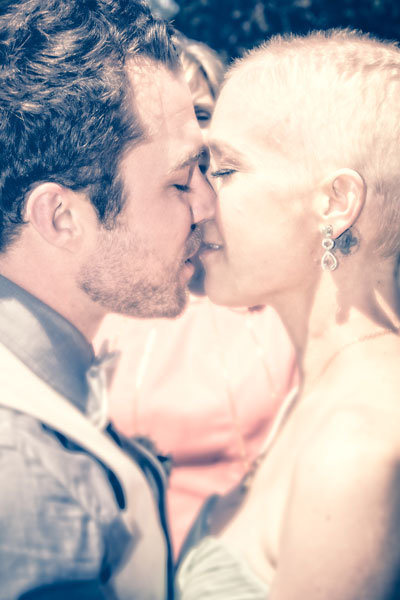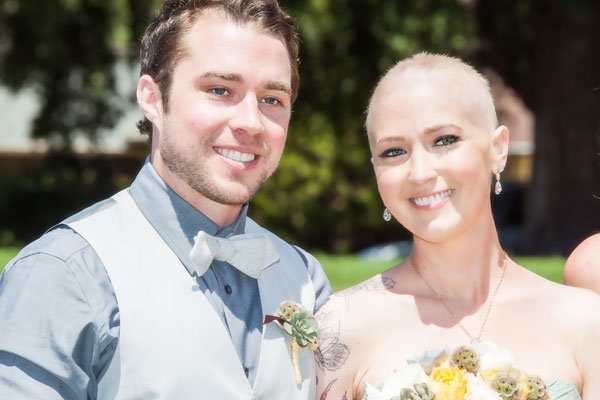 Jen and Jeff with their wedding party:
One of the highlights of the day, and Jen's favorite part, was the walk from the ceremony park site to the reception at Jen's home. The newlyweds were followed by the New Orleans 2nd Line Marching Brass Band (secured by Erica) and all their guests. Neighbors helped create the parade route and lined it with balloons and decorations. Everyone danced the entire way. "It was most important to Jen and Jeff that their guests were present to simply share the moment with them," says Erica. "They did not wish for anything other than this."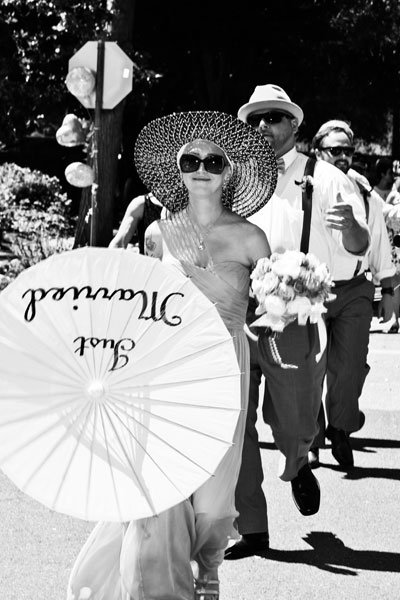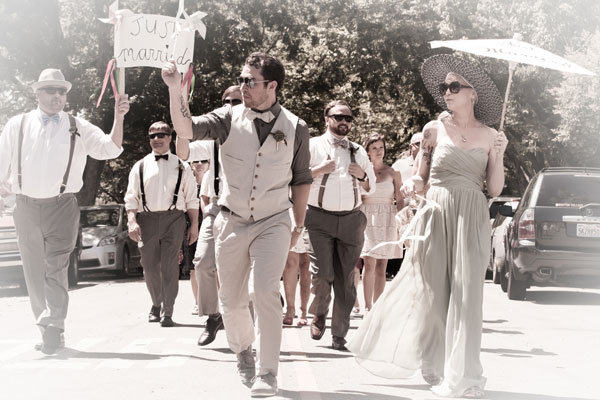 The festivities continued at the reception site, which beautifully reflected Jen's "rustic chic" theme:
Once at the reception, the spontaneous, fun-loving couple changed outfits and Jen switched wigs five times, loving her different looks.
Jen also loved the flowers, exact replicas of those she had placed on her Pinterest board:
The candy buffet with gluten-free snacks:
The sunflower-bedecked cake:
Signs made by the couples' friends, recognizing Jeff's profession as a yoga instructor and Jen's "See Jen Be" blog.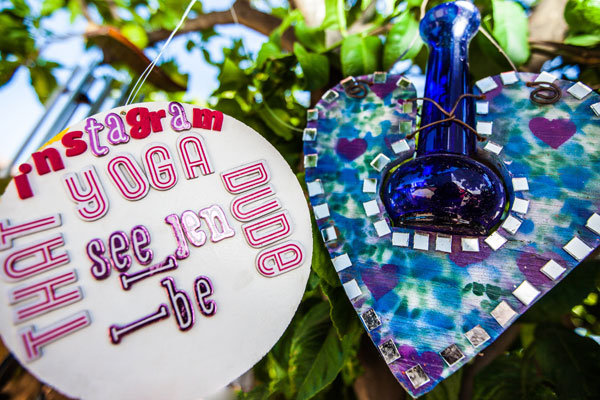 Needless to say, Jen and Jeff were amazed at the outpouring of love and support they received not only from Erica and their friends and family but also from complete strangers — all of the vendors who offered donations so they could have a wedding they never thought possible. "I had no idea that people were so giving," said Jen. "I feel more gratitude than I have ever felt in my entire life."
Jen and Jeff, we all wish you much love, peace and happiness. Your story is inspiring and heartwarming, and it's wonderful to know that the efforts made by Erica, your friends and family and all of the vendors enabled you to have your dream wedding and to enjoy the most beautiful, unforgettable day.
—Diane Forden
Photos by Sly Vegas, Captiv8Imagery