In need of some wedding dress inspiration? Just think silver (screen that is). Many gown trends have been inspired by blockbuster hits!
The Hunger Games: Catching Fire: Futuristic Ballgown
While Katniss' love story is nothing short of our nightmare, her would-be wedding gown is something out of a fairytale. The strapless ballgown, complete with raw edge ruffles and some serious silver bling, is both modern and romantic. It's sure to turn future brides into Mockingjays.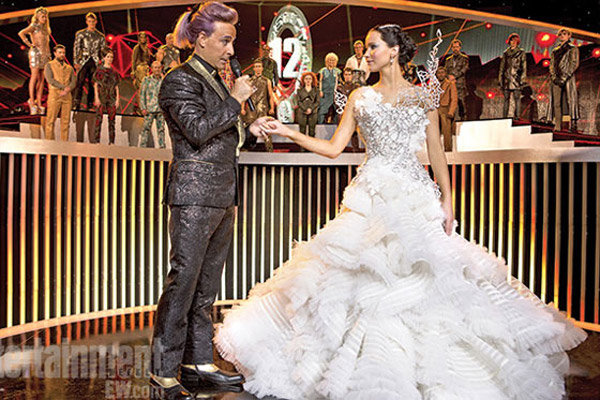 Photo Credit: Entertainment Weekly 
Though stunning in and of itself, just wait until the "girl on fire" gives her famed twirl. The films costume designer, Trish Summerville, told The New York Times that the famous gown was created by Jakartan designer Tex Saverio.
Father of the Bride (The Original): Classic Ballgown
In 1950, Katherine "Kay" Banks (Elizabeth Taylor) wore an ornate lace and satin ballgown that was coveted by brides for years to come. A certain queen-to-be may have donned a similar style at her royal affair.

Photo Credit: Father of the Bride/MGM Studios
Funny Face: Tea-Length Ballgown
Audrey Hepburn's classic style has been influencing women for as long as we can remember. Jo's wedding dress in the 1957 film featured a bateau neckline and of-the-moment tea-length neckline. A bow-topped veil and classic flats finish off this sweet look.

Photo Credit: Funny Face/Paramount Pictures
Sex & The City: Modern Ballgown
In 2008, Carrie (Sarah Jessica Parker) inspired brides to channel their inner fashionistas and glam it up for their big day. Designed by Vivienne Westwood, the layered ballgown was the epitome of New York chic.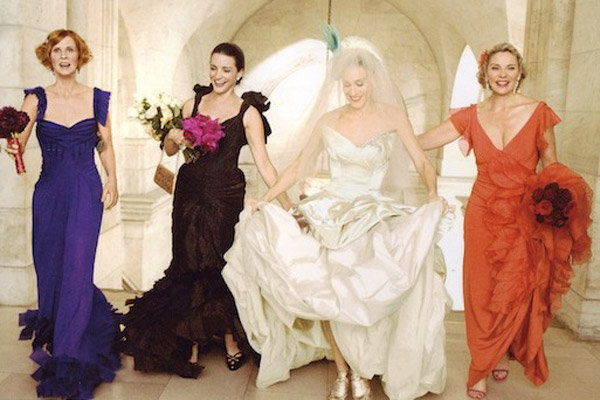 Photo Credit: Sex and the City/New Line Cinema
Bride Wars: Lace and Tulle Ballgown
Liv (Kate Hudson) rocked a classic tulle ballgown with a sash while trying to keep her wedding day from falling to pieces. The gown sold out in Vera Wang boutiques that year (2009) and Liv went on to live happily ever after.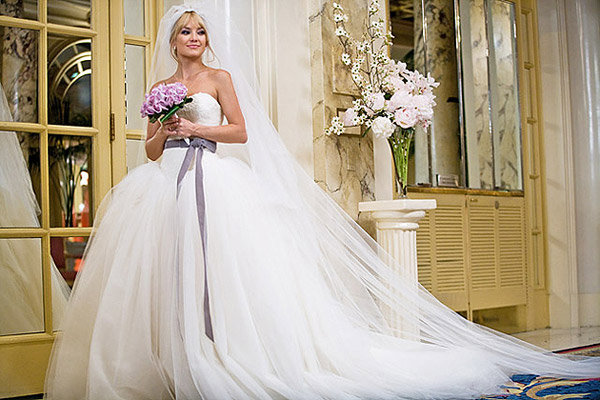 Photo Credit: Bride Wars/20th Century Fox
The Hangover: Strapless Sweetheart A-Line
Getting her husband to the altar might have been trouble, but when Tracy Garner (Sasha Barrese) slipped into her classic A-line gown, you'd never have known that she'd had a rough day. The feminine and airy Amsale dress was perfect for the couple's outdoor celebration.

Photo Credit: The Hangover/Warner Brothers
Twilight: Breaking Dawn: Romantic Sheath
Bella (Kristen Stewart) won our hearts with her demure satin sheath, complete with long sleeves and a detailed illusion back. Brides of 2012 clamored for the ethereal look.

Photo Credit: Twilight Saga - Breaking Dawn/Summit Pictures
Tell us: Which dress is your all-time favorite?
—Gabriella Rello