Once again, Vera Wang didn't show one white dress on the bridal runways. Last season, nude and black gowns dominated the runway. But this season, Vera went even more bold with all red gowns!
Vera's collection celebrates the color of love and passion: Red. In her own words: "Beautiful dream. The symbolism of Red. Boldly romantic, charming, protective, grand, seductive, sexy. From dahlia to scarlet, crimson and vermillion. A celebration of love."
"She also pays homage to her heritage, as the color red is worn by brides in China to reflect love and romance and joy," said Diane Forden, Editor-in-Chief of Bridal Guide. "It is a magical collection."
"Vera always likes to wow and show a somewhat rebellious, anti-traditionalist approach in her shows, and I think that definitely came through," said Brittany Robins, Bridal Guide's Assistant Fashion & Beauty Editor. "She never ceases to amaze!"
"Vera proves that we should have an open mind and that any color can work, as long as it's right for you," said Robin Zachary, Bridal Guide's Acting Fashion & Beauty Editor. "I love that she is always at the forefront with new ideas. I think about her shows for weeks!"
Check out some of our favorites: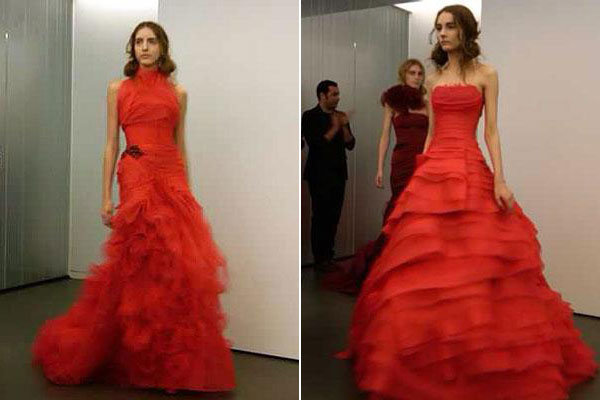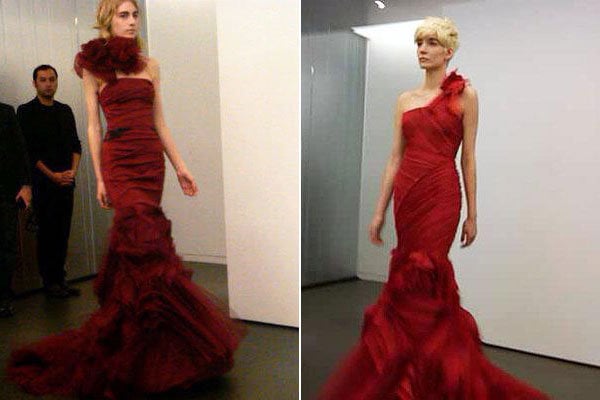 Tell us what you think—do you dare to wear a red wedding dress?
—Kristen O'Gorman Klein
Catch up on more from the latest bridal runways:

Daily Runway Recaps:
More from Bridal Fashion Week: