Guest blogger: Patrick Kelly is the co-owner of JJ Kelly Bridal, Oklahoma's premier bridal salon. For over 30 years, the store has helped thousands of brides find their dream wedding dress. They carry exclusive designers such as Vera Wang, Monique Lhuillier, Lazaro and more; gowns range in price from $800 to $10,000. Kelly also co-founded the website idoappointments.com, a service that allows brides to make appointments with important vendors instantly, without waiting for phone calls to be returned or e-mails to be answered.
He shares his experience working with Randy Fenoli on a recent taping of the hit show Randy to the Rescue, which was filmed at the Sheraton Oklahoma City Hotel.
Randy Fenoli knows wedding fashion like no one else. He started out as a wedding gown designer (an extremely talented one, I might add) and has three reality TV shows, but above all, he loves to make brides look (and feel) beautiful on their wedding day. 
So what was it like to work with Randy? We all had the same goal—find the perfect gown for 30 real brides. In the weddings world, this was the equivalent of playing in the Super Bowl. He doesn't meet with brides until the cameras start rolling. There was no script and no guarantee that he would be able to find them a dress, but hey, this is Randy Fenoli we're talking about, here. Watching the brides walk down the runway (or "Aisle of Style" as he calls it) in their dream dresses, surrounded by their family members, was incredibly rewarding.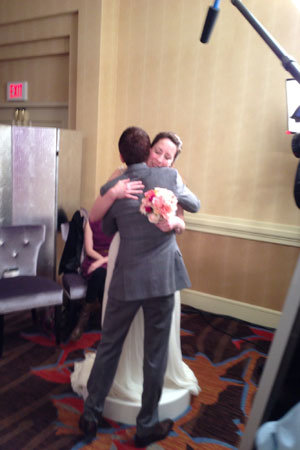 Here, Randy's top tips to help you find the perfect wedding gown, too:
First, what to bring to your appointment.
Many girls want to bring an entourage with them, but rarely does this ever result in a successful shopping visit. On their way out the door, many brides whisper, "I'll come back without so many people next time." Sometimes, friends are blinded by what they would wear, and they unintentionally impose this vision on the bride. The only people you really need to bring are your Mom and Maid of Honor.
In terms of "things" to bring, a full-service salon will have everything you need (i.e. bras, slips, heels, etc). If you're going to a discount store or sample event, it might be a good idea to stash those kinds of items in the car, just in case. 
An important note about shoes: Be mindful of your heel height with your hem length, because too-tall heels can make your hem look short. Never let a shoe dictate your wedding dress—you'll have a thousand photos with your gown and just one with your shoes. Besides, it can be difficult to spend an entire day walking around in 6-inch heels!

Photo by: Sophie Asselin on Sophie Asselin photographe via Lover.ly
1. Know your budget.
Know the most that you're willing to spend before you even step foot into a salon. Inflating your budget and putting everyone on the spot will just leave you empty-handed. One bride from our Say Yes episode, Julie, made the assumption that her father would pay for any dress she chose. She selected a gorgeous $7,000 Lazaro gown, but Dad refused to pay for it. Heartbroken, she turned to Randy for help, and lucky for her, he found a suitable replacement. Good bridal stores will ask in advance what your budget is, but if they don't, make sure that you let them know.
2. It's OK to love the first dress.
Randy sees this happen all the time. He tells brides that if they trust themselves, everyone else will fall in love with that first dress, too. A great bridal consultant will place you in a dress that accentuates your best features. You'll know that a gown is "The One" when you compare every other one to it.
3. Know your silhouette.
Trying on the wrong silhouette can cause any bride to be discouraged. Wedding gowns look different on models in a magazine than they do on real brides, so go with what's most flattering for you. One bride, Kate, had an amazing curvy figure. She considered a fit-and-flare gown, but it made her hips look too wide. Instead, Randy pulled a fabulous silk gown with an Empire waist. It gave her some forgiveness in the hip, but still created that princess look she secretly wanted. It was just perfect!
4. Be open to alterations.
I would argue that many brides aren't informed enough when it comes to their alterations. Include the cost in your total budget and keep in mind that the dress you select will evolve dramatically from start to finish. I always say that a bride falls deeper in love with her gown the closer that it is to completion. There's many steps throughout the process: the initial "yes!" moment, the day it comes into the store, the first fitting, and then the finished creation.
5. Be open to different styles.
I can't tell you how many times a bride comes in for her first fitting, and says, "I would have never pulled this dress off the hanger, but you insisted, and I finally listened." Even with years of experience, it's always a challenge to help brides get to that "aha" moment. Keep your mind open, and you just might surprise yourself.
—Patrick Kelly