At the 85th annual Academy Awards, accessories took center stage (Quvenzhané Wallis' puppy purse! Hathaway's uh, perkiness! Dapper fiancés!). Here, the love it-or-leave-it looks that everyone couldn't stop buzzing about; which one would you like to see at a wedding?
1. The Back-lace
Jennifer Lawrence in Dior Haute Couture. Belle of the ball! The Silver Linings Playbook star was the epitome of bridal elegance in this dramatic fit-and-flare gown. When she turned the corner and we caught a glimpse of that showstopping Chopard necklace, she won our "Best Dressed" vote. Fun fact: She told Ryan Seacrest that she felt like "Steve Martin in Father of the Bride" while getting ready with her family that morning.

Photo Credits (from left to right): E! Online and Hutcher's Crown on Twitter
Anne Hathaway in Prada. The Supporting Actress winner's last-minute getup (she didn't know what she was wearing until three hours prior to the show) was one of the most controversial looks of the evening. Her Mom described it as "business in the front, party in the back"—love it? Check out some of our favorite dramatic wedding dress backs here.
On a sweet note, Hathaway said that although she's grateful for the success of Les Mis, the main reason why she's had such a life-changing year is because "I found my soulmate and we committed ourselves to each other...all of this has just been the cherry on top of a wonderful, wonderful dish of vegan ice cream."

Photo Credits (from left to right): newscomauHQ and kchenoweth on Twitter
2. Art Deco Drama
Stacy Keibler in Naeem Khan and Halle Berry in Versace. Great Gatsby-inspired wedding gowns are everywhere lately—both Keibler and Berry's sheaths are fit to perfection and show off their incredible physiques. Boyfriend George Clooney quipped that "I sewed most of the sequins on myself," while Berry's was a nod to her Bond girl status. Is your wedding gown embellished or did you pick an unadorned style? Sound off below!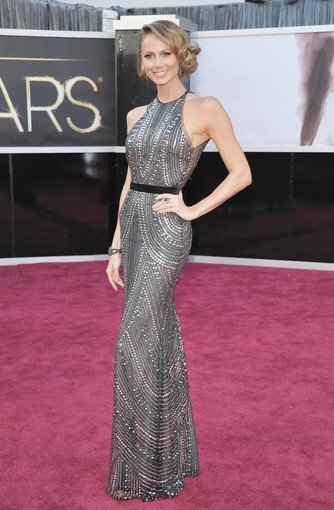 Photo Credits (from left to right): lamarilala and Tracey Mattingley LLC on Twitter
3. Princess-Worthy Pastels
Amanda Seyfried in Alexander McQueen and Amy Adams in Oscar de la Renta. Both actresses took a softer approach on the red carpet this year with ethereal hues that would be perfect for bridesmaids at a spring wedding. Check out more bridesmaid dress trends here!
Adams simply wanted a bigger-is-better ball gown: Mission accomplished. Seyfried said she felt "super lucky" that McQueen custom-designed her Oscars gown, but later on, The Academy tweeted that she was having difficulty sitting down in the dress (brides, as tempting as it may be to squeeze into a too-small corset, comfort is crucial on your wedding day).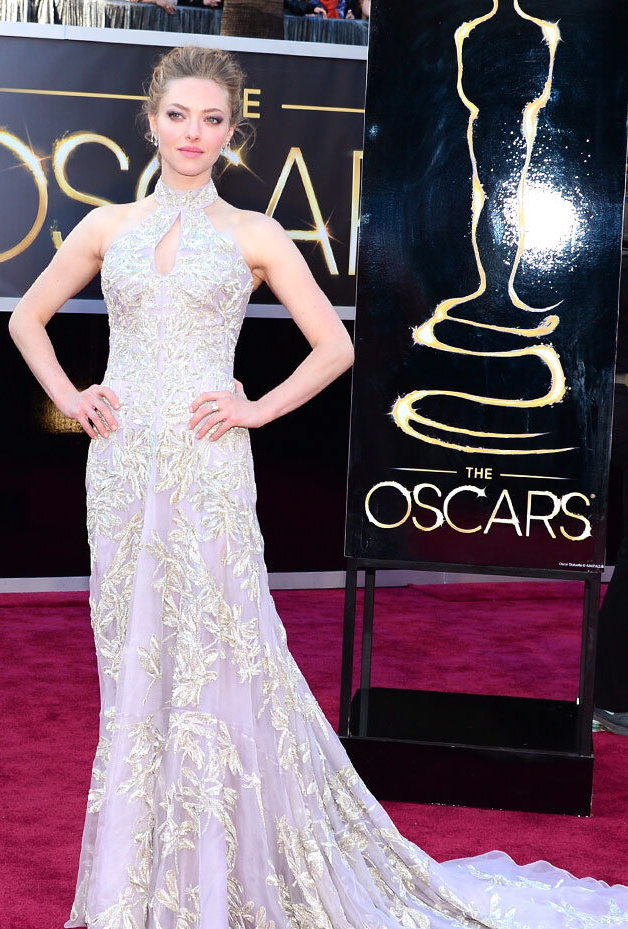 Photo Credits (from left to right): E! Online on Twitter
4. Veronica Lake Waves
Jessica Chastian in Armani Privé. This ultra-romantic hairstyle would fit right in at a vintage-inspired wedding. On her look: "I love cinema so much. It's a very 'Happy Birthday Mr. President'-kind of dress; it reminds me of Old Hollywood glamour."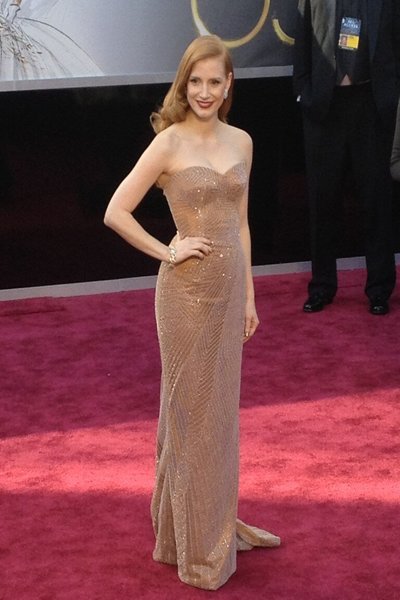 Photo Credits (from left to right): Bobbie Thomas and Red Carpet Team on Twitter
Reese Witherspoon in Louis Vuitton. Her two-toned gown was gorgeous, but we couldn't keep our eyes off those shiny flaxen locks. Her mane secret: "I just had a baby, so your hair gets all thick [during pregnancy]. I'm not looking forward to losing it after!"

Photo Credits (from left to right): Jarett Says and E! Online on Twitter
5. Tuxes & Beards
Argo was hailed as Best Picture of the year, and although we were ecstatic to see Ben Affleck finally receive the recognition he deserves, we're still on the fence about the team's scruffy take on such a formal event. We've been seeing more grooms with goatees and mustaches in real weddings submissions, too. Do you prefer that your guy be clean-shaven or have facial hair on your big day?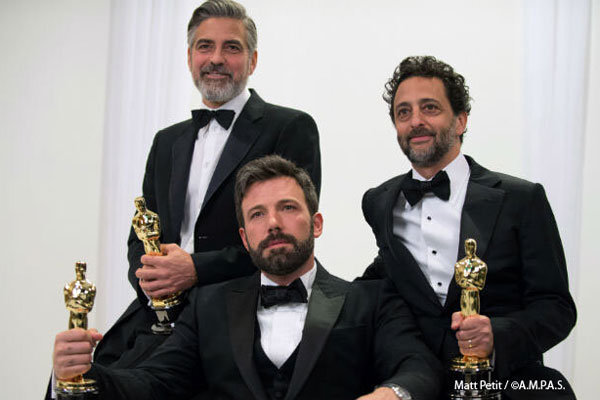 Photo Credit: Warner Bros. on Twitter
—Stefania Sainato