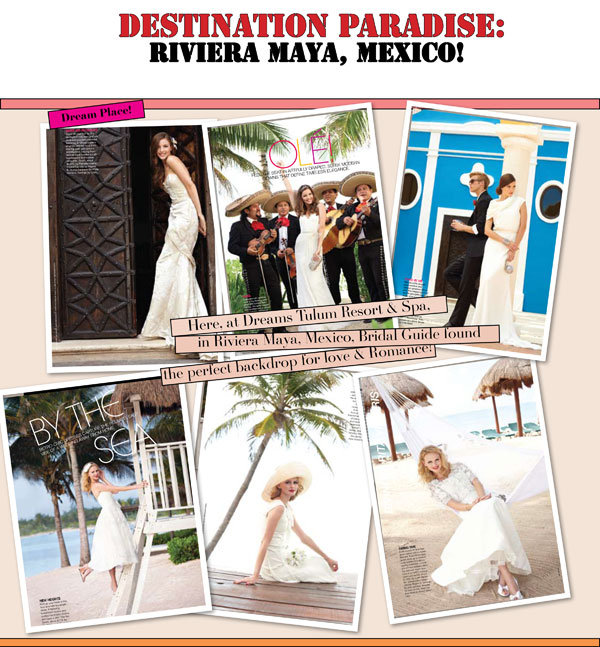 For the new Jan/Feb 2012 issue of Bridal Guide, out on the stands now, Bridal Guide's fashion department had the luxury of shooting at Dreams Tulum Resort & Spa in Riviera Maya, Mexico. It was an incredible week shooting 3 fashion stories (look out for the March/April issue to see more) in a picturesque, relaxing environment—ideal for destination weddings!
The first day, we had the treat of hearing a local mariachi band play for us—they would be amazing for a wedding party! (We have a cute picture of our bride with the band.)
We also loved the romantic beach, perfect for a private dinner or a charming morning stroll, not to mention some fun in the sun.
There is a lovely blue chapel on the grounds that has a historic, elegant look that would be fantastic for the service.
On our nights off, we immensely enjoyed the slew of entertainment possibilities, including two amazing pools, shuffle board, a life-size chess board, theater, dancing, and much more. Best of all, the food was DIVINE; they have various first-class restaurants at Dreams Tulum. Bridal Guide staff's favorites were the Italian and Mexican. I believe I had the best enchilada of my life, there in Dreams Tulum. (My fave was the verde; my art director's fave was the molé.)
Best of all for you brides-to-be, the on-staff Wedding Coordinator at Dreams Tulum Resort & Spa, Landy Cahum, is phenomenal. She was a great resource for putting together our "Bridal Guide weddings." She knew the best florists in town, the ideal table décor & cakes to make a special event even more special. Plus, she's very organized. She ensured that our whole crew stayed in the same building—a luxury any bridal party would want. We're sure that she could easily help you put together the wedding of your dreams.
All in all, we'd certainly return to the Dreams Tulum Resort & Spa in Riviera Maya, Mexico (next time, I need to check out the Spa and the luxe massages!).
Check out the new issue to see more pics of this lovely resort. For more information about the resort visit, dreamsresorts.com/dretu. Happy voyaging!
—Naima DiFranco