Being a bridesmaid is an honor — often an expensive, time-consuming honor, but an honor nonetheless. That being said, it really bugs me when I attend a fancy wedding and see the bride's closest family and friends dressed in the matching formal gowns, with flowers and updos and heels... and their everyday makeup. When a bridesmaid looks like she slapped on whatever was in the bottom of her makeup bag that morning, a little piece of me dies. 
Nobody understands more than I do that we can't all afford $65+ to hire a makeup artist. I've always loved doing makeup, so when my best friend of over 20 years asked me to apply makeup on the rest of the bridal party, I happily agreed. I spent the weeks leading up to the wedding choosing colors and products, keeping in mind the different skin types and tones of the group, plus the various ages of the bridal party members (from pre-teen junior bridesmaids to the mother of the bride). Clearly, one "face" was not going to cut it.
Here's how you can get a fabulous smoky eyed look that is party-appropriate and special enough for the wedding of the season!
Consider dress color. If you're wearing a jewel tone (think blue, green, purple), you can absolutely incorporate this into your eye shadow application. If your dress is a warm color, like red, orange, pink, you may want to stick with the traditional black/gray palette to avoid scaring people away at the buffet line (unless you want all of the mini crabcakes for yourself, of course; in that case, pinkeye away!).  And if you're wearing black or gray, you can pull off any shade.
Wear foundation. Even if you do not wear it under normal circumstances, you need this for the wedding day. You will be photographed all day, and it really makes a difference. Before applying foundation, use a primer, like Smashbox Photo Finish Primer — this helps your foundation stay put. 
For foundation, we tested out Temptu's new Bridal Beauty Kit, an airbrush foundation kit that gives you professional-looking makeup at home. It comes with three shades, making it easy to find the right match for each bridesmaid. It was surprisingly easy to use, and the foundation truly lasted all day long. 
Top your foundation with Make Up For Ever's HD Microfinish Powder. This translucent powder works with all skin tones and mattifies the face. The microfinish uses some crazy makeup science to minimize imperfections, so you'll look almost as lovely as the bride in pictures. Apply it over the whole face indiscriminately — it's sheer, so don't worry if it isn't applied evenly.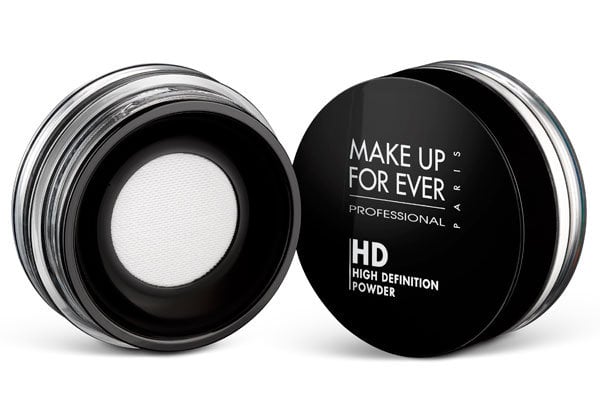 Bronzer is a must, especially for spring and summer weddings. I used NARS in Laguna for everyone. Make sure your bronzer brush is big and fluffy (like this kabuki brush by Sonia Kashuk for Target) so you don't get lines or streaks.
[Sidenote: NARS and other high-end lines don't include brushes with their blushes and bronzers, and for good reason — to fit in the compact, brushes have to be small and flat, which result in streaky coverage. In fact, stop reading right now and go throw away any brushes that came with bronzers or blushes in your makeup bag. Seriously, I'll wait.]
Now take that big fluffy brush and apply bronzer anywhere the sun naturally hits your face. Think across the nose, cheeks, forehead, and chin!
Even if you have a naturally rosy complexion, you eradicated it with the foundation and bronzer. Add it back with blush. I used NARS Orgasm, which is ridiculously flattering on everyone. Again, use a nice fluffy brush and apply on the apples of the cheeks and sweep outward toward the ears. I also like to get across the bridge of the nose. Your fake tan needs to have that little bit of pinkness that comes with a real tan.
Even if you have dark hair, make sure you define your eyebrows. Try NP Set Essential Brow Set, which includes two powder shades and a clear wax to help seal the powder. An eyebrow tip: if you have blonde hair, go two shades darker than your natural color. If you have dark hair, aim for a shade or two lighter. Follow your natural brow line and extend a little bit past the outer ends toward your ears. Polished brows pull your whole look together — think Audrey Hepburn.
The smoky eye sounds complicated, but it's easy to master. We used Urban Decay's Smoked palette, which includes a solid black, a few nice grays/silvers, and a great eggplant purple that complemented our dresses perfectly. This is where you can get creative and incorporate the color of your dress — a dark sapphire or emerald would work beautifully. When each girl sat down, I asked if they wanted "small, medium, or large" level of drama and adjusted the color accordingly.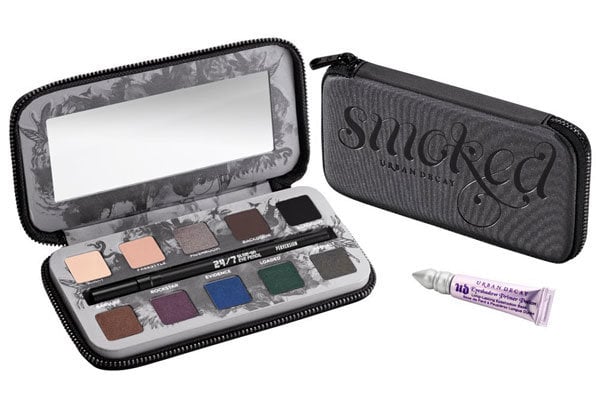 After applying primer, cover the eyelid from lash line to brow bone with a neutral color (if you're using the Smoked palette, use the "Kinky" shade). This makes a nice smooth base for the shadow. Then, use a silver/gray ("Mushroom") to cover from the lash line to crease. The next step is to add your solid black or jewel tone. I used a nice shimmery eggplant ("Rockstar"). Apply this on the crease, concentrating on the outer corner of your eye, and blend slightly upward toward the brow bone. The best way to blend these dark colors is to use a clean, soft eye shadow brush and blend using small circles upward and outward.
I topped this with a sparkly white from Sonia Kashuk for Target and then tapped a little more of the dark purple in the outer crease with my middle finger (tip: using your fingers to apply makes for better color payoff. Brushes are for blending, fingers are for laying on color!)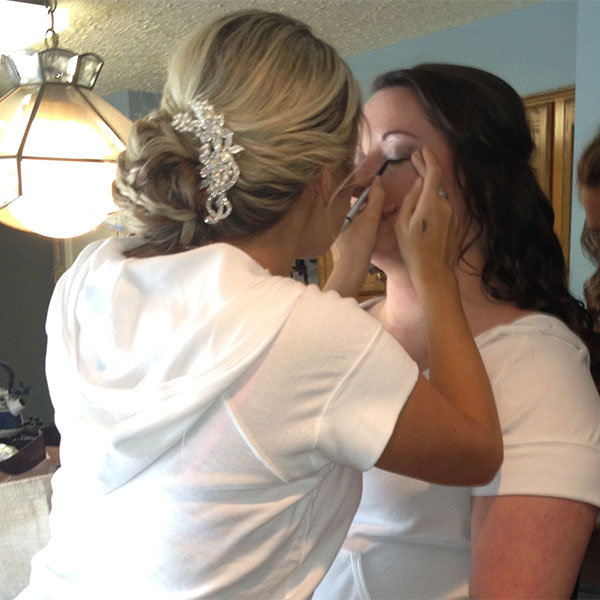 Eyeliner brings the whole look together. A black liquid eyeliner is essential. I love Stila's Stay All Day Waterproof Liquid Eyeliner in black because it literally stays all day. Liquid eyeliner allows you to keep your line thin but still get a great, dramatic look. New to liquid liner? This product has a firm felt tip, which is easy for even beginners to work with. Start at the inner corner and work out in a nice smooth line. If you don't trust yourself to make that nice smooth line, try drawing tiny little dots along the lash line and then connect the dots.
For a more dramatic look, line the lower waterline (the inner rim of the lid). Use a waterproof pencil liner for this, like Diorshow Waterproof Liner in carbon.
Lashes! Time to fake it, ladies. False lashes photograph beautifully and add a whole other dimension to your face. They are vital. You need them. I like the drugstore brand Ardell #105 because they're cheap (under $5) and can be worn several times.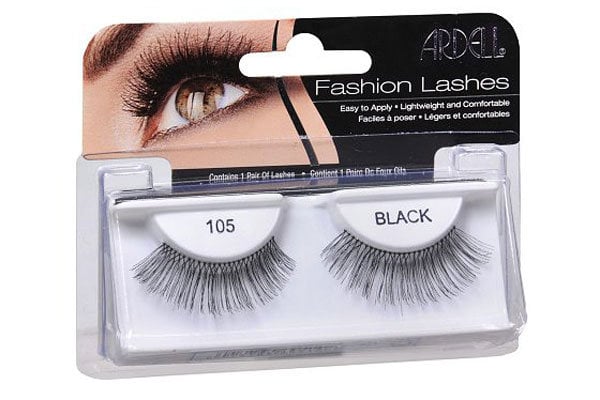 Apply mascara and curl your natural lashes before applying the falsies. To apply false lashes:
1. Take a deep breath. Freaking out will only make it harder!
2. Apply a thin line of glue (squeeze the tube so a bead comes out and then run the lash through it. Do not try to apply it like toothpaste; you will get way too much). Now, wait until it dries slightly to tackiness.
3. Apply the center of the strip to the center of your lash line. Trying to apply from either end will result in an epic fail. Then, adhere each edge and pinch the center of your lashes to the falsies. They will feel weird for a few minutes, and then you will forget they are there.
The last thing I did was pick a lip color to flatter each girl. Everyone had their own color and kept it with them for touch ups throughout the night. We had Clinique Chubby Sticks for the more mild mannered ladies...
... and some vibrant and sparkly colors from NARS and Make Up For Ever for the wild ones. I chose an awesome hot pink sparkly Lab Shine Diamond Gloss from Make Up For Ever for myself!
This look can be worn for any party or formal event, and you will definitely look like you put in a little more effort for this special event than you do at 7:30 a.m. on a weekday on your way to work with a half eaten bagel in hand!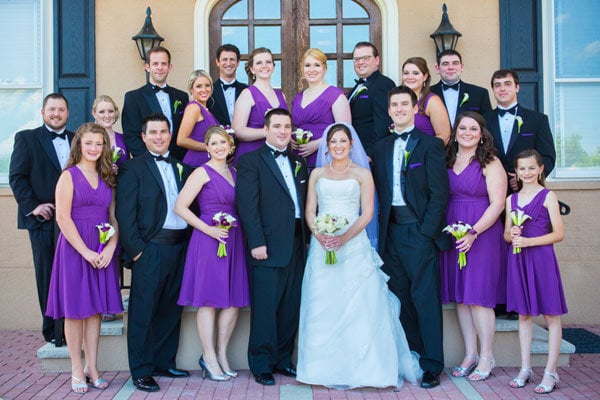 Photo Credit: Dana Lane Photography
—Corrie Mariello